Gliporian Crayboth
Metallic Clear Orange

Glyos Action Figures
Item No.: n/a
Manufacturer: Onell Design
Includes: n/a
Action Feature: n/a
Retail: $3.00
Availability: December 2013
Other: How many of these does this make? 35ish?

PREVIOUS
RSS
NEXT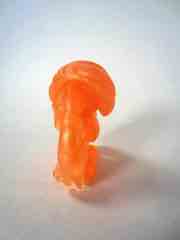 Onell Design is nothing if not clever - numerous smaller runs of figures continue to sell fairly well, to the point where new, similar releases are required to fill demand for Johnny-come-latelies. The Gliporian Crayboth is similar to one of the first eight Crayboth figures from a few years ago, in that it was also clear orange. Matt Doughty's tireless search for the most eye-pleasing plastics continues to yield fantastic results.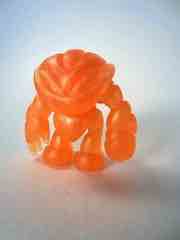 The newer orange figure is incredibly bright even in a dark room, thanks to the metallic, quasi-pearly finish. It's the middle of the night, and I'm in my basement, and a tiny glow from the screens lights up the figure so that I can make out the sculpted detail. The previous orange figure lights up around the edges, but most of the fine detail is lost in the shadows. As the clear Crayboth figures have yet to come with any painted highlights, it relies on how light bounces off its carapace - and I'm pleased to say that this color works quite well for the small, crablike design.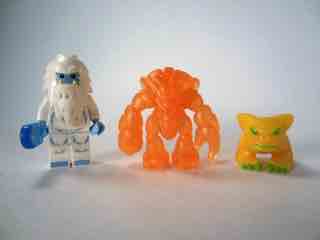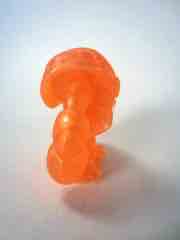 I assume if you collect Glyos, you may be like me in the sense that you buy every Crayboth as a matter of sport. The figure is cute and charming, small and cheap, simple and fun. It's like a little brother for the original Battle Beasts, with 4 points of articulation and swappable parts. For three bucks it's a crying shame that you can't just go to the store and fish one out of a gumball machine while you wait for your pizza to come out of the oven, as I assume all of us would probably want more of these. Each Crayboth figure is very much like the last, but there aren't enough of this kind of figure in the market. It's small, simple, and cheap - I would love to see one or dozens more figures just like it, around the same size, with two or four points of articulation each. Granted I'd also like to see them fully painted, but beggars can't be choosers. If the chance comes up, and you can only get one orange Crayboth, go for the Gliporian.
--Adam Pawlus
Additional Images


Click here to see more Onell Design figures in Figure of the Day.
Click here to see more Glyos Compatible figures in Figure of the Day.