Dr. Zaius
Pop! Movies #27

Planet of the Apes Pop! Movies
Item No.: No. 3146
Manufacturer: Funko
Includes: n/a
Action Feature: n/a
Retail: $10
Availability: December 2013
Other: One of Four Apes

PREVIOUS
RSS
NEXT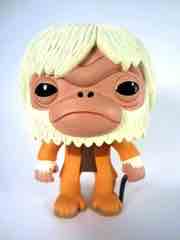 It is difficult to easily describe how great the original The Planet of the Apes is. It's a milestone in moviemaking with great actors, awesome effects, and a stunningly dickish hero who is utterly crushed by the realization of where he has been - it seems like it could have come right out of The Twilight Zone, and I can't help but assume the spirit of Rod Serling more than mildly influenced how Charlton Heston played the role. The way he chews on diatribe after diatribe over how civilization has fallen and everyone you love is dead, you'd need some pretty intense villains to make such a nihilistic (but realistic) protagonist particularly relatable. So Dr. Zaius, as played by Maurice Evans, gives us a twisted take on the ruling class with control over matters of faith and science that ultimately don't seem too unrealistic as something our kind could experience. He's smart, pragmatic, and a product of his culture - not evil, but certainly quite a menace. And to anyone born after 1975, likely best known as the subject of "Stop the Planet of the Apes, I Want to Get Off!" from The Simpsons. It's not unlike being introduced to The Dark Knight through Adam West's 1966 Batman TV show - - except there's a lot of meat on the bones.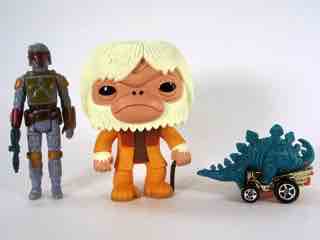 The aged, squinting figure has a lot more detail than your average Pop! Movies vinyl figure. There are lines around his eyes, he has a nose and a mouth plus a sculpted ridge on his brow. The light blond hair is cut neatly, with a pattern on his beard that feels like it came out of a 1960s advertisement of some sort. The packaging is similarly old school, adding the 1960s texture of the movie poster with the clean lines of a 21st century Funko box. In a word, it's close to perfect. Dr. Zaius has gloves on his feet, hair on his hands, and a cane. His glossy black eyes pop nicely, and the shiny leather elements on his orange jacket look just about as great as you might hope for - really, the lighter-than-expected hair is my only quibble.
Just like the majority of the line, there are no moving limbs. The neck turns, and it's a solid piece of plastic from the neck down. On the bright side, it stands well and doesn't seem to require any extra support - it'll look good next to your Shag prints and Servotron album covers. I have no doubt I'm the ideal customer for this kind of item - I have a lot of collectible toys, but nothing from The Planet of the Apes outside these vinyl guys. It's a small, cheap collection that's easy to complete - and I'm assuming is done at this point. The form is charming and unobtrusive, easily one of the better ways to make a figure in the era of Hot Toys and Sideshow. Why? Because Pop! figures aren't going to get a lot better - the design thought process may change, but the size, proportions, and general feel will likely stay this way until they become unpopular. There's not going to be a Zaius 2.0 in 5 years, there's no technological advances in mass-production that will result in a more stylized, fancier figure. It is what it is, and it's good. There's not much nitpicking to be done here, which is really liberating because a retro ReAction figure has to be held up to the standards of real 1980s toys, and a 6-inch NECA figure would similarly need to be scrutinized due to the penchant for realism. A stylized figure need only be judged on its own merits, which makes it much easier to do right by a fan - especially one who isn't a hardcore toy collector.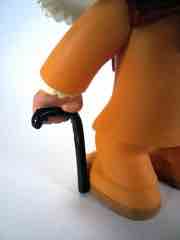 It's a gorgeous figure, and a steal at ten bones. A heavier, taller figure could easily sell for four or five times the asking price, so this entire assortment was quite a treat. It's a shame we didn't get Zira and Taylor, but it also means we didn't see the line succeed to the point where Lucius to remind us that your boss is always giving orders, just like every other adult. If you see this figure, and love this movie, you really ought to buy it. It's the sort of thing you need to keep at work just so you have an excuse to punch them when they start singing the chorus to the "Dr. Zaius" song.
--Adam Pawlus
Additional Images

See more Funko figures in Figure of the Day:
Day 1: Funko Force 2.0 Comic-Con Exclusive Batman
Day 80: Metallic Cobra Commander Wackly Wobbler
Day 120: Funko Gremlins Pop! Vinyl Stripe Vinyl Figure
Day 126: Funko Beetlejuice Pop! Vinyl Beetlejuice Vinyl Figure
Day 131: Funko Thor Pop! Vinyl Thor Vinyl Figure Bobble Head
Day 141: Funko Thor Pop! Vinyl Loki Vinyl Figure Bobble Head
Day 151: Funko Music Pop! Vinyl Ozzy Osbourne Vinyl Figure
Day 160: Funko G.I. Joe "Pimp Daddy" Destro
Day 207: Funko Disney Pop! Vinyl Mr. Incredible Vinyl Figure
Day 224: Funko Batman Blox Vinyl Batman Vinyl Figure
Day 249: Funko Marvel Universe Pop! Vinyl Iron Man Vinyl Figure Bobble Head
Day 293: Funko Disney Pop! Vinyl Mike Wazowski Vinyl Figure
Day 306: Funko Marvel Universe Pop! Vinyl The Hulk Vinyl Figure Bobble Head
Day 345: Funko Disney Pop! Vinyl Sulley Vinyl Figure
Day 427: Funko Marvel Universe Pop! Vinyl SDCC Exlusive Spider-Man Vinyl Figure Bobble Head
Day 748: Funko Land of the Lost SDCC Exclusive Glow in the Dark Sleestak
Day 981: Funko Planet of the Apes Pop! Movies Cornelius Vinyl Figure
Day 1,000: Funko Hikari Vinyl Freddy Funko (Creature from the Black Lagoon)
Day 1,036: Funko Entertainment Earth Exclusive Kill Bill Gogo Yubari (Bloody) Pop! Vinyl Figure
Day 1,069: Funko Planet of the Apes Pop! Movies Dr. Zaius Vinyl Figure
Day 1,150: Funko Guardians of the Galaxy Pop! Vinyl Entertainment Earth Exclusive Ravagers Dancing Groot
Day 1,155: Funko Hikari Vinyl Marvel Guardians of the Galaxy Planet X Groot
Day 1,163: Funko Universal Monsters Life Force Metaluna Mutant
Day 1,164: Funko Hikari Vinyl Ghostbusters Pink Stay Puft Marshmallow Man
Day 1,165: Funko Hikari Vinyl Universal Monsters Glitter Shock Frankenstein
Day 1,166: Funko Hikari Vinyl Masters of the Universe Mystic Powers Skeletor
Day 1,167: Funko Hikari Vinyl Transformers Metallic Optimus
Day 1,197: Funko Batman Ice Freeze Batman Reject
Day 1,221: Funko Hikari Vinyl Transformers Metallic Bumblebee
Day 1,225: Funko Bravest Warriors Pop! Television Impossibear Vinyl Figure
Day 1,226: Funko Planet of the Apes Pop! Movies General Ursus Vinyl Figure
Day 1,229: Funko Bravest Warriors Pop! Television Catbug Vinyl Figure
Day 1,241: Funko Hikari Vinyl Gigantor Power Vision Gigantor
Day 1,257: Funko Hikari Vinyl Antique Verdigris Metaluna Mutant
Day 1,281: Funko Planet of the Apes Pop! Movies Ape Soldier Vinyl Figure
Day 1,285: Funko Bravest Warriors Pop! Television Commander Catbug Vinyl Figure
Day 1,300: Funko Hikari Vinyl Marvel Metallic Hulk Vinyl Figure
Day 1,305: Funko Pop! DC Comics Super Heroes Orange Batman Vinyl Figure
Day 1,340: Funko Pop! Sesame Street Season 1 Oscar the Grouch Vinyl Figure
Day 1,338: Funko Pop! Animation Bob's Burgers Gene Belcher Vinyl Figure
Day 1,350: Funko Hikari Vinyl Predator Original Predator Unmasked
Day 1,355: Funko Pop! Animation Bob's Burgers Linda Belcher Vinyl Figure
Day 1,361: Funko Pop! Animation Bob's Burgers Louise Belcher Vinyl Figure
Day 1,365: Funko Pop! Animation Bob's Burgers Tina Belcher Vinyl Figure
Day 1,374: Funko Pop! Animation Bob's Burgers Bob Belcher Vinyl Figure
Day 1,382: Funko Hikari Vinyl Toy Story Original Buzz Lightyear
Day 1,390: Funko Pop! Movies Back to the Future Marty McFly Vinyl Figure
Day 1,396: Funko Pop! Television Last Week Tonight with John Oliver Vinyl Figure
Day 1,400: Funko Dorbz DC Comics Super Heroes Orange Batman Vinyl Figure
Day 1,540: Funko Pop! Movies Atomic Breath Godzilla Pop! Vinyl Figure
Day 1,620: Funko Son of Zorn Zorn Action Figure
Day 1,645: Funko Masters of the Universe Dorbz Skeletor
Day 1,650: Funko x Playmobil Willy Wonka
Day 1,657: Funko x Playmobil Teenage Mutant Ninja Turtles Black and White Raphael
Day 1,659: Funko Pop! Television Stranger Things Eleven with Eggos Pop! Vinyl Figure
Day 1,671: Funko Pop! Television Stranger Things Joyce Pop! Vinyl Figure
Day 1,685: Funko Pop! Television Twin Peaks Agent Cooper Pop! Vinyl Figure
Day 1,687: Funko Pop! Television Stranger Things Lucas Pop! Vinyl Figure
Day 1,694: Funko Pop! Television Stranger Things Barb Pop! Vinyl Figure
Day 1,706: Funko Pop! Television Stranger Things Dustin Pop! Vinyl Figure
Day 1,707: Funko Pop! Television Twin Peaks Audrey Horne Pop! Vinyl Figure
Day 1,710: Funko Pop! Television Twin Peaks Laura Palmer Pop! Vinyl Figure
Day 1,714: Funko Pop! Television Stranger Things Demogorgon Pop! Vinyl Figure
Day 1,717: Funko Pop! Television Twin Peaks The Giant Pop! Vinyl Figure
Day 1,722: Funko Pop! Television Twin Peaks Log Lady Pop! Vinyl Figure
Day 1,732: Funko Pop! Television Stranger Things Will Pop! Vinyl Figure
Day 1,736: Funko 9POA Twin Peaks Action Figure Set
Day 1,745: Funko Pop! Television Twin Peaks Leland Palmer Pop! Vinyl Figure
Day 1,753: Funko 9POA Batman 1966 TV Series Batman and Robin Action Figures with Batmobile
Day 1,761: Funko Pop! Heroes Wonder Woman Diana Prince Pop! Vinyl Figure
Day 1,766: Funko Pop! Television Twin Peaks Bob Pop! Vinyl Figure
Day 1,777: Funko Pop! Television Ash vs. Evil Dead Entertainment Earth Exclusive Bloody Ash Pop! Vinyl Figure
Day 1,793: Funko Pop! Television Stranger Things Mike Pop! Vinyl Figure
Day 1,832: Funko x Playmobil Doctor Who Fourth Doctor
Day 1,838: Funko Pop! Television Twin Peaks Black Lodge Cooper / Black Lodge Laura Pop! Vinyl Figures
Day 1,841: Funko Pop! Animation Glow in the Dark Reptar Pop! Vinyl Figure
Day 1,847: Funko Pop! DC Comics Super Heroes Retro Batman Vinyl Figure
Day 1,850: Funko Pop! Disney Coco Ernesto Pop! Vinyl Figure
Day 1,852: Funko Son of Zorn Office Zorn
Day 1,908: Funko x Playmobil Teenage Mutant Ninja Turtles Shredder
Day 1,927: Funko Pop! Movies Star Trek Beyond Captain Kirk (Survival Suit) Pop! Vinyl Figure
Day 1,938: Funko Pop! Movies Jurassic Park Dr. Ian Malcolm (Wounded) Pop! Vinyl Figure
Day 1,939: Funko Pop! Games Portal 2 Chell Pop! Vinyl Figure
Day 1,957: Funko VYNL The Life Aquatic Steve and Ned Vinyl Figures
Day 1,984: Funko Pop! Movies Jurassic Park Dr. Ian Malcolm Pop! Vinyl Figure
Day 1,985: Funko Pop! 8-Bit Alien Xenomorph (Video Game) Pop! Vinyl Figure
Day 2,045: Funko GLOW Debbie Eagan vs. Ruth Wilder Action Figures
Day 2,124: Funko DuckTales Scrooge McDuck (Red Coat) Pop! Vinyl Figure
Day 2,244: Funko Pop! Television Schitt's Creek David Rose Action Figure
Day 2,315: Funko Soda Devo Satisfaction Vinyl Figure
Day 2,440: Funko Pop! Rocks Frank Zappa Action Figure

See more Planet of the Apes items in Figure of the Day:
Day 981: Funko Planet of the Apes Pop! Movies Cornelius Vinyl Figure
Day 1,069: Funko Planet of the Apes Pop! Movies Dr. Zaius Vinyl Figure
Day 1,226: Funko Planet of the Apes Pop! Movies General Ursus Vinyl Figure
Day 1,281: Funko Planet of the Apes Pop! Movies Ape Soldier Vinyl Figure
Day 2,470: Super7 Planet of the Apes Lawgiver Statue
Day 2,534: Super7 Planet of the Apes Mendez XXVI ReAction Figure
Day 2,546: Super7 Planet of the Apes Cornelius ReAction Figure