Spectre Leyden
Glow in the Dark Figure

481 Universe Glyos-Compatible Figures
Item No.: n/a
Manufacturer: NiStuff
Includes: Two pins
Action Feature: n/a
Retail: $12.00
Availability: July 2013
Other: Includes new, two-piece head

PREVIOUS
RSS
NEXT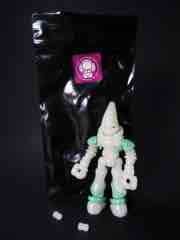 When the first Outlander art made the rounds, people mentioned it was a little derivative of the Onell Design figures. Spectre Leyden apes the name like nobody's business, but now it looks incredibly different thanks to a new head and altered legs. A two-piece, dinosaur-like head with a massive crest is added along with new calf pieces to boost this figure's height to roughly 3 1/2-inches tall. A normal glow Outlander was sold on the same night, but I jumped on the one with the new head.
I wanted an all-glow Outlander - because I like things that glow - so this was an easy choice to buy. The added parts were just a nice bonus, a separate heads pack with several new pieces was also sold the same night. In hindsight I kind of wish I didn't get the glow version, mostly because this new head is so cool - there are lots of ribbed, striped details as well. This unique head shape is uncommon in the world of Glyos toys, so it really stands out as being something totally different rather than something that looks sort of like Callgrim or Pheyden... even if the name hints at the latter.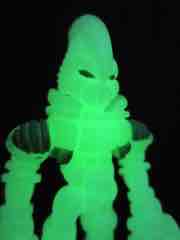 The Leyden head was what sold me on the figure, but the new leg lengthener pieces are nice too. One element fits in between the foot and the bottom part of hte leg, basically boosting him roughly a head taller than a standard Outlander. Due to how it fits in, you really won't even notice it - there's some ribbed detail on the back of the piece but you likely won't pay it any mind. It's functional, mostly serving as a way to make the back of the standard leg into the front of the figure. It's a nice way to make the most out of the existing parts, but it won't be obvious unless he's hanging out with your other Outlanders.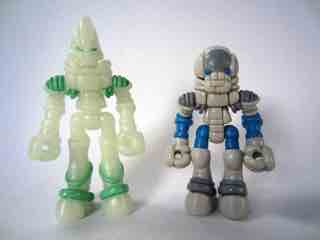 I was pretty sick of the last Outlander-based figure I got, so I assumed it might be a while until I got a new one- I'm happy this one came up, because it really does feel like a different figure. The only deco is a tiny bit of green on the arms, near the feet, and on the eyes. The neck separates from the base of the neck, but this isn't important - what's important is that Nicholas Merz put just enough newness into the existing figure to make it exciting and interesting. When the head starts getting some heavy paint added to the face, I'll buy another Leyden but until then I'm pretty happy with my new glowing dinosaur alien. Get a Leyden headed figure if the chance comes up, you'll dig it.
--Adam Pawlus
Additional Images

See more NiStuff and 481 Universe figures in Figure of the Day:
Day 524: NiStuff Terrestrial and Outer Anomalies Metallic PVC Figures
Day 704: NiStuff 481 Universe Outlander Silas Action Figure
Day 769: NiStuff 481 Universe NV Subject Action Figure
Day 769: NiStuff 481 Universe NV Subject Action Figure
Day 804: NiStuff 481 Universe Zeta Force Dig Crew Action Figure
Day 892: NiStuff 481 Universe Maigus Action Figure
Day 908: NiStuff 481 Universe Spectre Leyden Action Figure

Click here to see more Glyos Compatible figures in Figure of the Day.