Chromia
Series 02 #022

Transformers Generations Deluxe
Item No.: Asst. 37986 No. A7801
Manufacturer: Hasbro
Includes: Blaster, Dark Cybertron #11 (Robots in Disguise #27) comic book
Action Feature: Transforms from Robot to Motorcycle
Retail: $14.99
Availability: November 2014
Other: Prime Arcee Remold

PREVIOUS
RSS
NEXT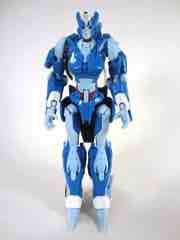 Thanks to comic books and decades of fan love, we're able to have new "classic" figures like Chromia. Arguably largely a background character from the 1980s, the character has since evolved into a semi-regular in the Windblade comics and related stories as the title character's bodyguard and (spoilers) surprisingly manipulative and violent sidekick.
While the character has origins dating back to 1985's "The Search for Alpha Trion", this particular toy owes a debt of gratitude to Transformers Prime. A heavily altered Arcee (the second, "Robots in Disguise" version) means you get yet another blue motorbike with basically the same transformation. Thankfully, it's pretty good. It's bright and colorful with a bright blue and a sharp white that really pops nicely - and if that weren't enough, there are some red markings which really bring her to life. The bright color also just happens to look really good next to Arcee and her movie-based companions like Wheelie, Rodimus, and Kup.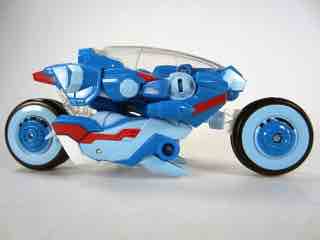 She's basically similar to a Tron bike or Afterburner's alt mode, which is great. The good news is the vehicle is beautiful and futuristic, and you can plug her pistol in the side while scooting her along on your table. She pieces together nicely with some clever bits and nearly everything tabs in place. There's even a kickstand to keep the bike upright, and that really works well.
Transformations is pretty painless, everything unfolds nicely and the end result is a good-looking robot with a few articulation issues - specifically, the elbows and the hips. Also, the "windshield" of the bike is not removable to serve like a riot shield, as you saw in the comics. She only has a blaster with which to defend herself, and the back of the package has photography showing her with Arcee's alternate gun. A sticker confirms it isn't included.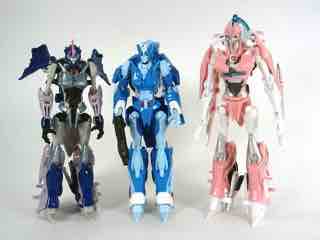 So! The robot head sculpt has a nose - the comic art doesn't have one, so a noseless Chromia would've been neat and a nod to the toy's origins in Prime. It's still a very nice sculpt, with subtle lips, a nose that doesn't stick out too much, and eyes that probably could have benefitted from paint. The figure has a light-up eyeport with a smokey grey plastic, which does her no favors. Arcee's glow blue, while Chromia's peepers are sort of dead and hollow. The rest of her is great, so perhaps a good customizer might want to take her noggin apart and splatter some blue paint on there to a little more personality.
With 13 joints she is, in theory, a very poseable figure. The wrists are great, as are the knees and neck. The hips are a little wonky - my NYCC Arcee has a habit of a leg just falling off, and Chromia has a similar problem. A piece of her bike kibble holds the legs in place. In theory this is very good, especially for displays, and you can always move this kibble out of the way to free up her range of movement. If you do this, the leg might fall off when you move it even a tiny bit - it doesn't have a lot of hold on it and I really dislike when this happens. No toy should fall apart when being subject to light play.
The elbows are also incredibly stiff - I suppose you could file down the plastic, but you shouldn't have to in a line which is celebrating its 30th anniversary. I can only assume this toy, which was delayed a few times, was rushed at the end because it looks really good and is tantalizingly close to being wonderful. I don't regret getting it, but things like hard-to-rotate elbows and legs that fall off aren't exactly fantastic, and the fact that her knee pads look a lot like Thrust/Ramjet/Dirge continues to be very, very strange to me.
As a desk piece or shelf filler, she's great. Chromia is a colorful toy with two very nice modes and one simple blaster weapon, making her a good toy if you're willing to make a few adjustments or put up with some flaws which, depending on where you sit, could be considered relatively minor. She has no problems standing upright on my desk and is a very sturdy robot if you don't move those legs. Even Windblade can't boast that - so go ahead and get yourself a Chromia if you're on the fence. If you aren't expecting a flawless figure, you're going to find a lot to enjoy here. Plus it's not every day that a previously-unmade G1 character gets a transforming toy, let alone a woman robot, let alone two in a single wave.
--Adam Pawlus
Additional Images

Click here to see more Hasbro figures in Figure of the Day.
Click here to see more Transformers figures in Figure of the Day.

Want to buy this figure? Check Transformers availability at our sponsors:
Entertainment Earth