Claw Jaw
Debut of Sculpt

Transformers Beast Wars Basic
Item No.: Asst. 80295 No. 80302
Manufacturer: Kenner
Includes: Claw weapon
Action Feature: Transforms from Squid to robot, spring-loaded claw gimmick
Retail: $4.99
Availability: 1997
Other: Repainted as Europe-only "Transmetal" figure, Ikard, and Scuba

PREVIOUS
RSS
NEXT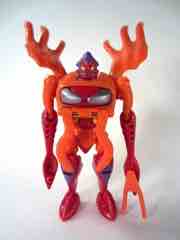 For the first few years I wasn't able to buy Beast Wars toys due to parental disapproval - but when I got to college? Oh yeah. Claw Jaw was gone by 1998 in Arizona, so I got mine in a lot from eBay. He originally sold for five bucks - the same price as contemporary Star Wars action figures - and stood roughly the same size as a robot, about 4-inches tall. The amazing thing, though, was how much more articulated the figures were - a 1997 Star Wars figure had at best 6 joints. Claw Jaw has 12 not counting the tentacles on his shoulders or his chest.
Standing just over 4-inches tall, this robot is larger than the current $10 Legends Generations figures, but only just barely. Nearly every joint is a ball-joint, plus hinged feet. It's remarkable. You can get better action poses out of this figure than many current releases, and adjusted for inflation this figure would be about $7.50 in today's dollars. Do you know what kind of Transformers toys you can get for that today? Not even the Playskool stuff - maybe a blind-bagged Kreon or two, but certainly not any mainline transforming toys. Ten bucks is the new cost of entry, and they may not have the simple deco of a 1997 toy. Molded in a orangey pink and a maroon, you can see some painted silver claws, purple mottling, and yellow eyes.
I appreciate that a claw weapon was included for melee combat, but it's ultimately pretty worthless - it just looks like an extension of his hand. It can be stored on the squid's head (a backpack in robot mode), and fits snuggly in a hole in either tentacle hand. It's a clever use of the whole suction cup hand motif, but the really fun weapon is the claw in his chest for which he is named - press in the lever on the back, and they extend out to grab things. It works in squid mode, too.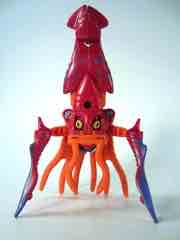 The squid itself isn't a very compelling toy, and this is how Kenner packaged the toys - most Transformers sold in the USA have been packaged in their alt modes, so this was nothing unusual. The squid itself can move a couple of his tentacles or attack with his jaws. Unlike most modern toys, the beast era had action features which worked in their creature modes too - today, you're lucky if the car mode has rolling wheels that work..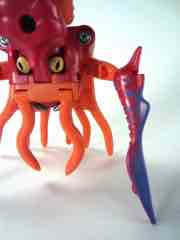 If you like sea life - and most kids do - get yourself a Claw Jaw. The US version is $10 or less, the nearly identical Japanese one isn't that far off, plus there are repaints as Ikard (white and blue) or Transmetals Claw Jaw (blue and green, Europe only). The later two tend to be pricey, so I'd say grab yourself a Claw Jaw and have yourself a great time - until you remember just how much cheaper toys were 20 years ago. If you're not interested in movie bots or the new dinosaur toys, go on eBay and grab some early Beast Wars Maximals and Predacons - the characters that didn't appear on the excellent TV series tend to be pretty cheap compared to those that made it to the screen.
--Adam Pawlus
Additional Images


See more Kenner figures in Figure of the Day:
Day 98: Kenner Beast Wars Transformers Noctorro Action Figure
Day 99: Kenner Beast Wars Transformers Air Hammer Action Figure
Day 100: Kenner Beast Wars Transformers Torca Action Figure
Day 101: Kenner Beast Wars Transformers Terragator Action Figure
Day 102: Kenner Beast Wars Transformers Quickstrike Action Figure
Day 114: Kenner Total Justice Mail-In Superman Action Figure
Day 133: Kenner Q*Bert Wind-Up Q*Bert Action Figure
Day 138: Kenner Jurassic Park Chaos Effect Compstegnathus Action Figure
Day 172: Kenner Jurassic Park The Lost World Chasmosaurus Action Figure
Day 195: Kenner ALIENS Arachnid Alien Action Figure
Day 211: Kenner Predator Cracked Tusk Predator Action Figure
Day 234: Kenner ALIENS Scorpion Alien Action Figure
Day 250: Kenner ALIENS Panther Alien Action Figure
Day 256: Kenner ALIENS Gorilla Alien Action Figure
Day 261: Kenner ALIENS Bull Alien Action Figure
Day 285: Kenner ALIENS Hive Wars Warrior Predator
Day 317: Kenner ALIENS vs. Predator 10-Inch Alien Action Figure
Day 346: Kenner Jurassic Park Ian Malcolm Action Figure
Day 356: Kenner Action Masters Predator
Day 359: Kenner ALIENS Hive Wars Acid Alien Action Figure
Day 365: Kenner ALIENS Vasquez Action Figure
Day 366: Kenner Jurassic Park Ellie Sattler Action Figure
Day 381: Kenner ALIENS Action Masters Ripley
Day 397: Kenner ALIENS Mantis Alien
Day 398: Kenner Batman: The Animated Series Clayface
Day 408: Kenner Legends of Batman Future Batman
Day 421: Kenner Bone Age Crag the Clubber Action Figure
Day 437: Kenner SilverHawks Copper Kidd Action Figure
Day 441: Kenner Batman: The Animated Series Harley Quinn
Day 443: Kenner Batman: The Animated Series Machine Gun Joker
Day 444: Kenner Batman: The Animated Movie Mask of the Phantasm Phantasm
Day 446: Kenner Legends of Batman Knightquest Batman
Day 457: Kenner Batman: The Animated Series Ra's Al Ghul
Day 533: Kenner Jurassic Park Chaos Effect Amargospinus
Day 848: Kenner Transformers Beast Wars Terrorsaur
Day 903: Kenner Transformers Beast Wars Rattrap
Day 956: Kenner Transformers Beast Wars Claw Jaw
Day 1,140: Kenner M.A.S.K. T-Bob with Scott Trakker Action Figure
Day 1,180: Kenner Jurassic Park Alan Grant Action Figure
Day 1,198: Kenner Jurassic Park Tim Murphy Action Figure
Day 1,212: Kenner Jurassic Park Chaos Effect Ian Malcolm Action Figure
Day 1,248: Kenner M.A.S.K. Condor with Brad Turner Action Figure
Day 1,445: Kenner Transformers Beast Wars Cybershark
Day 1,452: Kenner Beast Wars Transformers Fuzors Injector
Day 1,486: Kenner Beast Wars Transformers Spittor
Day 2,179: Kenner Aliens Wild Boar Alien Action Figure
Day 2,190: Kenner Batman: The Dark Knight Collection Tec-Shield Batman Action Figure
Day 2,199: Kenner Batman Returns Penguin Commandos Action Figures
Day 2,217: Kenner Batman: The Dark Knight Collection Iron Winch Batman Action Figure

Click here to see more Transformers figures in Figure of the Day.

Want to buy this figure? Check Transformers availability at our sponsors:
Entertainment Earth