Terragator
Turtle Alligator

Beast Wars Transformers Fuzors Basic Figures
Item No.: Asst. ??? No. ???
Manufacturer: Kenner
Includes: Shell shield, tail gun weapon
Action Feature: Opening jaws
Retail: $4.99
Availability: 1998
Other: Not rereleased or repainted (even in Japan)

PREVIOUS
RSS
NEXT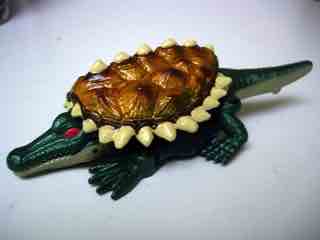 One of the more sensible fusions in Beast Wars Fuzors came in the form of Terragator, a terrapin and an alligator. Why not throw a turtle shell on a gator? That's a heck of a useful defensive weapon right there, although once you start applying some form of logic to alien robot warfare you start to get into trouble.
The beast mode is not exactly a solid creation, but it looks cool. The thin limbs and the shell are a little hard to keep together, as the shell pegs don't quite fit into the hand holes. The tail stays in place, and the articulated legs (while unnecessary) are a real nice touch. There's a cool little mechanism in the head where if you move the arm under the shell, the head will bite. It's not a perfect fit but it's pretty nice that they worked something like this in such a small figure. The critter is essentially a barely-poseable creation, but you'll probably going to want to keep it as a robot anyway.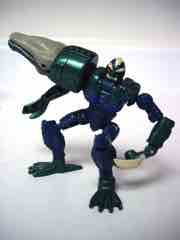 Like most of these toys, transformation is nice and simple-- pop off the shell, fold out the limbs, remove the tail, and presto-- robot. The roughly 4-inche tall figure has roughly a dozen points of articulation and is quite spindly, although the joints seem to hold up rather well. While not as stiff as Noctorro, it has no problems standing up and posing for a fight. I doubt it would hold up to heavy play due to all the ball joints, the limbs are designed to pop off if given too much stress.
The most amazing thing about the toy-- especially for a 1998 Transformers toy-- is the paint job. The shell is one of the prettiest things I think Hasbro has ever done, and the most amazing thing is that this came out of an era where most toys had, at best, three or four colors of paint on their heads. This shiny finish with the fading browns is really nice, and I can't help but wonder if it was entirely intentional for it to be this rich or if it was just a happy accident in the production process. The previous Beast Wars, turtle, Snapper, had a shell molded in green with some yellow splotches. Terragator has other great details like painted teeth in both modes, big bright eyes, and a creamy color for the bottom of his reptilian head. Sure, that tail gun thing is sort of dorky, but you can't deny that with all the accessories removed that this is a really nice Predacon figure. (There's no escaping beast kibble, folks.)
His Predacon rubsign is located under his shell so you really can't see it well in either mode. While I can't honestly say that Terragator is a shining beacon unto the late 1990s toy line, it's certainly very good as a thing to look at and futz with. I doubt you'll be sorry if you pick one up, but just remember that it doesn't exactly hold together in beast mode as well as you might hope.
--Adam Pawlus
Additional Images

See more Kenner figures in Figure of the Day:
Day 98: Kenner Beast Wars Transformers Noctorro Action Figure
Day 99: Kenner Beast Wars Transformers Air Hammer Action Figure
Day 100: Kenner Beast Wars Transformers Torca Action Figure
Day 101: Kenner Beast Wars Transformers Terragator Action Figure
Day 102: Kenner Beast Wars Transformers Quickstrike Action Figure
Day 114: Kenner Total Justice Mail-In Superman Action Figure
Day 133: Kenner Q*Bert Wind-Up Q*Bert Action Figure
Day 138: Kenner Jurassic Park Chaos Effect Compstegnathus Action Figure
Day 172: Kenner Jurassic Park The Lost World Chasmosaurus Action Figure
Day 195: Kenner ALIENS Arachnid Alien Action Figure
Day 211: Kenner Predator Cracked Tusk Predator Action Figure
Day 234: Kenner ALIENS Scorpion Alien Action Figure
Day 250: Kenner ALIENS Panther Alien Action Figure
Day 256: Kenner ALIENS Gorilla Alien Action Figure
Day 261: Kenner ALIENS Bull Alien Action Figure
Day 285: Kenner ALIENS Hive Wars Warrior Predator
Day 317: Kenner ALIENS vs. Predator 10-Inch Alien Action Figure
Day 346: Kenner Jurassic Park Ian Malcolm Action Figure
Day 356: Kenner Action Masters Predator
Day 359: Kenner ALIENS Hive Wars Acid Alien Action Figure
Day 365: Kenner ALIENS Vasquez Action Figure
Day 366: Kenner Jurassic Park Ellie Sattler Action Figure
Day 381: Kenner ALIENS Action Masters Ripley
Day 397: Kenner ALIENS Mantis Alien
Day 398: Kenner Batman: The Animated Series Clayface
Day 408: Kenner Legends of Batman Future Batman
Day 421: Kenner Bone Age Crag the Clubber Action Figure
Day 437: Kenner SilverHawks Copper Kidd Action Figure
Day 441: Kenner Batman: The Animated Series Harley Quinn
Day 443: Kenner Batman: The Animated Series Machine Gun Joker
Day 444: Kenner Batman: The Animated Movie Mask of the Phantasm Phantasm
Day 446: Kenner Legends of Batman Knightquest Batman
Day 457: Kenner Batman: The Animated Series Ra's Al Ghul
Day 533: Kenner Jurassic Park Chaos Effect Amargospinus
Day 848: Kenner Transformers Beast Wars Terrorsaur
Day 903: Kenner Transformers Beast Wars Rattrap
Day 956: Kenner Transformers Beast Wars Claw Jaw
Day 1,140: Kenner M.A.S.K. T-Bob with Scott Trakker Action Figure
Day 1,180: Kenner Jurassic Park Alan Grant Action Figure
Day 1,198: Kenner Jurassic Park Tim Murphy Action Figure
Day 1,212: Kenner Jurassic Park Chaos Effect Ian Malcolm Action Figure
Day 1,248: Kenner M.A.S.K. Condor with Brad Turner Action Figure
Day 1,445: Kenner Transformers Beast Wars Cybershark
Day 1,452: Kenner Beast Wars Transformers Fuzors Injector
Day 1,486: Kenner Beast Wars Transformers Spittor
Day 2,179: Kenner Aliens Wild Boar Alien Action Figure
Day 2,190: Kenner Batman: The Dark Knight Collection Tec-Shield Batman Action Figure
Day 2,199: Kenner Batman Returns Penguin Commandos Action Figures
Day 2,217: Kenner Batman: The Dark Knight Collection Iron Winch Batman Action Figure

Click here to see more Transformers figures in Figure of the Day.

Want to buy this figure? Check Transformers availability at our sponsors:
Entertainment Earth