Styracosaurus
Good Guys

Dino-Riders Boxed Toy Set
Item No.: No. 9123
Manufacturer: Tyco
Includes: 2 guns, harness, seat, ladder, water skin, pouch, necklace, rifle, blaster
Action Feature: Turn tail to turn head
Retail: $7.99
Availability: 1988
Other: Later redesigned as "Smithsonian Institution Dinosaur Collection" toy sans guns, fun

PREVIOUS
RSS
NEXT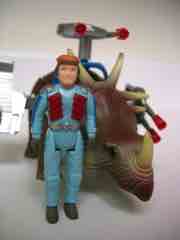 There's a very good reason why kids who grew up in the 1980s will light up with a huge smile when we talk about the toys of that era-- because they were almost entirely all awesome. Tyco was best known for things like RC cars and its own LEGO-compatible "Super Blocks" but the real gem in their portfolio is the late great Dino-Riders, a 1988 line which I read was killed only because of a bad executive decision in its fourth year: the dinosaurs were replaced with ice age mammals, sales dove off a cliff, and that was the end. (Year 3 had reportedly poor distribution, and the entire line has obscene secondary market prices. The ones you'll read about in FOTD are my childhood toys.) The Styracosaurus with Turret ("Turret" being the action figure) was in the line's first year, and one of the reasons it really took off. The gorgeous box art and animated series probably didn't hurt.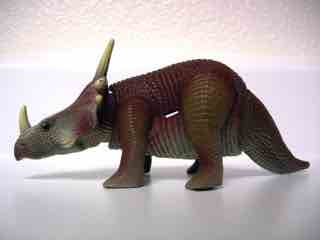 Each dinosaur was packaged with a chunk of accessories and a 2 3/4-inch scale figure-- the humans (or Dino-Riders) were the good guys, and the Rulons (a series of animal-headed aliens) were the bad guy. In addition to the fact this was effectively a great action toy, the box boasted the dinosaur was a "museum-quality replica" which really took in the marketing: kids loved these and really though these were fantastic representations, which was truer of some than others. (A few years later, the dinos sans gear would be repackaged as "Smithsonian Institution Dinosaur Collection" toys.) The Styracosaurus' packaging pegged it as a 1:24 scale toy and the toy dinosaur measured about 7-inches long, which fits the bill as "close enough" per Wikipedia's size of 18-feet long in the Cretaceous Period. His legs are all jointed, and his head moves if you push his tail as a lever. The same mechanism was used in other toy lines, famously Kenner's Star Wars 1979 Patrol Dewback and 1983 Jabba the Hutt toys.
The 1980s were a glorious time for toys, but repaints were still a common thing. The Styracosaurus body was reused on the Monoclonius and Chasmosaurus to keep costs low.
Unlike real life, this guy could have a giant harness fitted on his back with a chair and two big silver guns. When I pulled this set out to review, an onlooker asked "Is it supposed to look like that?" Yes, yes it is, and it's awesome. The blue harness has little tabs which peg into holes on the side of the dinosaur, locking into place. The silver chair and two cannons are actually painted silver, which is a mixed blessing: they look gorgeous, but they can get scraped up easily with age. The red cannon tips are removable, and are frequently lost or broken on most samples. The guns are jointed, so you can rotate them to point at things, while the seat just stays there for your action figure. And in this case, the guy's name is Turret.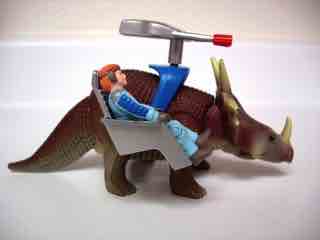 Turret has orange hair (the Japanese release has black hair) and pretty good articulation. Much like M.A.S.K. and Starcom, the figure has 7 points of articulation-- the basic 5 of the 1980s (neck, shoulders, and hips) plus knee joints which were increasingly common on the smaller-scale figures which were packaged with vehicles in the late 1980s. With a slightly oversized head and a nicely detailed outfit, the baby blue costume had added silver, red, blue, and grey bits to bring it to life. The headset matches the boots and gloves, and naturally, it looks ridiculous as any good 1980s toy should. The figure won't amaze you and his hands are not sculpted to hold weapons, so his guns (which were the same as all good guy sets and cut from a plastic tree) just clipped on to his arms. His various necklaces and pouches also just hung on his body, but I can't say I entirely get why this set required a silver ladder accessory. It's here but too large to be genuinely useful.
As the sum of its parts, it's a great little set. Were this line (or one similarly marketed toward older elementary school kids) still available, I'd collect it-- but secondary market prices prevent many from doing so. These things are expensive, and have amazing paintings as box art. These paintings would be phased out by the line's third year, as paintings to illustrate toys on toy packaging started to be slowly phased out in favor of heavily airbrushed photography or a traditional window box showing the actual toy. The artwork was really gorgeous though, Tyco could sell prints of these things. If they still existed, Mattel owns the remainder of the company as of 1997 and to date has expressed no real interest in reviving the brand, but a similar preschool-targeted series of Imaginext toys just came out under its Fisher-Price line. The key difference here is that the dinosaurs are more stylized (read: designed for "cute kid toy" play) so odds are they'd be less appealing to boys over the age of 8, the figures are far less imaginative, and the dinos have some vac-metal accessories. But I digress-- if you can find the Dino-Riders Styracosaurs set on the cheap, buy it. Buy two. This was one of the many 1980s lines where it seems that the human figures were the accessories, while the dinosaurs were the real stars. That sort of thinking started to get phased out by the end of the 1990s, especially after the "micro" trend came and went-- it's all about the characters, not the larger play pattern, in most cases.
--Adam Pawlus
Additional Images

See more Tyco figures in Figure of the Day:
Day 212: Tyco Dino-Riders Styracosaurus with Turret Action Figure
Day 223: Tyco Dino-Riders Monoclonius with Mako Action Figure
Day 244: Tyco Dino-Riders Ankylosaurus and Sting Action Figure
Day 274: Tyco Dino-Riders Struthiomimus and Nimbus
Day 287: Tyco Dino-Riders Dimetrodon and Shado
Day 344: Tyco Dino-Riders Protoceratops and Kanon
Day 399: Tyco Looney Tunes Marvin the Martian

See more Dino-Riders figures in Figure of the Day:
Day 212: Tyco Dino-Riders Styracosaurus with Turret Action Figure
Day 223: Tyco Dino-Riders Monoclonius with Mako Action Figure
Day 244: Tyco Dino-Riders Ankylosaurus and Sting Action Figure
Day 274: Tyco Dino-Riders Struthiomimus and Nimbus
Day 287: Tyco Dino-Riders Dimetrodon and Shado
Day 344: Tyco Dino-Riders Protoceratops and Kanon
Day 2,272: Mattel Dino-Riders Rulon Warriors Battle Pack