Sneak Preview Optimus Prime
The 1990s Micro Trend Reborn

Transformers Dark of the Moon Cyberverse Preview Figure
Item No.: No. 35604
Manufacturer: Hasbro
Includes: 2 blasters, 1 jetpack, 3D glasses
Action Feature: Transforms from truck to robot and back again
Retail: $7.96-$11.99
Availability: March 2011
Other: First Dark of the Moon Toy

PREVIOUS
RSS
NEXT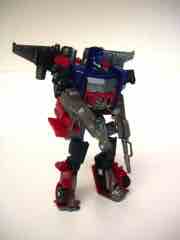 With each new Transformers movie, hasbro has tried to up the ante with new geared gimmicks or enhanced deco... or something newer, bigger, and better to catch fans. This time around, they're attempting to revive the old "Micro" play pattern with Cyberverse Optimus Prime and an entire legion of smaller-sized figures, vehicles, and playsets to attempt to capture that lower-cost price point. To kick things off both for the new movie and this "new" scale is the famous leader of the Autobots, presented in a size similar to Scout-class toys with the engineering quality of an average Legends-class figure. Despite the height, it feels like a Legends toy.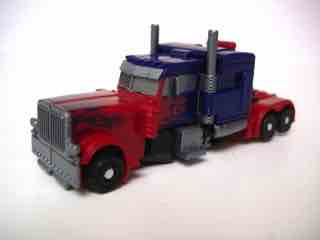 In truck mode, Optimus measures a respectable 3 3/4-inches long and includes no trailer/container. (That's coming later.) He does include a jetpack accessory, and his guns store nicely on this weapon. The wheels roll, but the undercarriage gets in the way of totally free movement. In other words, it looks like a truck, but it's not as good as Hasbro's other vehicle modes for its toy line. It also looks neat enough, but the deco isn't as spectacular as some other toys at this (or even cheaper) prices over the past few years. As a vehicle, it feels like Hasbro is coasting with this one.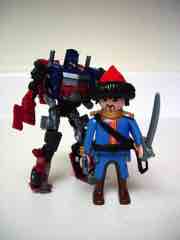 The robot mode is packed with promises, we see the familiar c-clamps being used on the robot body as well as a fair amount of articulation, plus what appears to be a new standard (for Cyberverse) weapons peg size for the figure's fists. This might mean we have a new era of compatibility and gun-swapping ahead of us, which could be a ton of fun if the figures feel a little more solid. Prior to transforming the toy, I noticed a slight bit of stressing on his elbow, which is generally not good for a first impression. The figure is able to move, but considering his price is above that of most recent Scout-class toys and the level of motion is closer to that of a $5 toy, it really doesn't feel like you're getting a good deal here.
On the bright side, he has no problem holding his guns in his fists, and his nifty backpack fits right into place with no real problems. I admire that we're seeing an emphasis placed on gear for toys of this size, and hope we'll see more of it as the line continues. I just hope that these toys feel a little meatier for the money, as I've seen some excellent Legends-class toys over the years.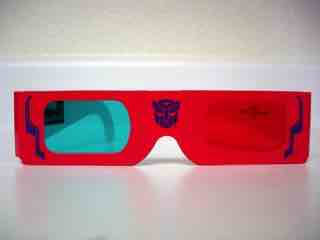 ...and these are the 3D glasses. You can use them for viewing content on Transformers.com-- admittedly a somewhat unpleasant experience-- or you can wear them around and pretend you're Billy Zane ca. 1985.
I would not suggest you buy this figure at full price-- at all. Were it not a sneak preview toy, I doubt you'd be happy spending more than $7 for it. If you have the means to get it for $5 or less it's certainly acceptable, but it doesn't feel much better than Legends toys and certainly doesn't feel as fun or as solid as Hasbro's old Micromasters from the late 1980s and early 1990s. The detail sculpted in the toy is good, the paint job is just OK, and the transformation and engineering feels a little, a smidgen, just a bit, cheap. Compared to a full-sized Deluxe toy, this one doesn't really stand a chance.
--Adam Pawlus
Update: Collectors Take Note
The Sneak Preview Optimus Prime is identical to the Cyberverse Commander Assortment Optimus Prime released in May 2011, down to the same accessories. The only thing that makes them unique is the packaging and the 3D glasses from this Sneak Preview release. If you collect open toys, you won't need both, and the pricing is similar at some retailers.
-- AP 05/16/11
Additional Images

Click here to see more Hasbro figures in Figure of the Day.

Click here to see more Transformers figures in Figure of the Day.

Want to buy this figure? Check Transformers availability at our sponsors:
Entertainment Earth