Xodiac Glyaxia Command Special Edition
The Man from Saturn

Outer Space Men Onell Design Exclusive
Item No.: n/a
Manufacturer: Four Horsemen
Includes: Ray gun, helmet, bent spare arms, Saturn staff
Action Feature: Swap parts with other Glyos-compatible figures
Retail: $12.00
Availability: August 26, 2011 at 9:00 PM Eastern Time
Other: Redeco of 2010 Figure

PREVIOUS
RSS
NEXT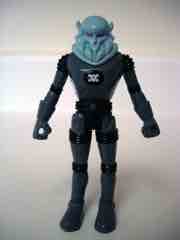 This Xodiac Glyaxia Command Special Edition is actually an early pre-release version, which is so amazingly cool that I got one early but it also means I had to wait on some details before sharing. (It's also identical to the final piece.) I don't want to just jump on here and go "BLARGH AWESOME BUY" but really, that would be accurate, and much shorter for you to read and much less work for me to deal with. This fully-painted figure sports a blue head, a grey suit, a Relgost Wing Divison (I think) symbol on his chest, and a trio of clear hard plastic accessories which just look friggin' fantastic on this and other figures. I believe Matt Doughty was more than a little responsible for the deco on this figure, and he did a fantastic job. If you need a backstory for the figure, he posted it right here.

The figure has the same articulation as previous Xodiacs-- this is the fifth-- but it's only the second fully-painted one. This time around he has a glossy grey suit which really looks nice-- very different than the metallic blue of the Infinity release. This is the first-ever fully-painted Outer Space Men figure not based on the deco of the original Colorforms figures and prototypes from the 1960s, which makes it quite exciting for those looking for something both new and old all at once.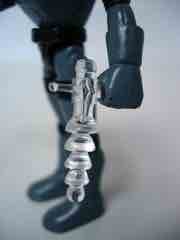 You'll have no problems popping off parts and swapping them with other figures in the line, as the toys were designed for this kind of play. (Even more amazing: they were designed for play.) The Four Horsemen put in a fantastic little detail in the sculpt of the ray gun, the back of the accessory is actually a Glyos plug-- so you can pop it in the neck or other parts of these figures, if you're so inclined.
The blue head with pink eyes really works nicely, if you're a fan of stealing parts from other toys, the pink Infinity Edition blaster looks fantastic with this one. When you get right down to it, the figures fit right in with retro 1970s and 1980s space toys and this one is particularly neat given it is the first completely new, completely recolored non-clear take on the character.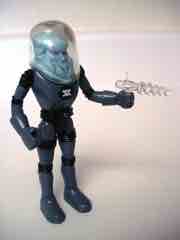 Multiple versions of Xodiac were produced with this mold-- July 2010 saw an orange release, October 2010 saw the green version, the normal painted Infinity version hit in December 2010, and a clear version with either silver or gold accessories (depending on the luck of the draw) hit about a week after that. The Xodiac Glyaxia Command Special Edition is, so far, the only new redeco of the character (or any of the four 2010 Four Horsemen Outer Space Men) in 2011.
The sample I received came bagged as seen below-- not in the standard ziplock-equivalent, but heat sealed in a thinner clear baggie. Below, there are lots of pictures of my screwing around with it-- note a cannon arm (taken from a Star Wars Republic Scout Speeder), mix-and-match builds with other Xodiac parts, plus one of my favorite shots: clear parts on a clear figure. Doesn't that look nifty? I think it does.
I'd suggest getting this if you're a fan of Onell, Glyos, or Outer Space Men projects. I like this one a lot, and historically the bulk of Onell Design toys are pretty low-run. They show up for sale, they sell out, and that's potentially the end of it-- due to the cultish nature of the line, few to no fans buy extras to sell and not a whole lot are likely to turn up on eBay down the road. If you're on the fence, just buy it. You'll be glad you did... unless this is the very first toy of this type you buy, in which case you may be inspired to purchase more. This item goes on sale tonight, so be sure to order it and a few other figures while you're there. (Be sure to tell Onell Design hi from 16bit.com when you check out!)
UPDATE: This item sold out within 6 hours of launch.
--Adam Pawlus
Additional Images

Click here to see more Four Horsemen figures in Figure of the Day.

Click here to see more Outer Space Men figures in Figure of the Day.

Click here to see more Glyos Compatible figures in Figure of the Day.