Crankcase
Decepticon Super-Spy

Transformers Dark of the Moon Cyberverse Legion Class Series 1 Figure 003
Item No.: Asst. 28698 No. 28763
Manufacturer: Hasbro
Includes: Nothing
Action Feature: Turns into Chevy Suburban
Retail: $4.99
Availability: May 16, 2011
Other: Available in large or new handy pocket size

PREVIOUS
RSS
NEXT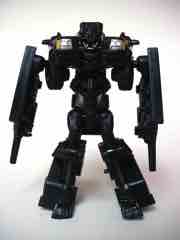 In the first few days of the Dark of the Moon launch, fans latched on to Crankcase because the bigger toy of him had a running change-- his middle finger got cut down. The "blade" weapon, or the bird, remains in his Legion-class toy in the miniature Cyberverse sub-line, which I bought because it looks vaguely like a robot version of the creature from Predator and is tiny. Despite looking like some sort of demon robot, his packaging indicates he's a spy who avoids fighting. Also notable, the packaging has a separate instruction sheet inside rather than showing it or any co-sells on the back, so if you see Crankcase you know he's figure #003 in a series, but no others are listed. Why is Hasbro avoiding the upsell?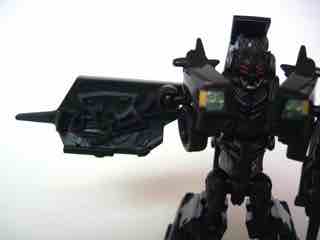 Slightly mistransformed in the package, Crankcase requires a small shoulder adjustment to be correct per the manual's directions-- just swing out his shoulders to the side a bit, and he'll be fine.
In robot mode, the toy is really nicely done. He has the big middle finger weapons intact, but the real kicker comes from his legs. (See what I did there?) Anyway, the feet have wheels on the bottom, essentially functioning as roller skates if you want to play with him that way. He also has jointed knees, which isn't the most common thing at this scale. It allows for more creative poses, which should be great if you're going to do any small-scale dioramas or what have you. The detail for the scale is also good, with exceptional detail on the face and a lot of smooth panel lines everywhere else to ensure the GM-licensed vehicle mode passes whatever their criteria for approval may be. Crankcase has jointed arms, and there's a panel behind his head which is adjustable if you don't essentially want him to have a halo made out of car parts.
Other than the red eyes, silver fangs, and a little grey on his torso, he's black plastic. Oh, and the car mode paint applications, but let me get to those first.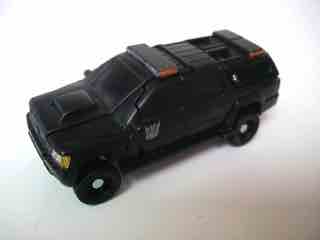 The vehicle is Chevorlet's Suburban, so now you have an evil spy robot in his own nondescript black van. Really, that's about perfect. The paint detail is a little weak-- the orangey lights on the roof on the sides is pretty sloppy-- but there are headlights, a Decepticon symbol, and even little yellow lights where the turn signals presumably are. It's a nice car, nothing supremely cool or weird unfortunately, so I wouldn't suggest picking this one up just because the Chevy Suburban is some amazing piece of automotive engineering. The toy is pretty solid, the wheels roll freely and nicely, and this is one of the better toys in this scale I've played with as of late. For $5, it seems a smidgen small, but that's true of the entire line. If you have a few bucks burning a hole in your pocket and love small toys, this is a worthwhile purchase. (The deluxe-class toy, though, is only twice as expensive at retail and is significantly more impressive.)
--Adam Pawlus
Additional Images

Click here to see more Hasbro figures in Figure of the Day.

Click here to see more Transformers figures in Figure of the Day.

Want to buy this figure? Check Transformers availability at our sponsors:
Entertainment Earth