Electron+
The Man from Pluto by way of Toy Tokyo

Outer Space Men Beta Series Action Figure Xpress Comic Con Exclusive 2011
Item No.: n/a
Manufacturer: Four Horsemen
Includes: Two-piece helmet, alternate arms, staff, pistol
Action Feature: n/a
Retail: $25.00 (sold as a set with Alpha 7)
Availability: October 2011
Other: Second release of Electron+ in this line

PREVIOUS
RSS
NEXT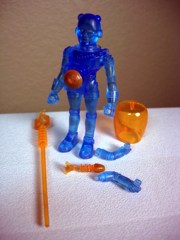 When I think of Pluto, I think of cold, ice, rock, and Neil deGrasse Tyson. Electron+, the Man from Pluto hails from the ex-planet Pluto, and has now been cast in a clear blue plastic with orange accessories-- exactly like last year's Beta Phase Astro-Nautlius. They match! They're quite the pair, and to date I've got about three clear blue figures in this line. Which, after a while, starts to make me feel I should stop buying the repaints and prepaints and just focus on the main figures-- not because they're bad, but because at this rate, the line will end with something around 53 figures minimum. We're already at 33.
As a roughly 3 3/4-inch action figure, he's just over 3.5-inches without the helmet. With orange eyes and gear, he looks exactly like he should: like some 1960s sci-fi character. The eyes resemble some of the robots out of the BBC sci-fi department, while the helmet and gun are pure vintage space adventure. The suit itself has lots of hoses and tubes, although the large box on his chest covers his legs and prevents his legs from swinging forward. As this figure will most likely be used as a collectible and not a toy, it isn't the end of the world. The body has 12 points of articulation and can separate at each one, splitting apart into about 13 blue body parts-- with 2 extra arms, there are 15 in all. His orange circle is also removable, and the plugs on the side of his head ("ears") are also removable allowing other Glyos plugs to be placed inside.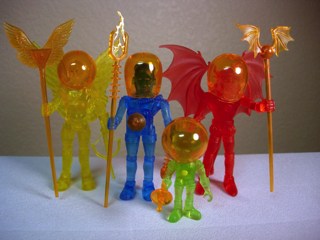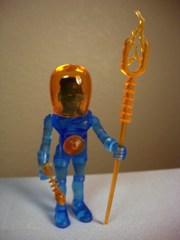 While the blue color really does feel right for a being made of energy who lives on the outer edge of the Solar System, I can't say I totally g.shtml the orange gear. I mean, I love orange things, and orange goes nicely with blue... it's just that I'm not crazy about it on this particular figure. Between this and the glow-in-the-dark version, it's hard to decide which is better-- I like both, but I guess glow-in-the-dark says "energy being" better.
One strange thing about this figure I didn't realize until I shot it was that its head seems to have a few fissures in it-- these imperfections are tough to see with the naked eye, but given enough light and pixels you can make anything look awful. (Your skin, for example.) Since this version has spare arms and the Alpha Phase did not, that's one notch in the blue Electron+ figure's favor. Overall it's jointed similarly to many figures from the 1980s, making it a simple and overall nifty toy-- the recent price increase does sting a bit, though.
--Adam Pawlus
Additional Images

Click here to see more Four Horsemen figures in Figure of the Day.

Click here to see more Outer Space Men figures in Figure of the Day.

Click here to see more Glyos Compatible figures in Figure of the Day.