Mystron
The Man from Hollow Earth by way of San Diego

Outer Space Men Alpha Series Comic-Con Exclusive 2011
Item No.: n/a
Manufacturer: Four Horsemen
Includes: Two-piece helmet, winged staff, gargoyle gun
Action Feature: n/a
Retail: $40.00 (sold as a set)
Availability: July 2011
Other: First release of Mystron in this line

PREVIOUS
RSS
NEXT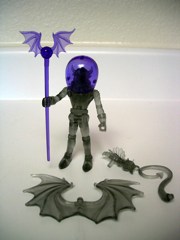 As the original Outer Space Men line was set for expansion, the creator Mel Birnkrant turned away from the planets and to other dimensions and-- surprisingly-- Hollow Earth. That's where the devilish Mystron, the Man from Hollow Earth comes from, and it's right there in the name. Clad in a space suit for presumably thematic reasons, the original bendable figure prototype included a helmet and a staff, but the Gargoyle-themed gun is new to this release. The nifty accessory is, according to Birnkrant on the Four Horsemen forums, a tribute to his wife and the events of their first date.
As a roughly 3 3/4-inch action figure it's more or less exactly what you should expect after playing with any of this toy line. You get a figure like the 2010 figures, but this time he has added wings and a tail. These are optional and totally removable, so he can still do things like stand or sit-- the tail even works as a third leg to keep him standing upright. It's a great figure, functional and with more than enough gear to be interesting.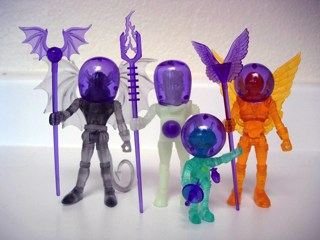 The Man from Hollow Earth uses the same Glyos construction as the rest of the line. He also shares a few parts-- the lower legs, arms, and hands are similar to existing figures, but the torso, head, feet, and upper legs are obviously new. And you know, so are the tail, wings, and gear. He has no problems holding his two accessories or wearing his gear, but the big purple space helmet may be overkill. He looks really good without it, and getting it off his head can be tricky. The helmet feels brittle but, so far, has not cracked on me. I'm hoping it will last for the ages but I'm being very careful with it as those tiny pegs really are small.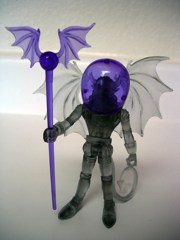 It wouldn't be a quality Outer Space Men figure without some more extra fun hidden in the figure, and there's one little surprise in the chest. While not super-exciting, it's neat. The central "peg" in his chest, just under the head, is completely removable-- you can plug another Glyos-peg accessory in there like a spare head, an alternate chest symbol, or whatever Onell Design concocts in the future. I like how they planned for future release and customization here.
As an action figure it's a lot of fun and has a striking design-- while not alien, it's quite menacing with his pointy tail and bat orb on a stick. (Not to trivialize it-- I think it looks really slick.) I think this figure hit the lottery in terms of gear and extras, the sculpt is dynamite, but even though it's a faithful update of a vintage 1960s design, the design isn't as cool as the other figures in the line. It's a strange place to be-- it's a great figure, the design is well-executed, and it may even be the finest execution in the entire series as sculpt and construction goes. But is it as exciting as the men from Pluto, Mercury, or Neptune? A worthy purchase, but I can't say I enjoy it as much as the rest of the line, even though it's plenty cool on its own. Having seen the fully-painted sample at a convention I can't say I expect alternate deco to make this one more exciting, but I wasn't crazy about Inferno until I got the final painted one in my hands. And now I love the dang thing.
--Adam Pawlus
Additional Images

Click here to see more Four Horsemen figures in Figure of the Day.

Click here to see more Outer Space Men figures in Figure of the Day.

Click here to see more Glyos Compatible figures in Figure of the Day.