Metamorpho
The Man from Alpha Centauri

Outer Space Men Beta Phase New York Comic Con Exclusive
Item No.: n/a
Manufacturer: Four Horsemen
Includes: Ray gun, some other gun, extra arms
Action Feature: Twist knob on helmet to switch faces
Retail: $19.99 (sold with Astro-Nautilus in a bundle)
Availability: October 2010, New York Comic-Con Exclusive
Other: Pink

PREVIOUS
RSS
NEXT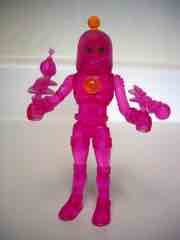 Sometimes enthusiasm trumps common sense, which is why I own four different versions Metamorpho, the Man from Alpha Centauri. Proof positive that pre-paints work, I bought two versions of this figure before the regular "standard" edition came out-- and then got another one. This particular version was bright clear pink, and while I really can't knock it for being a bad figure it's not really as interesting as the first glow-in-the-dark release or the third "main line" Infinity Series release. It's merely OK.
This time around, the just-under-4-inch action figure is cast in clear pink with clear orange making up the chest button and the handle on top of his helmet. The many faces remain, this time with green eyes that tend to peek out from behind the helmet-- one of the dangers of clear plastic is that they don't always hide the detail inside. I do enjoy that the figure's look and feel in this color seems to be in line with art toys or the vinyl Super 7 releases, but it doesn't feel all that much like one of the Outer Space Men that I've come to know and love from magazine articles.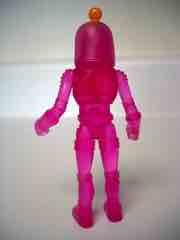 Given the fact that the figure was limited to about 300 pieces and did not sell out at New York Comic-Con in 2010, or in the following few months, I'd say that I'm not wrong in my assessment that this wasn't a fantastic color for the figure. (That, or people got sick of not having the regular editions.) The main reason to pick this one up is if you simply must have them all, or if you enjoy swapping out the parts and pieces with other Glyos system toys. I really do get a kick out of that, so I posted some mix-and-match images below. If that sort of thing turns your crank, by all means get this. If not, just get the standard Infinity Edition release-- it's gorgeous, painted nicely, and has wonderful packaging. This one... is pink.
--Adam Pawlus
Additional Images

Click here to see more Four Horsemen figures in Figure of the Day.

Click here to see more Outer Space Men figures in Figure of the Day.

Click here to see more Glyos Compatible figures in Figure of the Day.