Inferno
The Flame Man of Mercury

Outer Space Men Infinity Edition Series 2
Item No.: n/a
Manufacturer: Four Horsemen
Includes: Ray gun, extra arms
Action Feature: Swap parts with other Glyos-compatible figures
Retail: $19.99 (bundled with Xodiac)
Availability: December 2010
Other: "Remake" of unproduced Colorforms alien toy from 1969

PREVIOUS
RSS
NEXT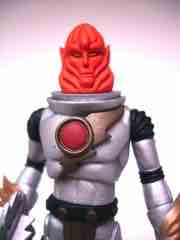 40 years in the making, Inferno, the Flame Man of Mercury was originally pitched as a bendable figure in 1969. Packaged samples were produced, but it never made it to store shelves. This 2010 release is a direct-to-consumer line from The Four Horsemen which updates the 1960s Outer Space Men bendable figures as modern 3 3/4-inch scale action figures. I had read about these as a teenager and never assumed I'd see them in my collection due to their being obscenely expensive-- thank heavens for this hobby's ability to remake literally anything!
Standing about 3 4/5-inches tall (at the top of his removable helmet), this figure is fantastic. Just look at it! Molded in a grey plastic, the figure has been painted silver although it's tough to tell just by looking at it. As such, be careful when handling it because it's entirely possible that the paint may rub off over time with heavy play. The head and flame backpack are also molded in silver, but painted over in reddish orange. Due to the plastic the manufacturers used, it seems that the figure is painted all over when in fact it is not. Other highlights on the figure are painted to make it look like the original design, including some gold flourishes on his gauntlets, an articulated ornament on his chest, painted black "bendy joints," and of course, a specially decorated codpiece. The ladies love the codpieces.
The figure's design is surprisingly simple compared to what you might expect from a group of ex-McFarlane Toys sculptors, but this really works well. The figure (and the whole line) look like they came out of the 1960s, except the sculpting doesn't look like garbage. (A lot of detail got lost during the manufacturing process in those days.) It won't blow you away with veiny detail or bulging muscles, but there's an unmistakable space race charm about these guys which I just freaking love.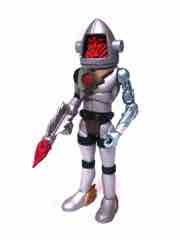 This is my favorite figure in the initial series, which just came out literally last week-- my sample showed up on Friday. Designed to be compatible with the Onell Design "Glyos" system, this action figure has 13 meaningful points of articulation, and can be taken apart at each of them. You can plug in other figures' limbs or accessories, and to the right you'll see a surprise example of this-- Hasbro's Star Wars build-a-droid pieces also fit in to the sockets fairly well. Collectors can also mix-and-match parts from redecoes, below you can see this figure with the clear red head and the clear yellow head. (I highly suggest getting the clear red head and flame and swapping them out-- it looks gorgeous.)
If you play with your toys, this one feels a lot like a 1980s toy produced with a bigger budget. It's very similar to your average 1978-1990s Kenner figure except it moves in more places, has a better sculpting, and looks like something that came out of a tiki bar fever dream. He will fit in a lot of 3 3/4-inch scale vehicles, so grab a Star Wars mini-rig or your Fisher-Price Adventure People Alpha Star and he'll feel right at home. No vehicles were ever made for the Outer Space Men line, although there were designs and they were so awesome you could just kill yourself. (I know, that's pretty awesome, isn't it?) I wouldn't expect to see vehicles in this line, and I'm not sure if the response has been big enough to warrant too many more figures-- although it seems we'll get at least 4 more in 2011 if the Horsemen's forums are any indication.
While the clear variants are said to have edition sizes around 300, I've heard no specifics as to how many of this "Infinity Edition" figure were made-- but the name may be a bit of a clue. Four characters have been released so far (Astro-Nautilus, Inferno, Metamorpho, Xodiac) and two more (Commander Comet, Mystron) are planned for the future. Since they're only available direct from the manufacturer, you may as well cave in and buy them if you like it.
Trivia
The original figure was to have been sold in 1969 in a series called "The World of the Future" rather than "The Outer Space Men"
This is the third release of Inferno-- there were two "pre-paints," a red figure for Comic-Con International and a yellow one for New York Comic-Con
A fourth, blue holiday edition of the figure went on pre-sale last week and should be shipping in the next few days (if not today) to those who placed their orders
Inferno was part of a proposed second series of Outer Space Men from 1969 that never got off the ground-- so technically, this is the first carded release of the character
Packaged samples of the original 1969 Inferno are worth thousands of dollars
--Adam Pawlus
Additional Images

Click here to see more Four Horsemen figures in Figure of the Day.

Click here to see more Outer Space Men figures in Figure of the Day.

Click here to see more Glyos Compatible figures in Figure of the Day.