Dirge
Desperately Seeking Seekers

Transformers Generations Deluxe Figures Wave 4
Item No.: Asst. 98452 No. 20909
Manufacturer: Hasbro
Includes: 2 rockets, 2 launchers
Action Feature: Firing rocket launchers
Retail: $8.99-$12.99
Availability: October 2010
Other: Repainted Henkei Dirge, different from 2007 Botcon Dirge

PREVIOUS
RSS
NEXT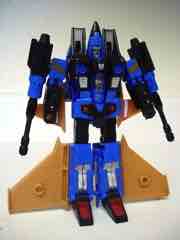 Just because a toy seems like a sure thing doesn't mean it is-- in 2007 Hasbro released a toy named Ramjet which fans expected would be repainted and sold as Dirge. While the figure did get sold as Dirge, it was as a Botcon 2007 exclusive toy that cost a couple of hundred bucks as part of an ultra-limited edition boxed set. Shortly thereafter, Takara remolded the toy and sold it in Japan-- and that was expensive too. Several years later Hasbro decided to just cash in on an easy repaint, taking the Japanese release of Dirge and repainting him into the toy you see here today.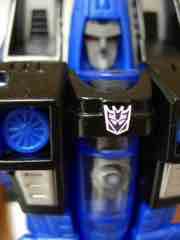 The 6-inch tall robot is based on the 2006 Starscream mold, which became the 2007 Ramjet mold, which became the 2009 Henkei version. So what you really need to know is that this 2010 Generations release is both the most common and the cheapest version of the character in this style, so be sure to buy this one before dropping $100 or more on the others. The blue jet turns into a robot, and the biggest change to the robot mode is the added Decepticon insignia just under the neck. You might find this annoying, or perhaps charming, I think it's an eyesore. (I'd rather have the eyesore than pay $100 for him, though.) The colors and patterns are slightly different than previous releases, so if you just love Dirge to death you probably have a good reason to buy all the variations. If all you want is to build a Decepticon army on the cheap? This is the one to get.
Notable variations: In addition to Botcon 2007 Dirge, Henkei Dirge, and knock-offs, there is also a Hasbro-made error out there. The first release (pictured) has the Decepticon logos with part of the forehead missing-- the little white thing smack dab in the middle of the logo above the eyes is gone. Later releases include this bit of white paint. Neither is more desirable or more rare yet, although if I had to pick I'd rather have ended up with the "correct" one.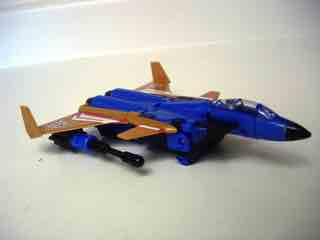 Like the other toys based on this mold (Acid Storm, Starscream, Skywarp, etc.) this one has retractable landing gear which fold into his air intake nipple things in robot mode. The jet mode also lets you access the firing rocket launchers, which, at this point, you probably saw coming. The figure itself isn't as exciting as some other releases, but it's worth grabbing as a cheaper version of a rare toy that you probably would want to own. There aren't a whole of lot of pre-movie Decepticon characters on the original cartoon that got a toy, so you may as well snag this one before it stops shipping and fans start to overpay for it.
--Adam Pawlus
Additional Images

Click here to see more Hasbro figures in Figure of the Day.
Click here to see more Transformers figures in Figure of the Day.

Want to buy this figure? Check Transformers availability at our sponsors:
Entertainment Earth