SDCC Gold Alligator
San Diego Comic-Con Gift with Purchase

Battle Beasts Minimates Promotional Figures
Item No.: n/a
Manufacturer: Diamond Select
Includes: Axe, removable armor (with tail)
Action Feature: n/a
Retail: Free with purchase
Availability: July 2010
Other: Redeco 2 of 4 (so far)

PREVIOUS
RSS
NEXT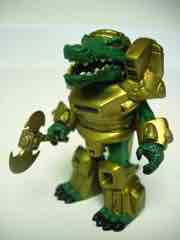 Depending on who you ask, Battle Beasts were either an unforgettable toy line of the 1980s, or cheap rubber trash. I loved the little guys, and I went absolutely nuts when a promotional Minimates Battle Beasts Alligator was given away at Toy Fair 2010-- and another at Comic-Con, and another at C2E2 and yet another with a carry case. So far only this one creature is being released, and according to Diamond Select they sadly have no plans to do any more. It's really a pity, as this little guy is awesome.
Like the silver figure, it's basically the same size as the vintage Battle Beasts and is built off a Minimates body-- pop off the head, and you find out that a standard Minimates head is underneath. The gator head is really just a hat, and the hands and feet plug into the normal construction of the body. Clever! The things that set this particular release apart are the greener skin, the gold armor, and the new weapon. The first one had a sword, this one has a golden axe. Nice. Since it's a Minimates figure, it's compatible with most of their gear from other releases and has about 8 points of articulation depending on how you want to count them. The feet effectively block any rotation at the ankle.

Since it was a promotional item it's more of a collectible than a toy-- but I think these are great and if it's the only Battle Beasts Minimates character we get (albeit in 4 different colors) you ought to get whatever one you can get cheapest. It's just so gosh darn cool, it's easily one of my favorite toys of 2010. There's no fire/wood/water dynamic and there aren't enough to grow into an army, but hey, I'll take what I can get. I like these guys and I hope that someday, Diamond Select Toys cranks out a few more.
--Adam Pawlus
Additional Images

See more Diamond Select Toys figures in Figure of the Day:
Day 76: Diamond Select Toys Black and White Wolfman
Day 82: Diamond Select Battle Beasts Minimates SDCC Gold Alligator Action Figure
Day 373: Diamond Select Battle Beasts Minimates Case Red Alligator Action Figure
Day 390: Diamond Select Battle Beasts Minimates C2E2 2012 Red Vorin
Day 395: Diamond Select Battle Beasts Minimates C2E2 2012 Grey Vorin
Day 450: Diamond Select Battle Beasts Minimates SDCC 2012 Vorin & Zik
Day 460: Diamond Select Battle Beasts Minimates SDCC 2012 Gold Vorin
Day 463: Diamond Select Battle Beasts Minimates C2E2 Exclusive Black Alligator
Day 610: Diamond Select Battle Beasts Minimates Gruntos the Walrus & Tate Reynolds
Day 720: Diamond Select Battle Beasts Minimates Shadow Merk
Day 1,324: Diamond Select Toys Aliens vs. Colonial Marines Figure Set
Day 1,756: Diamond Select Independent Comic Book Minimates Battle Beasts Ruminant and Spyrnus
Day 1,815: Diamond Select Battle Beasts Minimates Stealth Vorin
Day 1,905: Diamond Select Battle Beasts Minimates Antalor and Nychirix

See more Battle Beasts figures in Figure of the Day:
Day 82: Diamond Select Battle Beasts Minimates SDCC Gold Alligator Action Figure
Day 373: Diamond Select Battle Beasts Minimates Case Red Alligator Action Figure
Day 374: Hasbro Battle Beasts Sawtooth Shark Action Figure
Day 375: Hasbro Battle Beasts Wolfgang Walrus Action Figure
Day 376: Hasbro Battle Beasts Diving Duckbill Action Figure
Day 377: Hasbro Battle Beasts Spark Shark Action Figure
Day 390: Diamond Select Battle Beasts Minimates C2E2 2012 Red Vorin
Day 391: Hasbro Battle Beasts Anarchy
Day 395: Diamond Select Battle Beasts Minimates C2E2 2012 Grey Vorin
Day 417: Hasbro Battle Beasts Run Amuck Duck
Day 436: Hasbro Battle Beasts Horny Toad
Day 450: Diamond Select Battle Beasts Minimates SDCC 2012 Vorin & Zik
Day 451: Hasbro Battle Beasts Sledgehammer Elephant
Day 460: Diamond Select Battle Beasts Minimates SDCC 2012 Gold Vorin
Day 463: Diamond Select Battle Beasts Minimates C2E2 Exclusive Black Alligator
Day 451: Hasbro Battle Beasts Pillaging Polar Bear
Day 577: Hasbro Battle Beasts Slasher Seahorse
Day 610: Diamond Select Battle Beasts Minimates Gruntos the Walrus & Tate Reynolds
Day 639: Hasbro Battle Beasts Triple Threat Snake
Day 674: Hasbro Battle Beasts Hare Razing Rabbit
Day 720: Diamond Select Battle Beasts Minimates Shadow Merk
Day 723: Hasbro Battle Beasts Pillager Pig
Day 914: Hasbro Battle Beasts Rainbow Sam
Day 972: Hasbro Battle Beasts Pixilated Pointer
Day 1,084: Hasbro Battle Beasts Sir Sire Horse
Day 1,278: Hasbro Battle Beasts Hardtop Tortoise
Day 1,291: Hasbro Battle Beasts Tanglin Pangolin
Day 1,306: Hasbro Battle Beasts Eager Beaver
Day 1,313: Hasbro Battle Beasts Bodacious Bovine
Day 1,756: Diamond Select Independent Comic Book Minimates Battle Beasts Ruminant and Spyrnus
Day 1,815: Diamond Select Battle Beasts Minimates Stealth Vorin
Day 1,827: Hasbro Battle Beasts Sabre Sword Tiger
Day 1,890: Hasbro Battle Beasts Battling Deer Stalker Chariot
Day 1,905: Diamond Select Battle Beasts Minimates Antalor and Nychirix
Day 1,906: Hasbro Battle Beasts Killer Carp
Day 2,024: Fisher-Price Imaginext Series 11 Collectible Figures Triple Threat Snake
Day 2,074: Hasbro Battle Beasts Octillion Octopus

Want to buy this figure? Check Minimates availability at our sponsors:
Entertainment Earth