Sephiroth
No-Winged Angel

Final Fantasy VII Extra Knights #7 of 7
Item No.: n/a
Manufacturer: BanDai
Includes: Display stand, sword
Action Feature: Limbs can separate, were you so inclined
Retail: est. $15
Availability: 1997
Other: Japanese release

PREVIOUS
RSS
NEXT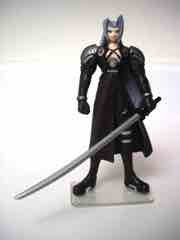 Why mince words? This Sephiroth figure sucks. Even with his display stand, he falls over. His sculpt is a little flat-- his face, in particular, looks like it lost a fight with a frying pan. I'll go out on a limb and say this is one of the worst 3D licensed collectibles based on the character-- if you have something worse, please, use the comments and tell me!
In 1997, this was not an overly impressive figure-- compared to Cloud, who had a great range of motion, or Vincent, who had a good sculpt. He feels chunky, and the design has huge hair which pulls him backward toward the shelf on which he stands. The designers did have one especially clever bit, though-- the hand was sculpted to hold the sword well, but a peg in the grip plugs into his hand, ensuring that he will not drop the weapon.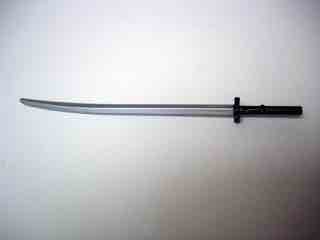 Due to the character's appearance in other games (despite dying) plus unending popularity, there's no shortage of Advent Children collectibles or other items made from the original game, long after its release. I don't feel I need to go on about this one too much because he has an articulated wrist, head, shoulders, and waist-- and that's it. It's basically a statue, and an ugly one at that. If you're going to shell out real money, get something more recent because this one is pretty awful, even for his time, and I like toys from the 1990s. When the super-deformed trading figures are better than the Sephiroth action figure--and they are-- something has gone horribly wrong.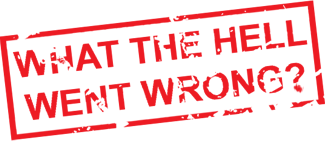 Collector's Note: This figure was sold in the USA and in Japan on very similar packaging. The non-Japan release has a big black "CHOKE HAZARD WARNING" box where the Extra Knights graphic appears on the Japanese release. The US version is more common and is missing several paint applications, so be sure that if you're going to pay a premium that you get the Japanese original release. The quality is a little bit higher, but if you get the cheaper US release odds are you won't notice much of a difference.
--Adam Pawlus
Additional Images

See more BanDai figures in Figure of the Day:
Day 22: Tamagoras Get Back To Job Lion
Day 150: BanDai Final Fantasy VII Extra Knights Red XIII Action Figure
Day 167: BanDai Final Fantasy VII Extra Knights Barett Wallace Action Figure
Day 185: BanDai Final Fantasy VII Extra Knights Tifa Lockheart Action Figure
Day 216: BanDai Tick Bounding Tick Action Figure
Day 236: BanDai Final Fantasy VII Extra Knights Sephiroth Action Figure
Day 268: BanDai Megaman Trading Figures Jumping Megaman Action Figure
Day 310: BanDai ThunderCats 4-Inch Lion-O Action Figure
Day 1,360: BanDai Godzilla Tokyo Vinyl Mechagodzilla Action Figure
Day 1,370: BanDai Godzilla Fusion Series 1968 Godzilla Action Figure
Day 1,377: BanDai Godzilla Fusion Series Gigan Action Figure
Day 1,386: BanDai Godzilla Anguirus 2004 Action Figure
Day 1,393: BanDai Godzilla SpaceGodzilla Action Figure
Day 1,408: BanDai Godzilla Rodan 2004 Action Figure
Day 1,458: BanDai Gamera Heisei Gamera Action Figure
Day 1,625: BanDai Shin Godzilla Third Form Vinyl Figure
Day 1,773: BanDai Xyber 9 New Dawn Ikira's Speeder
Day 1,980: BanDai Saban's BeetleBorgs Metallix Mega Spectra Titanium Silver Sector Cycle Vehicle with Action Figure
Day 2,021: BanDai Mystic Knights of Tir Na Nog The Drageen Action Figure
Day 2,135: BanDai Shin Godzilla Second Form Vinyl Figure

See more Final Fantasy figures in Figure of the Day:
Day 150: BanDai Final Fantasy VII Extra Knights Red XIII Action Figure
Day 167: BanDai Final Fantasy VII Extra Knights Barett Wallace Action Figure
Day 185: BanDai Final Fantasy VII Extra Knights Tifa Lockheart Action Figure
Day 236: BanDai Final Fantasy VII Extra Knights Sephiroth Action Figure

Want to buy this figure or others like it? Check Final Fantasy availability at our sponsors:
Entertainment Earth