Astro-Nautilus
The Man from Neptune

Outer Space Men Holiday Edition Silver Variant
Item No.: n/a
Manufacturer: Four Horsemen
Includes: Vac-metal silver (or gold) staff
Action Feature: n/a
Retail: $40.00 (bundled with Inferno, Metamorpho, and Xodiac)
Availability: December 2010
Other: Variant exists-- some have silver accessories, some have gold

PREVIOUS
RSS
NEXT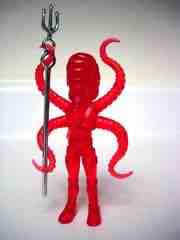 Now it's red-- and why not? Ocean life takes on all kinds of colors, so why not space-based sea-creature-people? The Holiday Edition Astro-Nautilus is quite similar to the existing figures, with one exception-- well, two actually. The first is that the figure is now cast in a deep, red, clear color. The second big difference is that his accessory is not clear, but rather, it's vac-metalized like those old Tomy drivers in Starriors or Zoids, or like some of the weapons on the original Transformers line.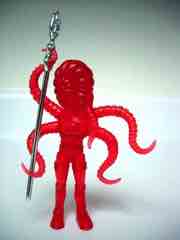 The figure has the same great articulation you've come to expect, and, as with the other releases in this line, can be taken apart and reassembled in a variety of ways. This is particularly fun if you want to give his limbs to other figures, like the clear red Inferno. Astro-Nautilus has just shy of 20 points of articulation, thanks in part to his tentacle arms.
The attention to detail remains intact because, well, that's an advantage of repaints-- you can get two, three, or a dozen nice figures after you invest in one high-quality sculpt. The figure has a nautilus-like head, suction cup-covered tentacle arms, and legs which are similar to the other figures in the line. The main reason I bought this wave was because I loved the clear blue Inferno, and because I really dug the idea of the vac-metal silver accessories. (Sadly, I only got silver accessories with Inferno and Astro-Nautilus. I think they look way better than the gold.) With painted green eyes, there's not a lot of deco on this figure but I still like it a lot. If you're into this line in general I expect that you will enjoy it, unless the fact that there are only 4 molds between the 16 (20 if you count variants) action figures is bringing you down, man.
--Adam Pawlus
Additional Images

Click here to see more Four Horsemen figures in Figure of the Day.

Click here to see more Outer Space Men figures in Figure of the Day.

Click here to see more Glyos Compatible figures in Figure of the Day.