Wreck-Gar
The First Modern Junkion

Transformers Reveal the Shield Deluxe-Class Toy
Item No.: Asst. 98447 No. 28571
Manufacturer: Hasbro
Includes: Spiked club
Action Feature: Transforms into bike
Retail: $12.99
Availability: Janaury 2011
Other: Be careful with this one

PREVIOUS
RSS
NEXT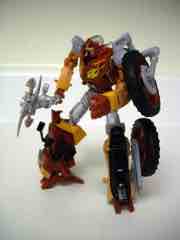 I don't care if Wreck-Gar says "ages 5 and up" on the packaging, do not buy this for kids and if you're a collector, be sure to read the instructions. The figure is a great design with loads of awesome details, fun gimmicks, and nifty automorph elements, but the engineers didn't leave a lot of room for you to screw around-- plastic on the shoulders is clearly stressed prior to opening the packaging, and I've heard anecdotes of (and seem the pictures of) the area around the handlebars breaking during transformation. As such, if you get this one, read the damn instructions.
Standing tall, the roughly 6-inch Wreck-Gar is a heck of an upgrade. Asymmetrical, less clunky, and seemingly truer to the 1980s cartoons than the 1980s toys, the robot mode is a sight to behold. It looks like a pile of junk came together to make a robot action figure, complete with weird pieces showing up all over the place. Wreck-Gar's head has a headlight on his forehead, a faux windshield on his helmet, and what seem to be clear plastic handlebars sticking off the sides. His mustache and beard are black and actually quite flexible, an example of Hasbro's foresight which should help ensure that you won't find any Wreck-Gar figures with broken facial hair down the road.
Loaded with articulation, this figure seems to have no real problems holding his giant spiked club weapon. It can even clip to his back, which can come in handy if you have two of this figure. (The robot mode can actually ride the vehicle mode, and was engineered for this purpose.) Aside from the stressed plastic on the shoulders (you'll see the discoloration on yours when you open it) it's a really nice and fun action figure. The chest flames, guns, and other elements all come together nicely and there's even a sticker on his right foot for the "Reveal the Shield" sticker which reveals, to no great surprise, that he's an Autobot. (For the record, every toy in the deluxe Reveal the Shield assortment to date is an Autobot.) This area of the figure is also one of its bigger problems.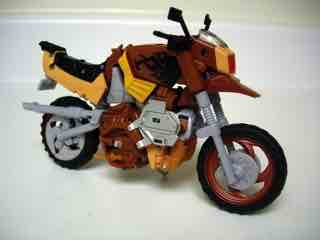 When transforming from the bike to the robot, the windshield, handlebars, and foot have a very specific order in which they must be moved-- the handlebar grips are a soft black plastic, but the things holding them in place have been known to snap off if you don't treat it properly. Be careful when transforming this toy and don't be too big of a man to consult the instructions-- they aren't perfect, but they may prevent you from snapping your new toy. I found the process of transformation to be somewhat unpleasant, so odds are my Wreck-Gar will never see motorcycle mode again. Good thing I took some pictures of it!
As a bike, it's pretty great. His head is hidden under the vehicle, there's a kickstand that pops down, and the wheels roll. There aren't a heck of a lot of thrilling details on here, but you'll note that the weapon becomes the exhaust pipe, and there's a fun little sculpted license plate holder in the back. Unlike most other Universe 2.0 or Classics releases, this figure does not have a wacky vanity plate. Perhaps Hasbro will do one on an upcoming repaint, which, to date, is not on schedule. (My prediction: Botcon 2012 or 2013.) The Japanese market already got a repaint of this mold called Scrapheap, and it has a new (and currently exclusive) head sculpt.
If you're anything like me, your love of the original 1980s Transformers: The Movie will cause you to buy toys you know aren't necessarily worth the asking price. While Wreck-Gar delivers on mass, play features, and design, it feels unusually fragile for a toy marketed primarily to children. Maybe I'm just being skittish, but the stressed plastic and the damaged samples showing up in forum postings makes me think this is one you might want to buy an extra one or two samples of just to keep as backups. And if you don't need the backups, at least you've got two so one Wreck-Gar can ride your other one... and that should be fun.
--Adam Pawlus
Additional Images

Click here to see more Hasbro figures in Figure of the Day.

Click here to see more Transformers figures in Figure of the Day.

Want to buy this figure? Check Transformers availability at our sponsors:
Entertainment Earth