Metamorpho
The Man from Alpha Centauri

Outer Space Men Infinity Edition Series 1
Item No.: n/a
Manufacturer: Four Horsemen
Includes: Two ray guns, spare arms
Action Feature: Twist knob on helmet to switch faces
Retail: $19.99 (bundled with Astro-Nautilus)
Availability: December 2010
Other: Remake of unproduced Colorforms alien figure prototype

PREVIOUS
RSS
NEXT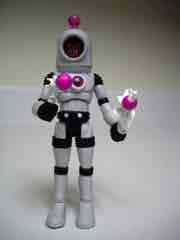 Rounding up the Infinity Edition series of reviews is Metamorpho, a space alien with a transforming face. According to some notes, the heads are inspired by such things as apes and reptiles, with a splash of 1960s graphic artistry mixed in. (Seriously, doesn't the red face look like something Shag might do? Maybe not the best example as timing goes, but you know what I'm getting at.)
The roughly 4-inch figure is pretty cool, and you know the drill by now-- space suit, rotating knob lets you switch between three faces, and he's got a pair of ray guns. The painted grey suit looks way better than one might look were it molded in grey plastic alone, which definitely helps make it look like a more expensive creation than it likely was. Two clear harder plastic pieces were used on the figure, one being the knob on the head and another exists as chest ornamentation.
The figure has about 13 points of articulation, and is fully compatible with other Glyos-system action figures. (For examples, see the Glyos Transmission Web Log.) This allows you a large degree of customization, but since so few Glyos-compatible figures are painted, you might have to do some additional work. While not designed for the modern child, I assume kids would have a blast swapping arms and legs around, making their own creations with additional heads or other deformities. As an adult, I've had a fair amount of fun with these.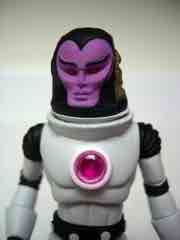 Multiple versions of Metamorpho were produced with this mold-- July 2010 saw a purple release, October 2010 saw the blue version, this version hit in December 2010 and a red version with either silver or gold accessories (depending on the luck of the draw) hit a few days after this version.
Still available from the manufacturer, this is a line I'd suggest picking up. It's such a bizarre mix of old 1960s Colorforms aesthetics with the sculpting talents of the Four Horsemen, and I really like thinking there are companies willing to experiment, license some obscure properties, and crank out some magnificent action figures. These things feel like the Rolls Royce of a 1970s action figure design, despite being made in 2010. Give these a try, I think you'll enjoy them.
--Adam Pawlus
Additional Images

Click here to see more Four Horsemen figures in Figure of the Day.

Click here to see more Outer Space Men figures in Figure of the Day.

Click here to see more Glyos Compatible figures in Figure of the Day.