Solar Storm Grappel
A Tail-Ender To Remember

Transformers Reveal the Shield Voyager Figures Wave 1 (or Gold/HTFD Wave 4)
Item No.: Asst. 98457 No. 28585
Manufacturer: Hasbro
Includes: n/a
Action Feature: Transforms into truck, extending grane
Retail: $9.99-$24.99
Availability: Spring 2011
Other: Obligatory Inferno Repaint

PREVIOUS
RSS
NEXT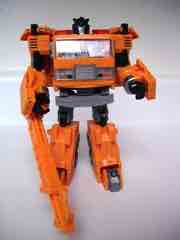 As a character, in recent days, Grapple doesn't get a lot of love. His G1 reissue came out after Inferno's, and Roadblock, his Energon-era redeco of Inferno, was also a tail-ender. Now Hasbro can't even spell his name right. Solar Storm Grappel came out in early 2011 to online stores, but didn't hit brick and mortar in the USA until June on the extreme closeout circuit at Ross, Marshalls, T.J. Maxx, and stores of that nature. This also helped bring the price down, as eBay was demanding $50-$60 for the figure before it hit for $10. This toy is inspired by G1 Grapple, and is remolded from the Universe 2.0/25th Anniversary Inferno figure from a few years ago. As of this week, I still see new stock of this toy in Ross stores. (I just saw another one last Sunday.)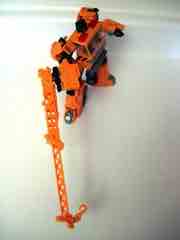 At about 7-inches tall, he's basically just a redesigned Inferno-- in spots. The water cannon has been replaced with a crane, the head is new, the feet are new, and the kibble hanging over the arms has been redesigned as well. Even more dramatic are the arms, which were redesigned with new open hands, rounded forearms, and redesigned panels so that you don't need to rotate the flap during transformation, removing one step from the process. The figure is nicely jointed, with ankles that can pivot, wonderful leg motion, and a giant crane that will throw off his sense of gravity when you try to put him into a combat pose. So be careful there.
The head is particularly interesting in that the eyes are actually clear colorless plastic with a little blue paint splashed on there, giving them a much brighter look than blue plastic would probably get you. The downside is that Hasbro didn't paint them particularly well, and if you get in really close you'll see that the paint application was a little sloppy on an otherwise supremely impressive head sculpt. It's a crying shame Hasbro probably won't be using this for another toy any time soon, it really looks swell in orange and I bet it would have made an awesome RaodHauler were it cast in green and presumably sold for $83 at BotCon.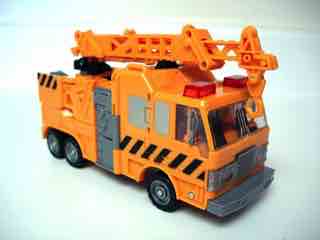 The truck mode is fundamentally the same as Inferno's and Pyro's (or Spark's, whatever), save for the retooled shoulder pieces coming into play. These were resculpted to accept those c-clamp/c-joint weapons the kids all love, so you could slap Jazz's speakers on there or maybe a fun gun or two if you want. It's sort of a shame these toys didn't include bonus weapons as part of a line-wide gimmick, but I guess those stickers will have to do. Speaking of the sticker, the Reveal the Shield line gave this guy a black sticker with a hidden heat-activated Autobot symbol which you can see on the left side of the truck, or on the back of the figure. It's pretty cool.
Transforming the toy is fundamentally the same as Inferno and Pyro/Spark, save for rotating some panels on his wrists. It's not incredibly complicated, but you might want to refer to the instructions to avoid breakage the first time around.
At $25 it's a great toy. At $10, it's a required purchase. At $60... well, odds are only people with nearly-complete "Classics" collections are going to be interested. I like it, but I doubt it'll warrant significant mark-ups for most of you. It is a nice piece though and different enough from Inferno where I personally would have paid double retail if necessary, but I didn't have to. The Japanese release has an orange head, heavily redecorated with lots of paint just like in the cartoon. This release is modeled after the original 1980s toy.
--Adam Pawlus
Additional Images

Click here to see more Hasbro figures in Figure of the Day.

Click here to see more Transformers figures in Figure of the Day.

Want to buy this figure? Check Transformers availability at our sponsors:
Entertainment Earth