Relgost Wing Division
Grayish Blue/Seafoam Green

Glyos Bagged Figures
Item No.: n/a
Manufacturer: Onell Design
Includes: 2 heads, 3-piece weapon, lots of articulation
Action Feature: Take apart, swap parts and pieces
Retail: $8.00
Availability: August 26, 2011 at 9:00 PM Eastern Time
Other: One of seven unique Glyans released that day

PREVIOUS
RSS
NEXT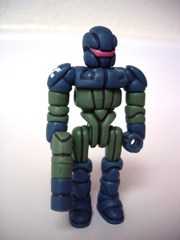 I can't always tell you exactly why I'm crazy about a figure, particularly when it's a repaint of something I had-- I got a Glyan early, and totally dug it. But the Relgost Wing Division Glyan Action Figure is some sort of crazy awesome, with a pink visor/helmet, an alternate head with a green humanoid face and a blue helmet, and a gun, it's just neat. I mean, if this doesn't look like it jumped right off some awesomely painted Japanese robot model kit boxtop illustration, I don't know what does... that makes sense, right? Like Zelve or something? (If you know what Zelve kits are without Google, bully for you.)
I've written about Glyan figures before and this is very much like it-- except for color, it's the same thing. It's still 2 3/5-inches tall, or so, but the color scheme really makes it come to life. Like, I'm mad I didn't get one of every last Glyan, I'm doomed to having an incomplete set and that's probably good for my completist genes. To date there have been several of these guys, but for some reason the dark blue shoulders and light seafoam green go perfectly together. Dark panel lines bring out detail on every piece of this action figure, and it's just plain bizarre how awesome that pink visor is. Other figures have more sensible, muted colors which look just fine. But pink? This thing really leaps off my desk, or shelf, or where ever it may be standing at the moment. It goes great with the matching Rig, too.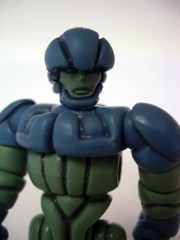 If you have one Glyan, you probably know what to expect from the construction-- each arm or leg is made of 4 pieces, the torso is made of 4 pieces, the gun is made of 3 pieces, and there are two heads, which are better than one. Articulation is superior than the figures of the 1980s which inspired it, and he keeps the same range of movement. It's a little sad that vehicles are so expensive to make, because this figure is practically crying out for a spaceship with a captain's seat and an opening canopy.
Depending on your color preferences, this particular figure may not be any better than the rest. It's currently my favorite Glyan, and that's both good and bad. I like it so much, I'm not entirely sure I'd want to buy the next repaint of the mold. Unless they start making these to mimic the look of certain Adventure People figures or Zoids 1:24 drivers, I'd assume that I'm going to be very happy with this one.
...of course, if they decided to crank out a Glyan with a silver vac-metal head, I'd buy that in a heartbeat. Be it a legit Microman or even Cobra Commander, it's hard to go wrong with a vac-metal head. Packaging fans, take note: this drop of figures came sealed in a clear plastic polybag, my entire order came that way. The Esedeth Desert Assault Figure I picked up at Comic-Con came in a header card/ziplock baggie, so your mileage may vary if you find these for sale on the secondary market some day. The first one I saw hit eBay in late September.
--Adam Pawlus
Additional Images

Click here to see more Onell Design figures in Figure of the Day.
Click here to see more Glyos Compatible figures in Figure of the Day.