Red Alert
Your Friendly Fire Rescue Lamborghini

Transformers Generations Deluxe Figures Wave 3
Item No.: Asst. 98452 No. 20138
Manufacturer: Hasbro
Includes: Blaster, engine
Action Feature: Transforms from robot to Lamborghini clone
Retail: $11.99
Availability: September 2010
Other: Remake of Henkei! Henkei! Alert from Japan

PREVIOUS
RSS
NEXT

Sticking with the "let's reuse molds!" theme, let me talk about Red Alert! No fewer than 6 toys in the USA share this mold (with another 3 in Japan), most with minimal changes to the tooling. Ordinarily such frequent reuse of a mold would lead to fatigue from fans, but Red Alert was, originally, a repaint of Sideswipe-- and he is here, again. When Hasbro has the chance to repaint a mold which fans demand be done in the name of accuracy, they rarely pass up the chance to sell fans the same figure a fourth, fifth, or sixth time. We're suckers like that.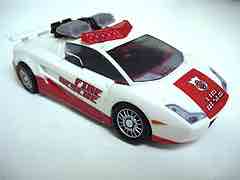 Standing about 6-inches tall, Red Alert is exactly what fans expected, with one tiny molding change-- a lightbar was added to the vehicle mode. That's pretty much it, other than that the figure is effectively just a highly-decorated remake of the 2008 Transformers Universe Sideswipe mold. Sporting tons of articulation in robot mode and a solid car form, this robot is, on the whole, very good. His ankles were a little loose on our sample but everything else worked as expected. Multiple ankle joints could be easily positioned, several joints in each arm allow him to aim as you might hope, and he even has his own vanity plate-- 05 ALERT. (We don't get it either. 85 would make sense.)
When compared with other figures in the assortment, this one has a fair amount of paint. There are painted tail lights, painted turn signal lights, and even the words "Fire Rescue" printed right on the hood. It's worth noting that the alignment on some samples is a little off, so you may wish to take care to examine yours so the words aren't misprinted in a way you would consider unpleasant. The toy is a fair amount of fun to transform, it's made well enough that bigger kids and collectors should get something worthwhile out of it. If you're a fan of the first two years of Generation One, this should be on your "must buy" list. Unless you hate repaints, and are un-American.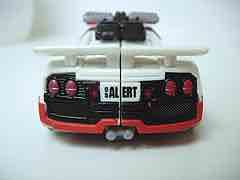 A note for collectors: Japan's Takara version of this toy (simply named "Alert") is more accurate to the cartoon with a red head, and some other fanciful features like a chrome spoiler and a different lightbar. This 2010 Hasbro release.shtmlires to replicate the original toy's paint job, which it does fairly well-- the original was "Fire Chief" and this one is "Fire Rescue," and other things were altered for the new mold's design. For a time, this figure was not expected for a US release and the Japanese version commanded a stiff premium. Thanks Hasbro for staking the secondary market nicely.
--Adam Pawlus

Click here to see more Hasbro figures in Figure of the Day.
Click here to see more Transformers figures in Figure of the Day.

Want to buy this figure? Check Transformers availability at our sponsors:
Entertainment Earth