Special Ops Jazz
Autobot hero and music enthusiast

Transformers Reveal the Shield Deluxe-class Figure
Item No.: Asst. 98447 No. 25959
Manufacturer: Hasbro
Includes: Blaster, twin speakers
Action Feature: Transforms from car to robot
Retail: $12.99
Availability: November 2010
Other: The best mass-market "G1" Jazz since G2 Jazz

PREVIOUS
RSS
NEXT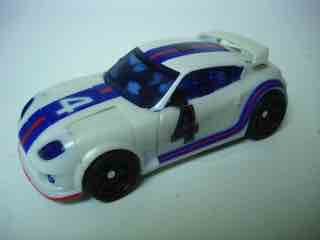 There's no exaggeration when I say it feels like it has been forever since Hasbro released a new version of Jazz, specifically Special Ops Jazz. Sure, we got an Alternators toy called Meister and an evil alternate universe convention exclusive, a tiny Legends toy, plus some movie toys, but nothing was clearly meant to be the original Jazz character. Until this one-- Hasbro held out until its third line of "classics" Transformers to bring Optimus Prime's right-hand-man-who-is-not-Prowl back to stores, and the end result is good-- not the second coming, like you may have read, but he's certainly a good attempt and a lot of fun for the asking price.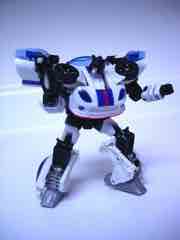 Packaged in car mode, his vehicle form looks more like the Pontiac Solstice than a Porsche like his original toy. Since automotive licenses cost money and Porsche are a bunch of humorless jerks who don't license "war toys," Hasbro instead opted for a design that is close to the original Jazz toy but not identical. Gone are the light blue stripes on the original, but dark blue and red markings remain, as does his "4" on the hood and the doors. It is, quite literally, close enough for jazz. The wheels roll well and the car has a bonus action feature-- the doors open and the windows rotate, revealing c-clamp mounted speakers which hang out his doors to annoy Decepticons and disrupt sonic transmissions and such. It's a heck of a nice touch, one adapted largely from the original cartoon series.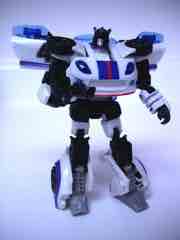 Transformation is not simple, but fairly straightforward-- his legs have a lot going on, so you might want to consult the instruction sheet due to the vast amount of moving parts. It's not "Alternators" complicated, but it's plenty complex and there are some spring-loaded and geared pieces involved in his transformation. For example, when you move down the front end of the car, his head is geared to move up through a gap and come to life. I think mine might have been assembled oddly as he seems to look down slightly, but hey-- it's a fun feature and much like Sideswipe/Sunstreaker in 2008, it really does help make the character feel like it's alive a little, despite being a plastic plaything based on a goofy TV show/comic/toy line from nearly 30 years ago.
The figure itself is a nice toy. His car doors hang off the back (with the speakers that can flip forward), his head sculpt is very much like the original character with a slightly larger chin, and his visor does indeed light up if you shine a light behind his head. Since the hood of the car becomes his chest, it easily resembles the classic toy design and old character designs, making it just a few paint operations short of a dead-ringer for the original. With double-jointed knees and elbows, it's positively swimming in movement and even his wrists are articulated despite no obvious need for them to be mobile. His only real shortcoming in the articulation department is his shoulders, which do not allow for him to raise the arms without also raising up the chest. If the chest pegged into place, it'd be slightly better, but it's a damned fine figure that should please just about anybody that ever wanted a good, new Jazz toy that wasn't so small it would fit in your mouth. (See: 2008 Universe Legends, Japanese Smallest Transformers lines.)
While no known plans exist for a redeco, a lot of collectors are already talking up possible candidates for new heads and new characters to be built off this body. Since he has no problem holding the Targetmaster Nightstick, the obvious redeco is Stepper (also known as Ricochet), a Japan-only character that went from holy grail to worth a heck of a lot less after a recent reissue sold poorly in the USA and Japan. Still... it'd be a nice tribute to a great old Targetmaster.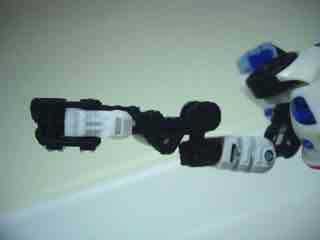 The last thing I want to blather about is his gun-- it does fold up for easy storage in car mode, so you won't lose it unless you really, really want to. It looks a little bit like a previously released Pretender Jazz' weapon, which is just as good of a choice as any. The weapon also has tubes for c-clamp weapons-- such has his speakers-- to latch onto, creating an even larger weapon that, presumably, sounds awesome.
--Adam Pawlus
Additional Images

Click here to see more Hasbro figures in Figure of the Day.

Click here to see more Transformers figures in Figure of the Day.

Want to buy this figure? Check Transformers availability at our sponsors:
Entertainment Earth