Tahu
The Toa of Fire

Bionicle Stars Figures
Item No.: 7116
Manufacturer: LEGO
Includes: Canister packaging for storage, bonus Golden Hau Mask
Action Feature: none
Retail: $7.99
Availability: November 2009
Other: From the final series of Bionicle, 19 pieces

PREVIOUS
RSS
NEXT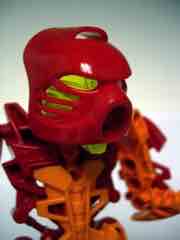 I was really jazzed to get the first Bionicle toys, and when I saw the line was wrapping up with a sort of "greatest hits" line called Bionicle Stars, I was glad to see that my early favorite-- Tahu-- would be included as a redesigned, simplified action figure.
Standing just about 6-inches tall, this figure goes together so quickly it's almost ridiculous. The original Tahu had a ton of little rods and connecting pieces, while the 19-piece Bionicle Stars Tahu has 19 pieces and can be easily assembled without even looking at the instructions in, give or take, about two minutes. It's so easy to put together it's almost ridiculous, and since they charged $8 for it, it would be nice if it wasn't the previous year's $6 figures' body in a new box with a new head. Still, value's not exactly a big deal now as this series is being dumped at closeout stores for about $6 and, frankly, it's a really nice action figure for the asking price. The construction is sturdy, parts aren't going to come flying off, and the articulation is good for such a quick build-- it's nice to see how far LEGO engineering came over the nearly 10-year run. Unlike the original Tahu, this one has a neck joint, bringing his total articulation up to 9 ball joints. It may not sound like a lot, but the range of movement and giant feet allow him to sit, or to do all sorts of wacky sword fighting poses.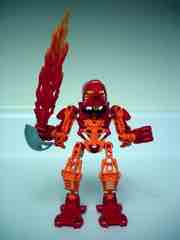 So yeah, you put together the figure and you can have them "slash" or "swim" or "kick" or whatever-- slight alterations to the design allowed you to change what the figure could do, and most of the Toa figures were effectively the same core item with new weapons, a new mask, and new coloring. Tahu's flame sword was pretty slick, and plugged in to the end of his arm. This arm would go up and down as you moved the dial on his back, giving you a smooth, fun attack action you could use while having him fight the other toys. (The first year Bionicle villains were largely huge, boxed monsters sold in pairs.)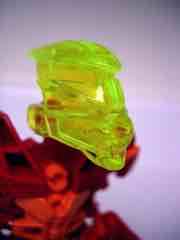 While retaining the original toy's orange and red color scheme, Tahu's eyes are now green instead of red like the original. It looks good but it also means his entire head under the mask is green, and that's tough to photograph well. Many of the parts are repurposed from existing sets, the body is mostly recolored parts from Glatoran sets, the sword is recycled, but most surprisingly is the mask-- it's a new mold. The mask it a little longer in the back, has a cross rather than a circle where it connects to the head, and barely (but not really) fits on the original Toa heads. Basically, it'll fit, but it starts to slide off on its own due to plastic tolerance issues... it squeezes itself free.

I picked this toy up on the closeout shelves after the run was done, and it was so good I basically had to jump to write this review while I was still excited. If you're a lapsed Bionicle fan or just someone who was always curious to try them out, go get one of these. I won't promise you'll love it, but I'm getting a tremendous kick out of it and may pick up one or two more on the inevitable road to getting the entire set. I really like "Legends" or "Classics" or "Stars" series of new, smaller versions of good older toys. The only things this toy is missing over the original is the geared arm swinging mechanism and more small parts to lose-- it's much more kid-friendly and since it won't take long to put together, it's priced right as a nice desk toy for you employed toy junkies.
A Note on the Golden Bionicle Promotion: the canister has an upsell encouraging kids (well, you) to buy all six Bionicle Stars toys so you can build the "Golden Bionicle." In case you couldn't tell, this is not a build-a-figure, but rahter a series of upgrade parts. Each figure has 1 special gold piece (Tahu has a gold mask) to create a "super" version of Tahu-- so when it's all said and done, it's just an upgrade, not a seventh figure. (You'd be surprised how many people in the business did not realize this by looking at the box. Or you may be one of these people. No offense if you are.)
--Adam Pawlus
Additional Images

See more LEGO figures in Figure of the Day:
Day 2: LEGO Minifigures Series 2 Disco Dude
Day 33: LEGO Minifigures Series 1 Super Wrestler
Day 36: LEGO Minifigures Series 2 Mime
Day 38: LEGO Minifigures Series 2 Karate Master
Day 77: LEGO Minifigures Series 1 Ninja
Day 85: LEGO Minifigures Series 1 Spaceman
Day 106: LEGO Minifigures Series 2 Witch
Day 123: LEGO Minifigures Series 1 Robot
Day 130: LEGO Ninjago 2112 Cole Action Figure
Day 136: LEGO Bionicle 8563 Tahnok Action Figure
Day 148: LEGO Minifigures Series 1 Cheerleader
Day 152: LEGO Minifigures Series 1 Crash Test Dummy
Day 161: LEGO Minifigures Series 1 Forestman
Day 174: LEGO Minifigures Series 3 Gorilla Suit Guy
Day 176: LEGO Minifigures Series 3 Mummy
Day 181: LEGO Bionicle 8534 Tahu Action Figure
Day 182: LEGO Minifigures Series 3 Sumo Wrestler
Day 188: LEGO Minifigures Series 3 Tennis Player
Day 190: LEGO Minifigures Series 3 Rapper
Day 195: LEGO Minifigures Series 3 Space Alien
Day 198: LEGO Minifigures Series 1 Deep Sea Diver
Day 215: LEGO Minifigures Series 3 Fisherman
Day 218: LEGO Minifigures Series 2 Weightlifter
Day 220: LEGO Bionicle Stars 7116 Tahu Action Figure
Day 225: LEGO Minifigures Series 3 Baseball Player
Day 239: LEGO Minifigures Series 2 Lifeguard
Day 260: LEGO Minifigures Series 2 Ringmaster
Day 267: LEGO Minifigures Series 3 Tribal Chief (Indian)
Day 275: LEGO Minifigures Series 2 Traffic Cop
Day 347: LEGO Minifigures Series 4 Punk Rocker
Day 358: LEGO Minifigures Series 3 Pilot
Day 368: LEGO Minifigures Series 5 Lizard Man
Day 378: LEGO Minifigures Series 5 Lumberjack
Day 389: LEGO Minifigures Series 5 Evil Dwarf
Day 402: LEGO Minifigures Series 4 Crazy Scientist
Day 414: LEGO Minifigures Series 5 Gangster
Day 422: LEGO Minifigures Series 5 Ice Fisherman
Day 434: LEGO Minifigures Series 4 Artist
Day 452: LEGO Minifigures Series 4 Hazmat Guy
Day 455: LEGO Minifigures Series 7 Computer Programmer
Day 462: LEGO UFO Shell Exclusive Spacecraft
Day 467: LEGO Minifigures Series 4 The Monster
Day 474: LEGO Minifigures Series 6 Intergalactic Girl
Day 489: LEGO Minifigures Series 6 Clockwork Robot
Day 501: LEGO Minifigures Series 6 Classic Alien
Day 522: LEGO Minifigures Series 6 Genie
Day 535: LEGO Minifigures Series 4 Kimono Girl
Day 535: LEGO Minifigures Series 4 Werewolf
Day 633: LEGO Minifigures Series 7 Galaxy Patrol
Day 692: LEGO Minifigures Series 6 Skater Girl
Day 707: LEGO Minifigures Series 3 Elf
Day 721: LEGO Minifigures Series 5 Egyptian Queen
Day 724: LEGO Minifigures Series 10 Sad Clown
Day 730: LEGO Minifigures Series 10 Librarian
Day 730: LEGO Minifigures Series 6 Sleepyhead
Day 825: LEGO Minifigures Series 11 Yeti
Day 831: LEGO Minifigures Series 7 Hippie
Day 837: LEGO Minifigures Series 7 Scientist
Day 871: LEGO Minifigures Series 10 Bumblebee Girl
Day 884: LEGO Minifigures Series 5 Fitness Instructor
Day 884: LEGO Minifigures Series 4 Soccer Player
Day 1,120: LEGO Teenage Mutant Ninja Turtles Mikey's Mini Shellraiser
Day 1,122: LEGO Minifigures Series 8 Vampire Bat
Day 1,533: LEGO Minifigures Series 16 Spy
Day 1,680: The LEGO Batman Movie Catman
Day 2,063: LEGO The LEGO Movie 2 70841 Benny's Space Squad Set
Day 2,071: LEGO Space Police 5981 Raid VPR Set

See more Bionicle figures in Figure of the Day:
Day 136: LEGO Bionicle 8563 Tahnok Action Figure
Day 181: LEGO Bionicle 8534 Tahu Action Figure
Day 220: LEGO Bionicle Stars 7116 Tahu Action Figure

Want to buy this figure? Check LEGO availability at our sponsors:
Entertainment Earth