Spacecraft
#9 of 12

LEGO UFO Shell Exclusive
Item No.: 2543
Manufacturer: LEGO
Includes: 17 pieces
Action Feature: n/a
Retail: $1.99
Availability: 1998
Other: #9 in a collection of 12

PREVIOUS
RSS
NEXT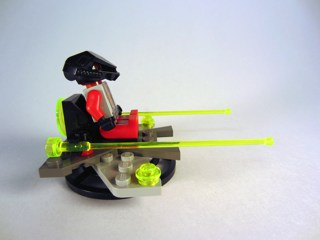 I've been going through my stash and found this Spacecraft, one of many Shell station exclusives which, frankly, I never once saw at a Shell station nor did I know it was a thing you could buy until it showed up at Kay-Bee Toys for the low-low price of 3 for $5. Most people don't remember this, but near the end of the 1990s LEGO toys were super-cheap. Buckets of bricks were sometimes just over a penny per brick, boxed sets could be purchased for as little as $2.99 at most retailers, and the very first LEGO Star Wars Landspeeder was $5.99. Oh, and a McDonald's Happy Meal with a LEGO set cost $2, and came with about 20 bricks. I really wish I spent more money on this stuff when the prices were insanely good, but I digress.
As part of a collection of 12 small sets, the closest price point and product type available today are the Minifigures, which are about $3.50 each. So let's review: in 1998, you could buy a figure with a small vehicle for $2 or even less. Today, one figure is $3.50. Of course, one disadvantage of the good ol' days is sets were usually closely tied to the existing big "themes" out there, which meant you could expect some variation on pirates or space or city or castle without anything too wacky. This little Space UFO Spaceship is pretty by-the-numbers stuff, reusing parts you probably also saw in the 1980s to make a little flying craft that has no visible controls. It's a chair with some engines and a satellite dish on the bottom, so it's not really a practical toy or a particularly involved build, but it does make for a value-priced figure delivery system.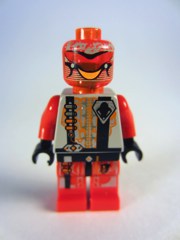 The minifigures have long been a selling point of larger LEGO sets, so any chance to get a figure for a dollar or two is usually met with some form of glee. The nameless UFO Alien (or robot) has a swell removable black helmet with some hose detailing on the sides and a flat, undecorated surface on the top. If you pop off the helmet, you'll find a clear red head and a fairly ornate torso with buckles, belts, and what might be the internal structure of the creature. Despite being a freaky being from another planet, he somehow still retains the jovial smile and arguably friendly expression found on most LEGO figures from before they started giving them other emotions. It even has printing on the figure legs, which was still somewhat new and exciting during this era.
I see this set selling for about $20 on eBay and I can tell you it isn't really worth it unless you simply must have the figure, and even then it's a stretch. I really do miss the days of Dollar Tree getting LEGO Mars Mission polybags and Kay-Bee getting overstock promotional sets for a couple of bucks, but that's life! Not every era can last forever, and as we lose out on some of the great toy clearance centers (and LEGO gets a better supply chain) the very notion of unwanted, overproduced LEGO sets starts to become absurd. The brand was on its way out in the 1990s, but today it's a rising star and a premium toy with a high perceived value. Which is, of course, one good reason why people are willing to overpay for sets on eBay. It might be twice the retail price, but unlike action figures you're going to get some more play time out of these sets.
--Adam Pawlus
Additional Images

See more LEGO figures in Figure of the Day:
Day 2: LEGO Minifigures Series 2 Disco Dude
Day 33: LEGO Minifigures Series 1 Super Wrestler
Day 36: LEGO Minifigures Series 2 Mime
Day 38: LEGO Minifigures Series 2 Karate Master
Day 77: LEGO Minifigures Series 1 Ninja
Day 85: LEGO Minifigures Series 1 Spaceman
Day 106: LEGO Minifigures Series 2 Witch
Day 123: LEGO Minifigures Series 1 Robot
Day 130: LEGO Ninjago 2112 Cole Action Figure
Day 136: LEGO Bionicle 8563 Tahnok Action Figure
Day 148: LEGO Minifigures Series 1 Cheerleader
Day 152: LEGO Minifigures Series 1 Crash Test Dummy
Day 161: LEGO Minifigures Series 1 Forestman
Day 174: LEGO Minifigures Series 3 Gorilla Suit Guy
Day 176: LEGO Minifigures Series 3 Mummy
Day 181: LEGO Bionicle 8534 Tahu Action Figure
Day 182: LEGO Minifigures Series 3 Sumo Wrestler
Day 188: LEGO Minifigures Series 3 Tennis Player
Day 190: LEGO Minifigures Series 3 Rapper
Day 195: LEGO Minifigures Series 3 Space Alien
Day 198: LEGO Minifigures Series 1 Deep Sea Diver
Day 215: LEGO Minifigures Series 3 Fisherman
Day 218: LEGO Minifigures Series 2 Weightlifter
Day 220: LEGO Bionicle Stars 7116 Tahu Action Figure
Day 225: LEGO Minifigures Series 3 Baseball Player
Day 239: LEGO Minifigures Series 2 Lifeguard
Day 260: LEGO Minifigures Series 2 Ringmaster
Day 267: LEGO Minifigures Series 3 Tribal Chief (Indian)
Day 275: LEGO Minifigures Series 2 Traffic Cop
Day 347: LEGO Minifigures Series 4 Punk Rocker
Day 358: LEGO Minifigures Series 3 Pilot
Day 368: LEGO Minifigures Series 5 Lizard Man
Day 378: LEGO Minifigures Series 5 Lumberjack
Day 389: LEGO Minifigures Series 5 Evil Dwarf
Day 402: LEGO Minifigures Series 4 Crazy Scientist
Day 414: LEGO Minifigures Series 5 Gangster
Day 422: LEGO Minifigures Series 5 Ice Fisherman
Day 434: LEGO Minifigures Series 4 Artist
Day 452: LEGO Minifigures Series 4 Hazmat Guy
Day 455: LEGO Minifigures Series 7 Computer Programmer
Day 462: LEGO UFO Shell Exclusive Spacecraft
Day 467: LEGO Minifigures Series 4 The Monster
Day 474: LEGO Minifigures Series 6 Intergalactic Girl
Day 489: LEGO Minifigures Series 6 Clockwork Robot
Day 501: LEGO Minifigures Series 6 Classic Alien
Day 522: LEGO Minifigures Series 6 Genie
Day 535: LEGO Minifigures Series 4 Kimono Girl
Day 535: LEGO Minifigures Series 4 Werewolf
Day 633: LEGO Minifigures Series 7 Galaxy Patrol
Day 692: LEGO Minifigures Series 6 Skater Girl
Day 707: LEGO Minifigures Series 3 Elf
Day 721: LEGO Minifigures Series 5 Egyptian Queen
Day 724: LEGO Minifigures Series 10 Sad Clown
Day 730: LEGO Minifigures Series 10 Librarian
Day 730: LEGO Minifigures Series 6 Sleepyhead
Day 825: LEGO Minifigures Series 11 Yeti
Day 831: LEGO Minifigures Series 7 Hippie
Day 837: LEGO Minifigures Series 7 Scientist
Day 871: LEGO Minifigures Series 10 Bumblebee Girl
Day 884: LEGO Minifigures Series 5 Fitness Instructor
Day 884: LEGO Minifigures Series 4 Soccer Player
Day 1,120: LEGO Teenage Mutant Ninja Turtles Mikey's Mini Shellraiser
Day 1,122: LEGO Minifigures Series 8 Vampire Bat
Day 1,533: LEGO Minifigures Series 16 Spy
Day 1,680: The LEGO Batman Movie Catman
Day 2,063: LEGO The LEGO Movie 2 70841 Benny's Space Squad Set
Day 2,071: LEGO Space Police 5981 Raid VPR Set

Want to buy this figure? Check LEGO availability at our sponsors:
Entertainment Earth