Big Daddy
Autobot Hot Rod Patrol

Transformers Generation 1 Micromasters
Item No.: n/a
Manufacturer: Hasbro
Includes: Greaser, Hubs, Trip-Up
Action Feature: Turns into a car
Retail: unknown
Availability: 1990
Other: The original Big Daddy

PREVIOUS
RSS
NEXT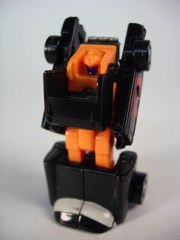 Confession time: this is the first Micromasters car I got that wasn't part of a combiner. I had a couple of playsets with jets, and Overload, but never a car until I picked up Big Daddy at local collectible toy shop Toy Anxiety for five bucks recently. And do you know what? I now wish I had more Micromasters. (Big surprise, I know.) I'll be whipping my Overload and bases out of my toy box(es) to see how a car works with them. It's pretty backward, but hey, after hauling them around for 20-some years I figured I may as well buy the cars meant to be used with them for a change.
At a couple of inches high, there's not much here. The figure feels solid, and unlike Mini-Cons it seems he's not going to pop apart. This comes at a price: the thing is basically a small brick. The legs swivel down, and the arms move, but it's just so dang bulky. The car mode has rolling wheels and actually looks like a car, which is a plus, but the robot? Well, look at it. It's neat, but it ain't pretty.
The simple transformation basically only demands you fold down the hood and his legs. The stubby arms can move, but they're basically in position before you even start. It's really only barely slightly less complicated than the Minibots, but it seems the point with these (and other toys from the first late 1980s Micro toy craze) was to put a bunch of toys in a kid's hand in a single purchase, effectively giving them a "collection" at the entry-level price point. Insidious. If you bought this figure in 1990, you got three more very much like it and were basically ready to start filling out a Micromasters town, which you could also buy.
Big Daddy is semi-legendary due to his bizarre name, and a new version of him was sold just after the first live-action movie a few years ago and he appears below. Interestingly, the toy is based on Cybertron Downshift and is significantly more expensive AND more common than the Micromasters original. Sure, he's also much better, but it's not like he's so tiny you could fit him in your mouth. The original Big Daddy could totally fit in your mouth. Don't pretend like you haven't thought about it.
--Adam Pawlus
Additional Images

Click here to see more Hasbro figures in Figure of the Day.
Click here to see more Transformers figures in Figure of the Day.

Want to buy this figure? Check Transformers availability at our sponsors:
Entertainment Earth