Autobot Topspin
Autobot Mechanic

Transformers Dark of the Moon Cyberverse Legion Class Series 1 Figure 004
Item No.: Asst. 28698 No. 28765
Manufacturer: Hasbro
Includes: Nothing
Action Feature: Turns into NASCAR Jimmie Johnson Lowe's Chevrolet
Retail: $4.99
Availability: May 16, 2011
Other: Available in large or new handy pocket size

PREVIOUS
RSS
NEXT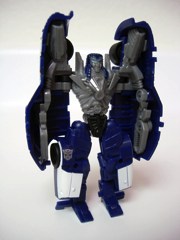 To most old fans, the name Autobot Topspin (elongated for trademark reasons) either brings to mind absolutely nothing or one of the two Jumpstarters, early toys with simple and nearly automatic transformations. Today, it's (according to early press materials) the name of an Autobot mechanic which has taken the form of a NASCAR vehicle. To really bring home the idea, they gave him a robo-mullet plus tools for hands. Subtle, this is not. Along with Leadfoot and Roadbuster, there's a team of NASCAR robots in various sizes-- although to date, they've only all been released as Legion-class action figures in the USA.
This is a simple toy. Seriously simple. The robot has articulated legs, jointed arms at the elbow (but not shoulder), plus an opening claw on the left hand. The right hand is a standard "fist" which can hold most accessories for this line, but other than that? It's basically a statue with giant car wings. It doesn't closely match the movie mode, the larger toy based on this design is notably less ridiculous. I mean, turn him to the left, and it's a half of a car hanging off a robot. It's not much of an action figure, and for this reason it has more in common with actual G1 toy engineering than most modern "classics" releases.
Transformation from robot to car is simple, but getting the robot back from the car mode is something of a pain. Splitting apart the car halves has been tricky, and may lead to paint chipping over time if you aren't careful. Given the intricate sponsor marks-- product placement from a movie on a toy-- you'll want it to be in good condition. The Lowe's markings are clearly visible, there's a big Chevrolet logo on the hood, but some of the other markings are difficult to see while others were left off entirely. Of course, this is the point-- Legions toys are meant to be simplified versions of the movie characters or the larger toys.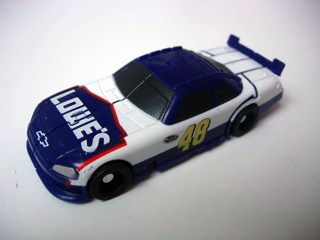 The car looks sort of like a Hot Wheels or Matchbox vehicle at first glance, minus the seams. The painted details do wonders in bringing it to life, giving it a little more visual gee-whiz than your typical one-color unpainted vehicles. The wheels roll freely, but this wouldn't perform well on a Hot Wheels track-- it can only go a few inches before friction slows it down. All in all it's a neat and weird little toy, but it's obvious they had to cut some corners to translate the design to this small of a toy. Fans will probably want the larger one, unless you're just Cyberverse-crazy. If by some miracle you can score this at or under a buck, do so. Otherwise it's just a weird $5 robot toy with car halves hanging off his shoulders... even if he does have the clamps for hands.
One other note-- the packaging has a holographic NASCAR sticker on the back with a serial number printed on the top. I'm not sure why there's a number on it, and the sticker probably added to the expense of the toy... thanks a lot, NASCAR licensing division!
--Adam Pawlus
Additional Images

Click here to see more Hasbro figures in Figure of the Day.
Click here to see more Transformers figures in Figure of the Day.

Want to buy this figure? Check Transformers availability at our sponsors:
Entertainment Earth