Alpha 7
The Man from Mars by way of Toy Tokyo

Outer Space Men Beta Series Action Figure Xpress Comic Con Exclusive 2011
Item No.: n/a
Manufacturer: Four Horsemen
Includes: Two-piece helmet, alternate arms, jetpack, pistol
Action Feature: n/a
Retail: $25.00 (sold as a set with Electron+)
Availability: October 2011
Other: Second release of Alpha 7 in this line

PREVIOUS
RSS
NEXT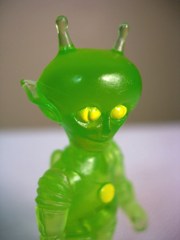 When I saw the first look at Alpha 7 from the Beta Phase series, I had to do a double-take. "Wait..." I said. "Didn't I just buy a clear green version of this guy?" Well, sort of-- the San Diego version is bluegreen, and this one is more of a pure green. So it's different, but could be more different. Cast in green, he has orange ABS parts to round out the complete figure.
He's tiny. Like, real tiny. This little figure has miniature arms and legs, and on my sample I swapped the legs as he could not stand on his own as assembled. That's one plus of the Glyos system, you can pop the figure apart at each of his 9 joints to better display the figure. Since his hip joints don't swing forward like other figures in the line, he may need some extra help as he isn't particularly helpful in standing properly.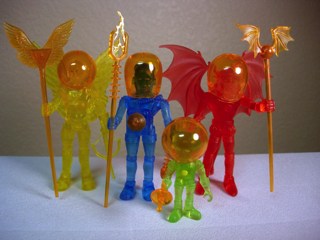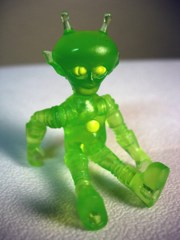 I definitely feel that this is a "collect them all!" figure as it doesn't bring as much new as I would have hoped-- the painted figure is painted, this one is merely greener. If you don't have any Alpha 7, this is just as good as the rest-- but in a line mostly filled with winners, he does come up short. (See what I did there?)
The orange accessories really pop on the green, and while I do appreciate how the colors go together I really was hoping for a slightly different color-- maybe red for Mars, or even orange just to be different. The figure has basically all the same perks and flaws of the original release, plus has the added benefit of a price increase. As such, if you got the other releases, you might just be fine with those.
--Adam Pawlus
Additional Images

Click here to see more Four Horsemen figures in Figure of the Day.

Click here to see more Outer Space Men figures in Figure of the Day.

Click here to see more Glyos Compatible figures in Figure of the Day.