Brontosaurus with Caveman
a.k.a. Dina in DINO Brites

D.I.N.O. Mites Figures
Item No.: #11
Manufacturer: Panosh Place
Includes: n/a
Action Feature: n/a
Retail: cheap
Availability: ca. 1987
Other: Panosh Place also did a line of ninjas called Ninja Mites (really)

PREVIOUS
RSS
NEXT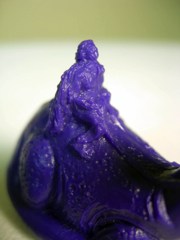 The D.I.N.O. Mites line was a thing I got in to-- and since it was 1987, that means spent about six dollars on-- as a kid. With the word "Dino" being coated in periods, it's obvious that Panosh Place was going for a dinosaur spin on the popular M.U.S.C.L.E. figure line, and they churned out about 48 figures including this Brontosaurus with Caveman. As I cannot find an official name, I'm gonna name it. It's #11 in the series, and while mine is purple there are presumably yellowish orange, red, green, and blue versions as well. I say "presumably" because there is very little information out online about this toy line, they rarely show up on eBay, and my market research shows that you don't care and already stopped reading this article.
Dino-Mites were sized similarly to the aforementioned M.U.S.C.L.E. and the later Monster in my Pocket figures, and managed to stick to their core competencies of providing cheap to the point of disposable playthings that kids loved and parents saw as a waste of money. (Or maybe I'm just talking about my parents.) They have no joints, no action features, no playsets, no vehicles, and don't do anything but sit there once you buy them. They're awesome.
Each pack-- and there were boxed sets and blister pack-- contained several of the little guys cast in a solid color of plastic with "glow-in-the-dark scales," which usually meant the eyes, a few spots, or a stripe on their back glowed in the dark. The packaging numbered the figures, and the number can often be found tucked under the toy as well. I opted to name this one "Brontosaurus" because it doesn't exist and cavemen didn't ride dinosaurs, either. I'm not sure if this is a stealth political statement or not, because as far as I know this was the only figure in the line to include a caveman, although several other dinosaur toy lines from this era also sported a hairy, bearded freak of a human with it.
Since it was the 1980s, little things like "science" haven't really influenced design all that much. There were a lot of new discoveries being made, so a figure being slightly more fanciful with reins and a caveman wasn't too outlandish. Of course, these guys also had their tails dragging behind them and no evidence of feathers, but it's not like "velociraptor" was even in the average young dinosaur fiend's vocabulary just yet. (Although thanks to Dino-Riders, we would know the Deinonychus.) But I digress. The Brontosaurus here has glow-in-the-dark eyes and measures about 1 3/4-inches long and a hair under 1 1/4-inches tall at the head.
The sculpting on this figure and the line as a whole is a little more whimsical than you might expect for dinosaur toys. While it's mostly flat, there are wrinkles near his legs and neck, some very rough toe/claw sculpting, and a little texture in the way of scales on the dinosaur's main body. His rider is clad in hairy animal skins, and is so small I defy anyone to tell me what he looks like without using an extreme close-up on a modern digital camera. That's actually the reason I picked this one first-- I wanted to see how rough he looked when blown up to 1,200 pixels.
Most amazing of all to me, these figures aged incredibly well. They may not look like much, but they look and feel exactly as they did when I got them-- they aren't sticky, I see little to no discoloration, they're bright, and the paint still glows in the dark. I can't say the same about most of my other figure lines, and I actually took good care of those. These, I just dumped in a box for the better part of two decades.
While I'll be covering a few figures from this (and similar) lines here, you'll also want to check out MinifiguresXD for much, much more of this kind of toy (but not this line specifically). It really is an amazing beast unto itself, plus you can collect thousands of them and take up one and a half shoeboxes. I'm envious.
--Adam Pawlus
Additional Images

See more Panosh Place figures in Figure of the Day:
Day 326: Panosh Place D.I.N.O. Mites Brontosaurus with Caveman Mini Figure
Day 339: Panosh Place D.I.N.O. Mites Tyrannosaurus Rex Mini Figure
Day 396: Panosh Place D.I.N.O. Mites Ichthyosaurus Mini Figure
Day 468: Panosh Place D.I.N.O. Mites Ankylosaurus
Day 538: Panosh Place D.I.N.O. Mites Gastornis

See more D.I.N.O. Mites figures in Figure of the Day:
Day 326: Panosh Place D.I.N.O. Mites Brontosaurus with Caveman Mini Figure
Day 339: Panosh Place D.I.N.O. Mites Tyrannosaurus Rex Mini Figure
Day 396: Panosh Place D.I.N.O. Mites Ichthyosaurus Mini Figure
Day 468: Panosh Place D.I.N.O. Mites Ankylosaurus
Day 538: Panosh Place D.I.N.O. Mites Gastornis