Sawtooth Shark
Series 1

Battle Beasts Series 1
Item No.: #20
Manufacturer: Hasbro
Includes: Grey trident, second figure
Action Feature: n/a
Retail: approx. $3.99
Availability: ca. 1986
Other: Japanese name "Bad Shark"

PREVIOUS
RSS
NEXT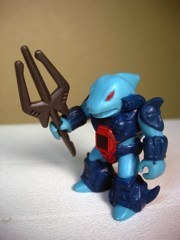 I've been writing about Gormiti which reminded me of Battle Beasts... so why not look at the real thing? This figure, and the next two, are all some of my childhood toys. I really dug these, they were lots of fun and have been with me for a very long time. And late last year I decided I needed to get the rest of 'em, so yeah, stay tuned to read lots more about Battle Beasts over the coming months.
Sawtooth Shark is the first classic guy we're going to look at this week, and he's pretty awesome. Heck, the entire line is fantastic and perfectly sized for the modern toy collector. Worried about them taking up too much room? They're 2-inches tall. Need a toy that won't fall over on your desk? Their footprint is small and they're sturdy, so they can sit on top of a thin LCD monitor. They have but two joints, but if you want a toy to display on your desk it's not like you'll be having them fight much. Their giant feet make it harder to tip them over, too, which I appreciate.
Battle Beasts are one of the best, yet sadly forgotten, small figure lines from the 1980s. The original television advertisement probably drilled its play pattern of "WOOD BEATS WATER!" into the heads of every child who dare see it. The premise of the toy line in the USA was simple-- each figure had a black sticker on his chest which, when heated, would reveal a symbol showing an icon for water, fire, or wood. The figures would then "fight" through a simple clone of paper-rock-scissors, in which water could defeat fire, fire could defeat wood, and wood (for some reason) could defeat water. The stickers were more or less randomly applied to figures, so while my Sawtooth Shark had a very sensible "water" faction symbol, another series 1 figure like Hare Razing Rabbit (at least from my sample) was also water. Maybe your Sawtooth Shark has a fire sticker. I have no idea why, it's not like there's some Tibetan tribe of swimming rabbits, is there?
Sawtooth Shark is a blue action figure which was sold in mini-figure 2-packs, although the combinations varied. You get a fight in every pack, with a clearly defined winner and loser. The only reason to keep buying (other than collecting) was to raise the self-esteem of the poor fire creature packaged with your water warrior. Surely, he would win next time! Anyway, the sculpting on these little guys was done by Takara, and the heads (specifically the eyes) show the influence of robots and other Japanese toys from the era which came out of Takara and Tomy. Hekc you can see some of the Battle Beasts in the Headmasters cartoons from Japan. With only two joints, this was-- in every sense of the word-- a cheap figure. Unlike M.U.S.C.L.E. or other "collectible" figure ranges, the figures were painted with 2-3 colors per plus they were armed with some form of melee weapon.* In the Sawtooth Shark's case, he was armed with a swell (and appropriate) trident which fits nicely in either of his fists. He's covered in robotic armor, plus has a dorsal fin, a "tail" under his aft armor, vents, bolts, and other panels. I remember wondering as a child "Why doesn't he have something to help him breathe on land?" I'm still wondering. What I do know is that the red eyes sit nicely in his blue head, and his dark blue armor looks nice, too. Granted, when I think "shark" I usually think grey, but I guess this fishy fellow has to sell the notion of water given the fact he has feet.
In lots this figure sells somewhat cheaply, individually he'll set you back about $10. I don't think that's an overly unreasonable price for a good specimen of a 20-year-old toy, and today a new figure of this quality would probably set you back a solid five bucks or maybe $8 in a two-pack. Hooray, inflation. He's a favorite of mine, and it depresses me that I kept him packed away for the bulk of the last two decades-- but this did assure me he'd be in good condition to write this review.
* - Laser Battle Beasts, or Shadow Battle Beasts, included guns-- but you probably won't see many of those on your collecting travels. Heck, I never got any until this year. Got some? Sell them to me. I'll give them a good home.
--Adam Pawlus
Additional Images

Click here to see more Hasbro figures in Figure of the Day.
See more Battle Beasts figures in Figure of the Day:
Day 82: Diamond Select Battle Beasts Minimates SDCC Gold Alligator Action Figure
Day 373: Diamond Select Battle Beasts Minimates Case Red Alligator Action Figure
Day 374: Hasbro Battle Beasts Sawtooth Shark Action Figure
Day 375: Hasbro Battle Beasts Wolfgang Walrus Action Figure
Day 376: Hasbro Battle Beasts Diving Duckbill Action Figure
Day 377: Hasbro Battle Beasts Spark Shark Action Figure
Day 390: Diamond Select Battle Beasts Minimates C2E2 2012 Red Vorin
Day 391: Hasbro Battle Beasts Anarchy
Day 395: Diamond Select Battle Beasts Minimates C2E2 2012 Grey Vorin
Day 417: Hasbro Battle Beasts Run Amuck Duck
Day 436: Hasbro Battle Beasts Horny Toad
Day 450: Diamond Select Battle Beasts Minimates SDCC 2012 Vorin & Zik
Day 451: Hasbro Battle Beasts Sledgehammer Elephant
Day 460: Diamond Select Battle Beasts Minimates SDCC 2012 Gold Vorin
Day 463: Diamond Select Battle Beasts Minimates C2E2 Exclusive Black Alligator
Day 451: Hasbro Battle Beasts Pillaging Polar Bear
Day 577: Hasbro Battle Beasts Slasher Seahorse
Day 610: Diamond Select Battle Beasts Minimates Gruntos the Walrus & Tate Reynolds
Day 639: Hasbro Battle Beasts Triple Threat Snake
Day 674: Hasbro Battle Beasts Hare Razing Rabbit
Day 720: Diamond Select Battle Beasts Minimates Shadow Merk
Day 723: Hasbro Battle Beasts Pillager Pig
Day 914: Hasbro Battle Beasts Rainbow Sam
Day 972: Hasbro Battle Beasts Pixilated Pointer
Day 1,084: Hasbro Battle Beasts Sir Sire Horse
Day 1,278: Hasbro Battle Beasts Hardtop Tortoise
Day 1,291: Hasbro Battle Beasts Tanglin Pangolin
Day 1,306: Hasbro Battle Beasts Eager Beaver
Day 1,313: Hasbro Battle Beasts Bodacious Bovine
Day 1,756: Diamond Select Independent Comic Book Minimates Battle Beasts Ruminant and Spyrnus
Day 1,815: Diamond Select Battle Beasts Minimates Stealth Vorin
Day 1,827: Hasbro Battle Beasts Sabre Sword Tiger
Day 1,890: Hasbro Battle Beasts Battling Deer Stalker Chariot
Day 1,905: Diamond Select Battle Beasts Minimates Antalor and Nychirix
Day 1,906: Hasbro Battle Beasts Killer Carp
Day 2,024: Fisher-Price Imaginext Series 11 Collectible Figures Triple Threat Snake
Day 2,074: Hasbro Battle Beasts Octillion Octopus