Hare Razing Rabbit
Japanese name "Rabbit Kid"

Battle Beasts Series 1
Item No.: #22
Manufacturer: Hasbro
Includes: Rapid Spear, second randomly-selected figure)
Action Feature: n/a
Retail: approx. $3.99
Availability: ca. 1987
Other: This sample has a "Water" color rubsign

PREVIOUS
RSS
NEXT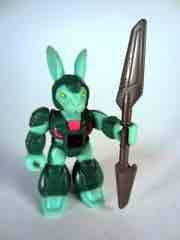 Another one of my very first Battle Beasts was Hare Razing Rabbit, a simple figure with two arm joints, a spear, and a second figure in every pack. For about four bucks you could get two cheap (but fun) figures in the 1980s. Heck, for $1 you could get a pack of four random M.U.S.C.L.E. guys. Today, astonishingly, you can still get a Hot Wheels car for a dollar but not a heck of a lot else. The reasons for this are many: increasing labor costs, higher materials prices, and a constant ascent in fan demands for figures that have more parts and more deco. I was pretty amazed that Diamond got its new Minimates Battle Beasts to Toys R Us for $7.49 per pair in early 2013.
The figure exists in a world of 1980s toy logic that sadly rarely exists today. Many figures in this line look similar to their real-world counterparts, and then there are green rabbits and purple elephants. Having a green figure with green armor seemed like an odd choice, but extra pink and yellow highlights do a pretty great job bringing him to life. He has bright yellow eyes, a little round tail, a cute bunny nose, and a pair of pointy ears. Other than whiskers and buck teeth - which may make him look too comical - the sculptors did a bang-up job making a pretty decent rabbit warrior figure. As a series 1 figure there's not too much sculpted detail, but there are robotic lines and panels on his armor, some pink wires, and mechanized shoes which match the color of his skin for some reason.
The figure has a grey double-bladed weapon with a number "22" on it, which matches the "22" on the figure's head. This is a handy way to keep track of which weapon goes to which figure. It fits right into his hand, and the hand is sort of a mitten, lacking in finger detail or sculpted bits. It's pretty primitive even for its era, figures in the second series and beyond started getting finger detail and it really looked great. Of course, if the figure just stands around on your shelf, you probably won't notice anyway.
Today, the figure sells from anywhere from $7-$13 with the weapon, which isn't exactly cheap. However, if you buy a collection or a "lot" on eBay the price per figure can sometimes drop to as little as $3 or $4 per, which is an incredible deal. While by no means impressive, the figure does carry a number of the important features for a good toy figure: he can stand on his own, he has some articulation, he's painted, and he has no problems fitting in his vehicles and playsets. As an added bonus, he was pretty cheap initially and these guys are usually in pretty good shape nearly 30 years later. The sticker on the chest tends to pop off, and I've heard of figures with missing arms, but I've never had that problem myself.
--Adam Pawlus
Additional Images

Click here to see more Hasbro figures in Figure of the Day.

See more Battle Beasts figures in Figure of the Day:
Day 82: Diamond Select Battle Beasts Minimates SDCC Gold Alligator Action Figure
Day 373: Diamond Select Battle Beasts Minimates Case Red Alligator Action Figure
Day 374: Hasbro Battle Beasts Sawtooth Shark Action Figure
Day 375: Hasbro Battle Beasts Wolfgang Walrus Action Figure
Day 376: Hasbro Battle Beasts Diving Duckbill Action Figure
Day 377: Hasbro Battle Beasts Spark Shark Action Figure
Day 390: Diamond Select Battle Beasts Minimates C2E2 2012 Red Vorin
Day 391: Hasbro Battle Beasts Anarchy
Day 395: Diamond Select Battle Beasts Minimates C2E2 2012 Grey Vorin
Day 417: Hasbro Battle Beasts Run Amuck Duck
Day 436: Hasbro Battle Beasts Horny Toad
Day 450: Diamond Select Battle Beasts Minimates SDCC 2012 Vorin & Zik
Day 451: Hasbro Battle Beasts Sledgehammer Elephant
Day 460: Diamond Select Battle Beasts Minimates SDCC 2012 Gold Vorin
Day 463: Diamond Select Battle Beasts Minimates C2E2 Exclusive Black Alligator
Day 451: Hasbro Battle Beasts Pillaging Polar Bear
Day 577: Hasbro Battle Beasts Slasher Seahorse
Day 610: Diamond Select Battle Beasts Minimates Gruntos the Walrus & Tate Reynolds
Day 639: Hasbro Battle Beasts Triple Threat Snake
Day 674: Hasbro Battle Beasts Hare Razing Rabbit
Day 720: Diamond Select Battle Beasts Minimates Shadow Merk
Day 723: Hasbro Battle Beasts Pillager Pig
Day 914: Hasbro Battle Beasts Rainbow Sam
Day 972: Hasbro Battle Beasts Pixilated Pointer
Day 1,084: Hasbro Battle Beasts Sir Sire Horse
Day 1,278: Hasbro Battle Beasts Hardtop Tortoise
Day 1,291: Hasbro Battle Beasts Tanglin Pangolin
Day 1,306: Hasbro Battle Beasts Eager Beaver
Day 1,313: Hasbro Battle Beasts Bodacious Bovine
Day 1,756: Diamond Select Independent Comic Book Minimates Battle Beasts Ruminant and Spyrnus
Day 1,815: Diamond Select Battle Beasts Minimates Stealth Vorin
Day 1,827: Hasbro Battle Beasts Sabre Sword Tiger
Day 1,890: Hasbro Battle Beasts Battling Deer Stalker Chariot
Day 1,905: Diamond Select Battle Beasts Minimates Antalor and Nychirix
Day 1,906: Hasbro Battle Beasts Killer Carp
Day 2,024: Fisher-Price Imaginext Series 11 Collectible Figures Triple Threat Snake
Day 2,074: Hasbro Battle Beasts Octillion Octopus