Orbitron
The Man from Uranus

Outer Space Men infinity Edition
Item No.: n/a
Manufacturer: Four Horsemen
Includes: Ray gun, star weapon
Action Feature: n/a
Retail: $50.00 (sold as a set with Cyclops and Gemini)
Availability: March 2013
Other: Fourth release of Orbitron in this line

PREVIOUS
RSS
NEXT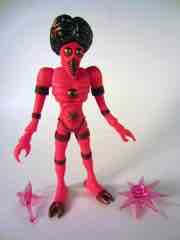 There have been many ups and downs in this line, from the amazing first year of figures which were top-notch toys to some later releases which are, well, less toy-y. Orbitron finally got his painted modern action figure release in March of 2013, but there's a catch: the figure is all-white plastic painted in the right colors. The good news is that he looks absolutely stunning, but it does beg the question as to how the figure will look if it gets a little dinged up over time. Right now? Awesome. Later? Who knows.
Standing tall at about 4 1/3-inches tall, this figure has 12 points of articulation, but it's worth noting he can't really sit down. His hips get in the way of the movement, so while Xodiac and Commander Comet had legs which could swing forward, I would say Orbitron's go to about a 135-degree angle. The figure is painted in a pinkish red hue with bronze highlights, and man does it sing. I couldn't believe how bright it looked when I popped it out of the shipping carton, it's positively eye-poppingly pretty. (Cyclops wins the pageant, though.)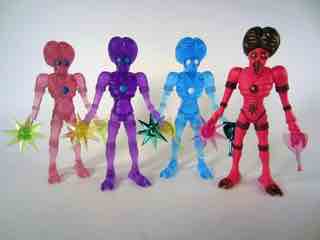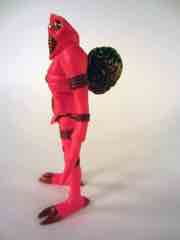 As with before, the figure uses the Glyos system meaning you can pop the figure apart at each and every piece. The brain comes off, too, if you want to use it in another build. The sculpting on this figure isn't exactly revolutionary, but it does reflect the 1968 original's clean lines and unique color scheme, which apparently disregarded This Island Earth's Metaluna Mutant pants. So this is more or less a refined version of that design, which is probably for the best.
The thing I don't get is if the figure was to be cast in white plastic, why not do a run of unpainted white figures for customizers?
Orbitron has no problems interacting with either of his accessories, including a 1968 ray gun and a newly-designed star weapon. The whole thing is kind of goofy, but that's what I signed up for here. If you like what you see in the pictures, the figure has a good construction and nice paint job. He can hold his weapons and generally looks good. Given that this figure will probably cost you $26 in a 2-pack or $50 in a set of 3, I can't say that it will feel like you got a good deal. However, if you like supporting action figure lines where it's likely 80% of the stock will be bought by toy bloggers who in turn will write articles convincing you, too, to buy in, this is one of the best lines you can get.
--Adam Pawlus
Additional Images

Click here to see more Four Horsemen figures in Figure of the Day.

Click here to see more Outer Space Men figures in Figure of the Day.

Click here to see more Glyos Compatible figures in Figure of the Day.