Task Force Volkriun Glyan Captain Ruger
Green! And Greener!

Glyos Action Figures
Item No.: n/a
Manufacturer: Onell Design
Includes: Gun, alternate Neo-Sincroid head
Action Feature: n/a
Retail: $8.00
Availability: July 29, 2012
Other: One of a few green Glyans

PREVIOUS
RSS
NEXT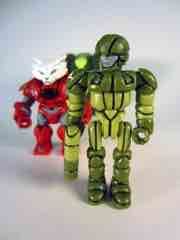 Many moons ago, figures lasted more than a week at Onell Design. It's true! Like a putz I waffled on Task Force Volkriun Glyan Captain Ruger, and since he didn't sell out immediately I snagged him, the reverse version, and the vinyl block because they made a fantastic cartoon of it. It's a dopey reason to make a purchase, I admit, but I've had far more flippant reasons for buying new plastic.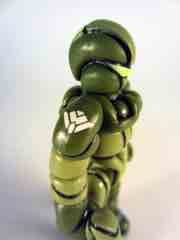 The first Volkriun line, legend has it, did well enough to warrant an even more ornate run roughly two years later, and with good cause. These little guys are pretty awesome and vaguely resemble the Tech Dynasty characters from Legions of Power, but with less brown and more green. The figure introduces no new tooling, but the deco is pretty slick with bright green visors/eyes, black detail lines, and a bluish face for the Neo-Sincroid head.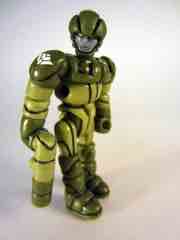 As always the figure is crazy articulated and sports a ton of parts, but has about 19 points of articulation. Granted, some affect the range of motion more than others, but it's nice to know he can pop apart at each joint to swap elements with other figures in this and other Glyos-compatible lines, but you probably knew that if you're reading this. I don't know how many newcomers there are to this line, so if you're reading this, you're probably already a big fan and have/want this.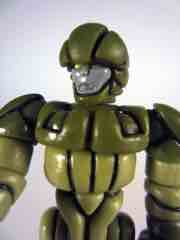 Since the figure recalls human military stuff, and has a pretty decent role in an episode of the Passcode animation at Onell Design, it's one I'd suggest going after if your budget permits. It looks cool, the green is nice, and it's a figure that could take a beating from the first Armorvors. At under 3-inches tall it's not huge, and the secondary market prices aren't too high just yet. Oh, and he shipped in a clear plastic bag, so there's not a heck of a lot going on in the packaging department. So just open him, and enjoy.
--Adam Pawlus
Additional Images


Click here to see more Onell Design figures in Figure of the Day.
Click here to see more Glyos Compatible figures in Figure of the Day.