Gemini
The Man from the Twin Star Algol

Outer Space Men infinity Edition
Item No.: n/a
Manufacturer: Four Horsemen
Includes: 2 helmets, ray gun, staff (with helmet), alternate arms
Action Feature: n/a
Retail: $50.00 (sold as a set with Orbitron and Cyclops)
Availability: March 2013
Other: Fourth release of Gemini in this line

PREVIOUS
RSS
NEXT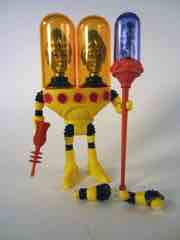 One of the unfortunate thing about the Outer Space Men line is that we get unpainted exclusives of each figure roughly six months prior to the official painted releases, and in that time expectations can start to go up. Gemini, with his high piece count, looked like he was going to be fantastic, and the truth is he turned out quite well. The only real drawback I found was sort of nitpicky, and that's with the deco. Molded in white plastic (like the rest of this series) the figure's yellow paint seems a little rougher than the rest of the line, which tends to be pretty clean and glossy. For all I know, it's just my sample, but it definitely lacks the sort of polish that the other dozen or more painted figures have received so far. Thankfully the silver face paint and clear helmets turned out perfectly, so the end result is a very good action figure that, in nearly any other line, would be spectacular. With wave mates like Cyclops it's hard to look awesome, but the sculpting makes this a fairly weighty release.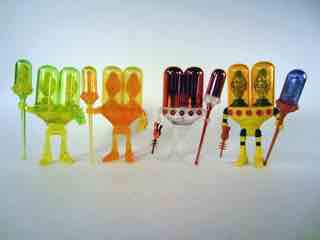 I have no idea what possessed the Four Horsemen to go so bonkers on the tooling, but they did and we benefit. The staff alone is constructed of 4 unique plastic pieces which can come apart, and that tiny head inside the glass case can work for your other custom projects. Gemini himself has two spare arms with a figure made of about 26 total pieces, including the helmets and the clear chest plugs which are removable and can be replaced with things like Astro-Nautilus' tentacles. I don't want to muck up the paint, so I'm not going to illustrate it as the pegs do tend to be tight here.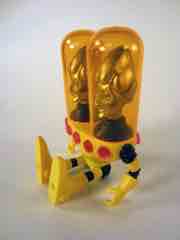 Articulation is about par for the course, resulting in a figure that's superior than the last short figure Alpha 7. This time around, our friend has articulated hips that allow him to stand or sit while keeping the same basic Alpha 7 arms. Because the hands are open, rather than closed fists, you need to take a little care about how he grips his accessories. The open hands certainly look better than the closed fists, but the fists really do a nicer job of keeping things in place. Wrists swivel, shoulders rotate, and while the elbows don't bend you do have "bent" and "straight" arms you can swap around to replicate that look. It's a nice touch. It's also worth noting that the fists, part of the staff, and feet use a smaller Glyos-style plug, and this is used on very figure figures so far - just Gemini and Alpha 7. The other joints are all fairly standard Glyos plugs.
Deco is largely good, and the Four Horsemen keep their tradition of painting virtually all non-clear parts on these figures. While in the past we've seen blue figures painted blue, this is a white figure painted yellow and you can tell in spots. You have to look really close, but well, I do take pictures with the macro setting, so it comes up. The heads are perfect, the black "joint" pieces are glossy and clean, but the yellow feels like it could have been a little glossier or more candy-like. It's not a knock against the line, it's just that the other figures have had such exceptional paint jobs that anything under an effort of 110% sticks out a little bit. It's worth noting that the paint on the heads is absolutely stunning, the metallic silver is dynamite and the black eyes fit in there perfectly.
I haven't got much use out of the bent elbows on this (or to be honest most of the other) figures, once I set them up the other arms just sit in a baggie or next to the figures on the shelf. It's a great option, and helpful for getting the right configuration with the staff and ray gun, but I can't help but think if they dropped them from the 2013 and 2014 figures that I wouldn't miss them all that much at this point. The ray gun is simple and fits in his hand nicely, plus was cast in a clear plastic and painted red. The staff matches nicely, and has a third head which can be swapped out with either of the two larger heads if you're so inclined. There's a lot you can do with this figure if you're in to tearing apart and reassembling your toys, or customizing.
For $13 or so, this figure provides a nice batch of customization opportunities and a solid foundation for a nice toy in its own right. I wouldn't necessarily shy away from a 2.0 release with a better yellow paint job, but other than that this is a pretty great figure and surely one of the reasons this wave must have cost more to produce than last year's painted quartet. The Four Horsemen didn't cheap out in the engineering department, and there are a lot of paint applications to admire. It's a great design, and it's really awesome to be able to pick up a $13 Gemini figure rather than one that costs a few thousand bucks on eBay, as the 1969 original was produced in devastatingly limited quantities. Or to put it better, "not produced."
--Adam Pawlus
Additional Images

Click here to see more Four Horsemen figures in Figure of the Day.

Click here to see more Outer Space Men figures in Figure of the Day.

Click here to see more Glyos Compatible figures in Figure of the Day.