Gamma X
The Man from the 4th Dimension

Outer Space Men Alpha Phase San Diego Comic-Con Exclusives
Item No.: n/a
Manufacturer: Four Horsemen
Includes: 2-piece helmet/armor, 2 blasters
Action Feature: n/a
Retail: $60.00 (sold as a set with Jack Asteroid and Terra Firma)
Availability: July 19, 2013
Other: The First Glyos-Compatible Gamma X

PREVIOUS
RSS
NEXT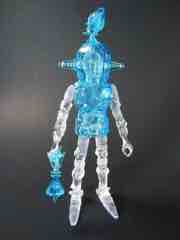 As one of the final unproduced "original" Outer Space Men, Gamma X benefits from years of history and is a bit of a toy legend in that the original 1969 prototype didn't yield a mass-produced toy until this one. For those dying for a Gamma X figure of their own, truly it is a great day. For those just wanting a neat figure, it's OK. Feeling like a mutation of the previously-released Electron+, the concept of a man from beyond time was a sound one - the original concept of a glow-in-the-dark figure in clear crystal armor - but as a clear unpainted guy in a blue suit, the complete package is just not all that exciting. Individual components, on the other hand, are pretty amazing.
Gamme X is encased in a suit that completely hinders mobility, plus he lacks the alternate bent arms that other figures enjoy. The two-piece blue suit clamps over the figure, preventing head and hip movement. His open hands are a little less agreeable about holding his accessories, but you'll have no problem getting them to fit in the hole at the top of his helmet. While some of these figures nearly leap off the shelf (and in some cases, literally do) demanding that you play with them, once you assemble Gamma X he's just sort of good to sit there. To play with the figure, you must undress him. But if you leave him alone, he's going to look just fine.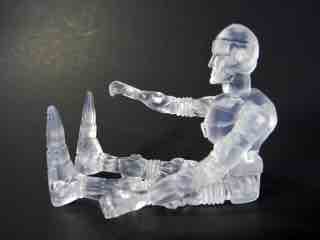 The sculpt is great, but the clear colorless plastic sucks out some of the detail. If you squint, you'll see all sorts of dots, spikes, and flourishes. His armor even has a delightful detail of little glasses over his eyes, and the ability to encase his entire head makes it look like he's going to be safe on whatever trip through other dimensions, time, and space await him. The figure, if sold by himself, would probably be good in any other wave - but with the five other colorful characters he accompanied, well, someone has to be the least exciting. I'm very much looking forward to the final, hopefully glow-in-the-dark version in a few months.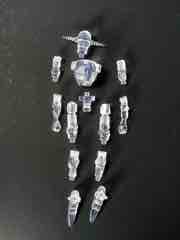 As always, the figure is made with Glyos-based limbs and is made from a total of 13 clear colorless parts. He has four clear blue accessory pieces, and may be better without the armor. The subtle details in the face, plus his painted silver eyes, give off a vibe that seems to be lost in time between the 1930s and 1960s. Unfortunately, the torso seems a little on the small side and the shoulder joints almost feel too large for the body - the accordion joints hang over the top just a smidgen. When he's all put together you might notice this, but up close it's hard to miss.
Note: Some of the images below are of Gamma X under a black light bulb. The figure does not glow in the dark - this is just what a black light can do if you have one.
Without his armor, Gamma X has no problems standing or sitting thanks in part to very large feet. Of all the figures in this wave, I'm going to go out on a limb and assume this will be the most stable on your shelves. Each accessory looks excellent, the head is really cool and would probably make wonderful custom fodder, and his height has him stand out on your shelf. It's just the combination of proportion, colors, and a few minor quibbles prevent me from demanding you go out and buy one of these. Colossus Rex is an impressive beast from Jupiter, while Gamma X is the figure you'll probably buy just to complete the set. Seeing as this particular 3-pack had a lot of parts reuse, I can't say it felt like a good deal for $60 at Comic-Con. But I like these, and i want the collection, so I bought it. Hopefully the next colorway will be a little more striking, or failing that, slightly cheaper.
--Adam Pawlus
Additional Images
Additional Outer Space Men 2013 Alpha Phase SDCC Exclusive Images
| | |
| --- | --- |
| | |
| | |
| | Note: at SDCC 2013, the figures were packaged and distributed in the swapped boxes - so Gamma X, Jack Asteroid and Terra Firma came in a box with the characters Ohprometam, Colossus Rex, and Horroscope pictured on the front and vice-versa. |

Click here to see more Four Horsemen figures in Figure of the Day.

Click here to see more Outer Space Men figures in Figure of the Day.

Click here to see more Glyos Compatible figures in Figure of the Day.