Hoist
Green Machine

Transformers Generations Deluxe
Item No.: Asst. 37986 No. A3381
Manufacturer: Hasbro
Includes: Wrecker hook turns into weapon, reprint of comic Spotlight: Hoist
Action Feature: Transforms from truck to robot
Retail: $12.99
Availability: August 2013
Other: 02 Series #005

PREVIOUS
RSS
NEXT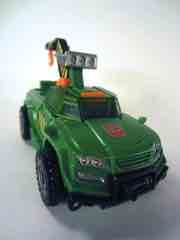 After getting a Legends figure last year, a larger Hoist has been more or less expected - especially after we got word of Trailcutter being made. Both figures share most of their parts, making this a rare occasion in which the black repaint came first. Hoist is different enough to be interesting, with a unique weapon and head sculpt in addition to a brighter deco. I would probably say the mold works best as Trailcutter, but it's still good enough to warrant re-buying as Hoist.
The 5-inch tall robot has about 16 meaningful points of articulation, and is a lot of fun to transform. He stands, he poses, he feels chunky without being bulky. It's almost a shame Hasbro is talking about simplifying the toys now, because figures like Hoist, Trailcutter, and the new Bumblebee are fun and easy to manipulate in either mode with few snags or stresses.
Hoist's head isn't as wide as his comic appearances, and it seems a tad small for the very wide body. Clearish plastic is used for the eyes, but the placement of kibble behind his neck prevents any light from shining through. It's still a decent sculpt, and the coloring works well with the design. If it were a third-party item, you'd be soiling yourself over it. It's missing the character's familiar wings, making it in line with the IDW redesigns more or less. It still has coloring and design elements which should remind any fan of the original toy or cartoon appearances, but there's only so much you can work into the design when you share a mold with another character. x2 Toys, a third party outlet, will be producing wings and other parts for Hoist and Trailcutter. Personally I'd rather not spend more money on these.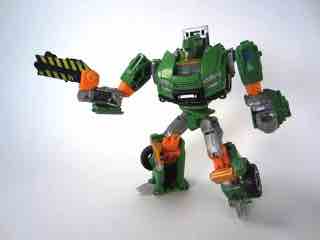 As with Trailcutter, transforming this toy is fun and painless. Fold up the chest, tuck in the head and arms, squeeze in the legs, and you're pretty much done. It's a decent looking tow truck, and I have no complaints about how it looks or how it fits together.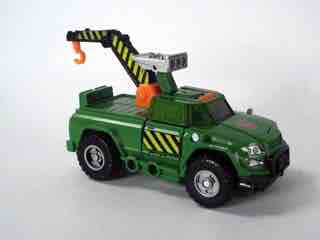 My standards on a vehicle are usually pretty low, so I'm happy this one looks good. There's an Autobot symbol on his hood, black and yellow stripes on the hook and doors, and hints of orange for his robot mode. It's a nice item.
This toy finally brings us a decent "classic" Hoist, and the price isn't too shabby either. It's a fun toy, which I appreciate after the frustrations of some other recent toys under the "Generations" banner. Regardless of skill, a kid or collector should enjoy this. I'd be curious to see Hasbro turn the mold into other, original characters with new heads - it's a good design and could probably get more use were they so inclined.
--Adam Pawlus
Additional Images


Click here to see more Hasbro figures in Figure of the Day.
Click here to see more Transformers figures in Figure of the Day.

Want to buy this figure? Check Transformers availability at our sponsors:
Entertainment Earth