Dr. Mrs. The Monarch
3 3/4-inch-Scale Figure

Venture Bros. 3 3/4-inch Scale Action Figure
Item No.: No. 09105
Manufacturer: Bif Bang Pow!
Includes: A machete
Action Feature: n/a
Retail: $11.99
Availability: March 2013
Other: Also available in Mego-size

PREVIOUS
RSS
NEXT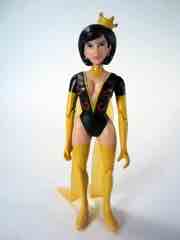 The 3 3/4-inch scale Dr. Mrs. The Monarch was, like most of this line, in a holding pattern for a while. At one point she was to have a Monarch-themed bazooka accessory, but well... obviously, she doesn't now. This line was developed around season 3 of the show, which is why the character has this appearance and is not Dr. Girlfriend.
As always I'm required (and proud) to say I consulted on this line, so assume that you're hearing from a very biased resource.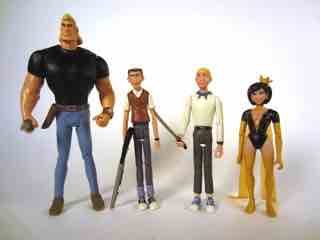 Hank, Dean, Brock, and Dr. Mrs. The Monarch were the first four prototypes completed for this particular series and they're not at all bad - I like the second wave more because Dr. Mrs. is molded in flesh-colored plastic with a painted outfit, which gives her a pretty nice look as action figures go. Painted figures often look good and I bet it would've worked to give her a fully-painted flesh face as it would simulate make-up, but this is pretty good too. Her face has a little bit of color and she has a slightly evil smirk, plus the crown to match the Monarch which is due soonish. (Long story.)
The Monarch's main squeeze has 10 points of articulation, with added elbow and knee joints. Her foot peg hole is sized to match Star Wars 1995-present, and I assure you that is intentional. The costume is simple with black fabric lined with yellow and a red butterfly printed on it, plus, uh, ample assets sculpted on there. On the television show, part of the character's charm comes from a sexpot superhero character body paired with a ten-pack-a-day voice and a genius personality, making her a pretty great pastiche of women in comics and cartoons. I assume this is also a nod to the likes of Cobra's Baroness, but it's not like I had those conversations with anybody. I just got the toy.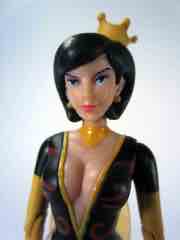 Unlike other figures in this line, she has flexible plastic wings. The key word here is flexible - they're rubbery and will not support the figure. You'll need to pose her right, or use a display stand. The joints are tight and the overall quality of the figure is quite good, but it wouldn't surprise me if people saw the elbows as a little thin. (Of course, I tend to argue for less articulation on most of my action figures, so what do I know.)
Brock and Dr. Girlfriend were two of my favorite characters on the show, with the Monarch being one of my favorites of all time. It's really great to have them in plastic figure form, although on the whole these are better for collectors than for kids - just like the show. Get one for your desk at work, but if your kids want a new figure this just isn't the right one for them on oh so many levels.
--Adam Pawlus
Additional Images

See more Bif Bang Pow! action figures in Figure of the Day:
Day 3: Venture Bros. The Monarch Action Figure
Day 192: Venture Bros. Dean Venture Action Figure
Day 289: Venture Bros. Jonas Venture Action Figure
Day 297: Venture Bros. Rusty Venture Action Figure
Day 303: Bif Bang Pow! Venture Bros. Dr. Girlfriend Action Figure
Day 308: Bif Bang Pow! Doctor Who Fourth Doctor Action Figure
Day 313: Bif Bang Pow! Venture Bros. Dr. Orpheus Action Figure
Day 362: Bif Bang Pow! Venture Bros. Hank Venture Action Figure
Day 439: Bif Bang Pow! Venture Bros. Phantom Limb Action Figure
Day 490: Bif Bang Pow! Venture Bros. Bloody Brock Samson Action Figure
Day 499: Bif Bang Pow! Venture Bros. Brock Samson Action Figure
Day 666: Bif Bang Pow! Venture Bros. Dean Venture Action Figure
Day 666: Bif Bang Pow! Venture Bros. Hank Venture Action Figure
Day 699: Bif Bang Pow! Venture Bros. Molotov Action Figure
Day 732: Bif Bang Pow! Venture Bros. Dr. Mrs. The Monarch Action Figure
Day 771: Bif Bang Pow! Venture Bros. Brock Samson Action Figure
Day 867: Bif Bang Pow! Venture Bros. Unpainted Test Shot Monarch Action Figure
Day 970: Bif Bang Pow! The Twilight Zone Henry Bemis Action Figure
Day 1,003: Bif Bang Pow! Venture Bros. Monarch Action Figure
Day 1,027: Bif Bang Pow! The Twilight Zone Kanamit (Work Uniform) Action Figure
Day 1,054: Bif Bang Pow! Star Trek: The Next Generation Lieutenant Worf
Day 1,063: Bif Bang Pow! The Twilight Zone Talky Tina Action Figure
Day 1,388: Bif Bang Pow! Peg Pals Batman Armored
Day 1,928: Bif Bang Pow! DC Comics Pin Mate Wonder Woman
Day 2,134: Bif Bang Pow! The Twilight Zone Gremlin

See more Venture Bros. figures in Figure of the Day:
Day 3: Venture Bros. The Monarch Action Figure
Day 192: Venture Bros. Dean Venture Action Figure
Day 289: Venture Bros. Jonas Venture Action Figure
Day 297: Venture Bros. Rusty Venture Action Figure
Day 303: Bif Bang Pow! Venture Bros. Dr. Girlfriend Action Figure
Day 313: Bif Bang Pow! Venture Bros. Dr. Orpheus Action Figure
Day 362: Bif Bang Pow! Venture Bros. Hank Venture Action Figure
Day 439: Bif Bang Pow! Venture Bros. Phantom Limb Action Figure
Day 490: Bif Bang Pow! Venture Bros. Bloody Brock Samson Action Figure
Day 499: Bif Bang Pow! Venture Bros. Brock Samson Action Figure
Day 666: Bif Bang Pow! Venture Bros. Hank Venture Action Figure
Day 699: Bif Bang Pow! Venture Bros. Molotov Action Figure
Day 732: Bif Bang Pow! Venture Bros. Dr. Mrs. The Monarch Action Figure
Day 771: Bif Bang Pow! Venture Bros. Brock Samson Action Figure
Day 867: Bif Bang Pow! Venture Bros. Unpainted Test Shot Monarch Action Figure
Day 1,003: Bif Bang Pow! Venture Bros. Monarch Action Figure

Want to buy this figure? Check Venture Bros. availability at our sponsors:
Entertainment Earth