Terra Firma
The Woman from Earth

Outer Space Men Alpha Phase San Diego Comic-Con Exclusives
Item No.: n/a
Manufacturer: Four Horsemen
Includes: Removable 3-piece helmet, magnet jetpack/Anti-Gravity Generator, Atomic Disintegrator, alternate arms
Action Feature: n/a
Retail: $60.00 (sold as a set with Jack Asteroid and Gamma X), later $16 individually
Availability: July 19, 2013
Other: The First Glyos-Compatible Terra Firma

PREVIOUS
RSS
NEXT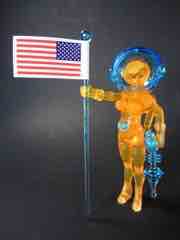 The first "new" prototype figure shown to the world was Terra Firma. She was a big surprise at the Futuretro show in New York back in 2012, even though she's visible (barely) on an art print sold at the show. She's also a fairly adult release in an updated children's line, owing her look to the cartoon art of old Playboy magazines. This certainly helps her stay in that 1960s vibe, despite being designed rather recently.
This figure is generally a completely new sculpt, with parts shared with other female figures in the line. The three-piece helmet is shared with Jack Asteroid, while the entire body and all her limbs do double duty with Ohprometam and Horroscope. (And presumably any other figures which may see release later.) The articulation is basically the same, with a higher waist joint and quite possibly the largest breasts I've ever seen on a 3 3/4-inch action figure. The figure is constructed from just over 20 pieces, including her accessories. The sculpt is, as always, great but the clear orange plastic makes her look significantly more alien. This works well on the other figures of this line, but the eyes on an unpainted orange face give her an unquestionably extra-terrestrial look, and perhaps adding flesh-colored paint to the face would have driven home the human/Earth connection better.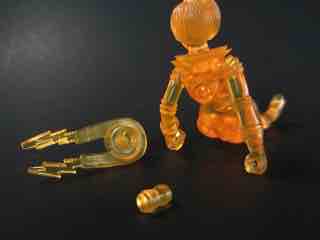 She still looks totally nifty, of course, and the level of movement is on the lower end of this line. She can stand, but she needs assistance via leaning on either a wall or propping herself up with a flag. She can't sit very well, as her hip articulation is hindered by her waist design. While I know few (OK, no) fans are buying these to open and play with, I was hoping she'd be able to sit as well as the better figures in this line - and she can't. The range of movement is still better than many modern Star Wars figures, but not quite the level of movement as the earlier figures of this line. Terra is equipped with Glyos pegs all over the place, so you can swap parts and bend genders with your other action figures.
In terms of accessories, Terra both wildly succeeds and spectacularly fails. The ray gun, dubbed the Atomic Disintegrator, is fantastic. It's loaded with unnecessary design flourishes and looks really out-of-this-world. It feels like it fell out of a classic sci-fi movie or pulp painting, and it may be one of the best - if not the best - original gun accessory I've seen in years. The three-piece helmet is excellent, and has a clever construction. The two halves of the dome snap around a lip on the figure's neck, allowing it to freely rotate while remaining firmly in place. The visor fits in a small pair of holes on the sides of the helmet, also opening and closing freely. My sample had a small, unfortunate scrape on it but it's hard to tell unless brightly lit.
The less said about the flag, the better. It brings down the value of the set a smidgen, but it's functionally important to keeping Terra off her back or her face. Without it, she may fall over on your shelves. The plastic sculpt is good, and it fits in her hand well. The flag itself is a sticker which wraps around the pole and looks, to be diplomatic, unfortunate. The white border makes it feel like the factory didn't trim it properly, and what's worse is that the adhesive won't stay stuck. The flag, in the bags, is already beginning to separate from itself and will likely detach from the pole completely in a couple of years. You'll need to refasten it somehow, or replace it with a cheap flag from a party store's July 4th selection. Seeing how many good, cheap-as-in-almost-free alternatives there are to be had it's surprising a higher-end collector's-only line like this, with such a fantastic figure, would allow for this kind of a shortcoming. No flag may have been better.
Rounding out the set is her Anti-Gravity Generator, a magnet-esque backpack. It's great! The magnet and the back both have holes in them, so they're connected via a male/male plug that looks like a... uh.... you know. One of those. The orange magnet is capped by a blue casing, giving it a really great look. Small energy blasts come out of the magnet, letting you know that it's working. It's a great detail and appropriate to the era of space travel it represents.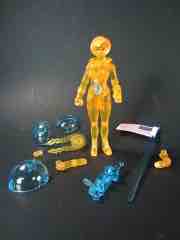 If you can get past the shoddy flag (and you should) this is a good figure. It's cute, a little sexier than you might expect, and is generally a good evolution of the line. The helmet transcends the one-piece helmets of the first year, and the sculpt is consistently great. It's just that the flag, wow, no. The higher price tag is surprising given that these figures are not significantly heftier in piece count compared to last year, but it's possible the new tooling budget pushed them over the edge. I really don't know. What I do know is that at $20ish per figure, I'd have liked a better flag - but everything else is so good that I should probably stop complaining.
--Adam Pawlus
Additional Images
Additional Outer Space Men 2013 Alpha Phase SDCC Exclusive Images
| | |
| --- | --- |
| | |
| | |
| | Note: at SDCC 2013, the figures were packaged and distributed in the swapped boxes - so Gamma X, Jack Asteroid and Terra Firma came in a box with the characters Ohprometam, Colossus Rex, and Horroscope pictured on the front and vice-versa. |

Click here to see more Four Horsemen figures in Figure of the Day.

Click here to see more Outer Space Men figures in Figure of the Day.

Click here to see more Glyos Compatible figures in Figure of the Day.