Hank Venture
3 3/4-inch-Scale Figure

Venture Bros. 3 3/4-inch Scale Action Figure
Item No.: No. 09104
Manufacturer: Bif Bang Pow!
Includes: A machete
Action Feature: n/a
Retail: $11.99
Availability: March 2013
Other: Also available in Mego-size

PREVIOUS
RSS
NEXT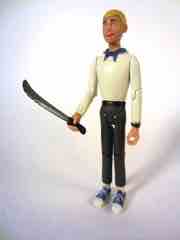 The 3 3/4-inch Hank Venture was a long time coming, I think I sent in a line plan for this one shortly after season 3 was on DVD and Blu-Ray. He turned out pretty well! The figure has 10 points of articulation and is, on the whole, pretty dang good.
As always I'm required (and proud) to say I consulted on this line, so assume that you're hearing from a very biased resource. Also assume that if the figure sucked I wouldn't even review it.
I like it! Hank goes well with Dean, and the development process was a long one. All sorts of lines were tossed out as great examples to mimic, like Justice League and Batman: The Animated Series and even the simplified Star Wars style of the 1980s, but the final figures aren't necessarily based on anything in particular... well, except for the fact that the kids were designed to be 3 3/4-inches tall, just like Luke Skywalker, with the rest being scaled from them. Hank has 10 joints with knees and elbows, plus a waist swivel. Like Dean, he stands well and has no problem holding his weapon. (I know that shouldn't be a selling point, but I've got a lot of Star Wars figures where standing and g.shtmling would be awesome.) The sculpted detail is simple, without too many creases and just enough to sell the idea that this figure came from a traditional animated TV show. The 2D to 3D transition is a tricky one, as you can see in the Simpsons archives I did... geez... like ten years ago.
Hank's goofy grin is present, capturing the wackier.shtmlect of his personality from most of the first three seasons. He's skinny, but not to the extent as Dean. He's got a kerchief, short blond hair, and the wrist communicator with a green screen painted on it. I'm not sure if that or the shoelace details are more impressive, because I kinda expected this sort of thing to not look this sharp. The socks are a smidgen shorter than I was expecting, though.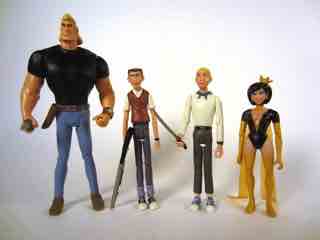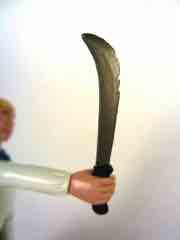 But what about the machete? Excellent question. It's from the episode "Assassinanny 911," where Molotov Cocktease took over for Brock briefly. Hank gets drugged, grabs a blade, and tries to kill his dad. It's all pretty simple stuff. While I personally would have loved to see a mask of "the Bat" included... that's just kinda unrealistic.
If you get Dean, you gotta get Hank. They go great together and are delightfully goofy. But don't take my word for it... as I established above, I cannot be trusted.
--Adam Pawlus
Additional Images

See more Bif Bang Pow! action figures in Figure of the Day:
Day 3: Venture Bros. The Monarch Action Figure
Day 192: Venture Bros. Dean Venture Action Figure
Day 289: Venture Bros. Jonas Venture Action Figure
Day 297: Venture Bros. Rusty Venture Action Figure
Day 303: Bif Bang Pow! Venture Bros. Dr. Girlfriend Action Figure
Day 308: Bif Bang Pow! Doctor Who Fourth Doctor Action Figure
Day 313: Bif Bang Pow! Venture Bros. Dr. Orpheus Action Figure
Day 362: Bif Bang Pow! Venture Bros. Hank Venture Action Figure
Day 439: Bif Bang Pow! Venture Bros. Phantom Limb Action Figure
Day 490: Bif Bang Pow! Venture Bros. Bloody Brock Samson Action Figure
Day 499: Bif Bang Pow! Venture Bros. Brock Samson Action Figure
Day 666: Bif Bang Pow! Venture Bros. Dean Venture Action Figure
Day 666: Bif Bang Pow! Venture Bros. Hank Venture Action Figure
Day 699: Bif Bang Pow! Venture Bros. Molotov Action Figure
Day 732: Bif Bang Pow! Venture Bros. Dr. Mrs. The Monarch Action Figure
Day 771: Bif Bang Pow! Venture Bros. Brock Samson Action Figure
Day 867: Bif Bang Pow! Venture Bros. Unpainted Test Shot Monarch Action Figure
Day 970: Bif Bang Pow! The Twilight Zone Henry Bemis Action Figure
Day 1,003: Bif Bang Pow! Venture Bros. Monarch Action Figure
Day 1,027: Bif Bang Pow! The Twilight Zone Kanamit (Work Uniform) Action Figure
Day 1,054: Bif Bang Pow! Star Trek: The Next Generation Lieutenant Worf
Day 1,063: Bif Bang Pow! The Twilight Zone Talky Tina Action Figure
Day 1,388: Bif Bang Pow! Peg Pals Batman Armored
Day 1,928: Bif Bang Pow! DC Comics Pin Mate Wonder Woman
Day 2,134: Bif Bang Pow! The Twilight Zone Gremlin

See more Venture Bros. figures in Figure of the Day:
Day 3: Venture Bros. The Monarch Action Figure
Day 192: Venture Bros. Dean Venture Action Figure
Day 289: Venture Bros. Jonas Venture Action Figure
Day 297: Venture Bros. Rusty Venture Action Figure
Day 303: Bif Bang Pow! Venture Bros. Dr. Girlfriend Action Figure
Day 313: Bif Bang Pow! Venture Bros. Dr. Orpheus Action Figure
Day 362: Bif Bang Pow! Venture Bros. Hank Venture Action Figure
Day 439: Bif Bang Pow! Venture Bros. Phantom Limb Action Figure
Day 490: Bif Bang Pow! Venture Bros. Bloody Brock Samson Action Figure
Day 499: Bif Bang Pow! Venture Bros. Brock Samson Action Figure
Day 666: Bif Bang Pow! Venture Bros. Hank Venture Action Figure
Day 699: Bif Bang Pow! Venture Bros. Molotov Action Figure
Day 732: Bif Bang Pow! Venture Bros. Dr. Mrs. The Monarch Action Figure
Day 771: Bif Bang Pow! Venture Bros. Brock Samson Action Figure
Day 867: Bif Bang Pow! Venture Bros. Unpainted Test Shot Monarch Action Figure
Day 1,003: Bif Bang Pow! Venture Bros. Monarch Action Figure

Want to buy this figure? Check Venture Bros. availability at our sponsors:
Entertainment Earth