Rumble and Ravage
Series 01 #002

Transformers Generations Legends
Item No.: Asst. A1421 No. A1422
Manufacturer: Hasbro
Includes: 2 Data Disc Cases
Action Feature: Transforms from Data Disc to robot/cat
Retail: $10.99
Availability: December 2012
Other: 01 Series 001

PREVIOUS
RSS
NEXT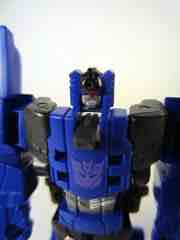 I was positively surprised and elated when Rumble and Ravage showed up last December (which is when I wrote this review... hey, I work ahead) and that evaporated into "eh" in about ten minutes. An update of one of the few Transformers items I had back in the G1 days, the disc Rumble is now blue (like the TV show) while Ravage remains his black and silver self. Rumble is as good as Frenzy, which is to say, acceptable. Ravage is more of a mess.
Rumble blah blah robot. His auto-transform does about half of the work, when the disc is dropped on a flat surface you'll see his arms fly above his head and his legs swing out under his body. At this point, you swing down the arms and flip out feet, creating a robot figure of your very own. As he has no weapons of his own, he's pretty much just a semi-poseable figure who will be mostly valued for the spring-loaded.shtmlects of the toy. It's fun, and I bet kids will like it. If it fit more easily into Soundwave I bet it'd be more likable.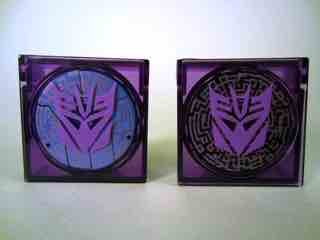 Ravage is pretty disappointing, mostly because there are quite a few good Ravage toys out there. The original 1984 tape is a better tape and a better jaguar, plus his many reissues can guarantee you that if you just want a Ravage, that's totally doable. A 2009 Universe figure brought back the tape alt mode, but the jaguar wasn't as cool as the original. (Well, the head wasn't anyway.) This new disc version gives you a semi-poseable jaguar, and that's great. He has wonderful deco with little details on his head, and I can't complain about their attempts to sculpt him.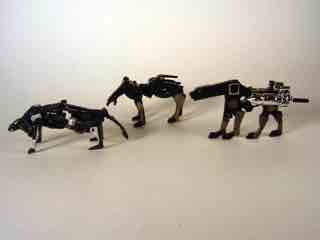 Fitting the toy back into disc mode is a little wonky and it seems like he doesn't fit together as well as his brothers. It doesn't go into the disc case easily. The jaguar mode requires lots of fidgeting to get it into a standing, recognizable mode and this is the only one of the data discs I would say may have been better served to drop the auto-transform gimmick in favor of just doing it manually. It feels bulky and skeletal all at once, which is unfortunate as the original toy and many of its descendants were pretty elegant.
At $11 it's OK, but if you really want Ravage and Rumble toys (and don't yet have them) I would suggest going after the original G1 toys or recent reissues. The original Soundwave toy holds up well as a collectible for older fans, as do his tapes. The original Ravage doesn't feel that antiquated given it's nearly 29 years old, and even the old Rumble looks a little better than the new one since the G1 head sculpt was larger and arguably niftier. They also both had weapons. I don't want to poo-poo this new interpretation as it's a solid attempt at an update, but as someone who's been attempting to return to the good ol' days forever, I can tell you that sometimes it's just not possible. I've seen worse interpretations of these characters, so these are certainly good enough but may be one of the only times I can say the G1 namesakes were probably better toys. They were certainly more fun and more solid.
--Adam Pawlus
Additional Images

Click here to see more Hasbro figures in Figure of the Day.
Click here to see more Transformers figures in Figure of the Day.

Want to buy this figure? Check Transformers availability at our sponsors:
Entertainment Earth