Crawler (Blue)
One of Two Launch Styles

Mordles Mordles 10-Pack
Item No.: n/a
Manufacturer: ToyFinity
Includes: n/a
Action Feature: n/a
Retail: $12.00
Availability: June 17, 2013 (Club Mordle members), June 28, 2013 (others)
Other: Fun, Cool, Worth Buying a Pack or Six

PREVIOUS
RSS
NEXT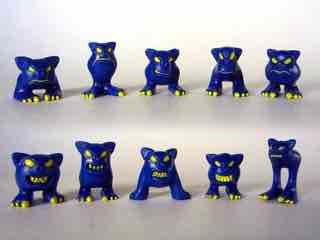 Enthusiasm is infectious. I knew very little about Mordles from Rocks and Bugs and Things before corresponding with its current home under ToyFinity, with fan John Kent getting his claws in Ideal's 1985 toy line. Let me tell you, it's impossible to talk to this guy without his excitement rubbing off on anyone within earshot. In the new line, Mordles are the star attraction rather than as the victims of larger transforming carnivorous rocks and bugs. On their own, they're surprisingly fun! I never had a chance to play with them until these samples showed up last week, and I'm digging them.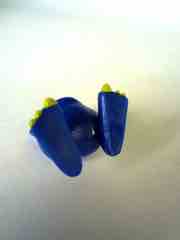 The first batch has yellow with blue paint and blue with yellow paint. For the sake of this review, we're looking at the Mordles Crawler (Blue) Mini-Figures and we'll take an extended look at yellow in a week or two. They look like angry or possibly depressed little buggers and are scaled perfectly to menace Glyos figures like Callgrim or The Outer Space Men and like those lines. When you get one in your hands, the clean little guys have zero copyright markings, dates, or other identifying characteristics - with Mordles, you know them or you don't. Each one measures just under an inch high to just under 1.125-inches high and has no articulation, but it's not like they'd really benefit from articulation at this size. They stand perfectly and balance really, really well.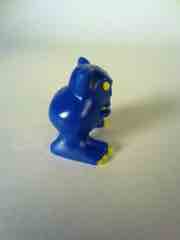 There were 10 unique sculpts issued in the old days, and many of the little guys were lost, stolen, or sucked up by the vacuum cleaner of time. I've read a few people mention they've bought seemingly sealed Rocks & Bugs & Things minus the Mordles, so you can imagine why these guys may be of more than a little use to someone with multiple rocks and bugs. Mr. Kent is a huge fan of this line and he (with some associates) acquired the property and are responsible for these reproduction Mordles based on the original figures, bringing them to you in all-new colors. They're slightly smaller than the originals, but as many of us don't have any that doesn't really matter. This is an ideal way to get into the line without skipping lunch for a month to pay for it. (Full disclosure: Mr. Kent provided the review samples early and is a collector buddy.)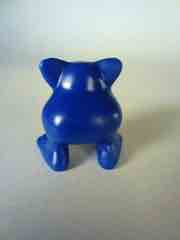 Since I assume few or none of you know or cared about Rocks and Bugs and Thigns on a grand scale, I suggest doing research on the concept and diving in to snag a few of these. Just as fun "little rubber guy" figures, they're worth the asking price of under $2 each. They're a little rubbery, feeling barely softer than other items to come out of the Glyos factory in China, and they're really durable. They stand without any trouble, and I haven't seen any of them fall over unless I hit them with something. The original designers did a nice job making sure they could stand, which is a feature all but engineered out of a lot of toys since then. As toys they feel like they could stand up to a beating, but I don't want to test that just yet.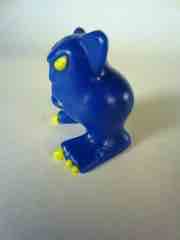 The sculpting is virtually identical to the originals, minus some shrinkage. Each of the 10 ugly little buggers have 2 legs and big ears, at first glance appearing quite similar to one another. A few appear identical without a side-by-side comparison. The deco is similar to the originals with a painted mouth and eyes, but there's a twist - the claws on the feet are painted now, and the color of the paint is quite different. The added bonus is that the bottom of the claws are also painted which is a minor, extra detail that says to me that the ToyFinity people are serious about delivering a product that's a smidgen above and beyond what you would want from a reproduction. It's also an easy way to distinguish the un-manicured 1985 originals from the new ones.
For the curious, each individual sculpt carries a name (I was told each sculpt/name represents a "species".) Zerak and Talmesca are two of the names and these are the roly-poly guys with their teeth exposed. In the shot at the top of this review, Talmesca is the guy in the bottom row on the left. Zerak is on the bottom row, fourth from the left. Coincidentally, they're also my favorites out of this set.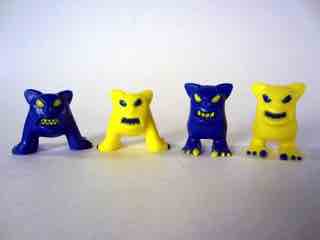 If you're the kind of person who wants to collect a rare and expensive 1980s toy line at hobo prices, this is it. All 20 launch Mordles will set you back $28 before shipping, and $1.40 per ain't bad considering the competition. Hasbro's Marvel Handful of Heroes is about $1 per figure. OMFGs are $2-$3 each. SLUG Zombies ranged from $0.83-$1.67 per. Gormiti were about $2.50 each back when they hit around 2008 and 2009. As such, they're new to you and the new colors should satisfy vintage fans (and likely drive down vintage figure prices slightly... unless it increased demand for originals, which could happen.) Where was I? Right. I wish the 10-packs had more variety in the color, but the bang for the buck is pretty good. I'd say buy one pack if you're on the fence, and you probably won't be sorry if you buy both sets. The yellow set comes with an as-of-yet unannounced bonus item, hence its slightly higher price.
--Adam Pawlus
Additional Images
Additional June 2013 Launch Mordles from ToyFinity Images

See more ToyFinity in Figure of the Day:
Day 680: ToyFinity Mordles Crawler (Blue) Mini-Figures
Day 690: ToyFinity Mordles Standard Edition (Yellow) Mini-Figures
Day 733: ToyFinity Mordles Solar Storm (Hot Pink) Mini-Figures
Day 787: ToyFinity Mordles Club Mordle Packet Mini-Figures
Day 790: ToyFinity Robo Force Genesis Edition Action Figure
Day 794: ToyFinity Mordles Rampaging Storm Edition (Green) Mini-Figures
Day 798: ToyFinity Mordles Imbalance of Blood Vinyl Figure
Day 859: ToyFinity Mordles Geihoza Vinyl Figure
Day 896: ToyFinity Mordles Quinhozs Vinyl Figure
Day 941: ToyFinity Mordles Geist Mordles
Day 975: ToyFinity Mordles EGD Vinyl Figure
Day 1,026: ToyFinity Mordles Night Mordle Vinyl Figure
Day 1,105: ToyFinity Robo Force Basic Edition Action Figure
Day 1,124: ToyFinity Mordles Electra-Geist Mordles
Day 1,152: ToyFinity Mordles Deluxe Flesh with OMFG Logo Mordles
Day 1,168: ToyFinity Mordles Club Mordle Packet

See more Mordles and Rocks and Bugs and Things in Figure of the Day:
Day 680: ToyFinity Mordles Crawler (Blue) Mini-Figures
Day 690: ToyFinity Mordles Standard Edition (Yellow) Mini-Figures
Day 733: ToyFinity Mordles Solar Storm (Hot Pink) Mini-Figures
Day 787: ToyFinity Mordles Club Mordle Packet Mini-Figures
Day 794: ToyFinity Mordles Rampaging Storm Edition (Green) Mini-Figures
Day 798: ToyFinity Mordles Imbalance of Blood Vinyl Figure
Day 859: ToyFinity Mordles Geihoza Vinyl Figure
Day 896: ToyFinity Mordles Quinhozs Vinyl Figure
Day 941: ToyFinity Mordles Geist Mordles
Day 975: ToyFinity Mordles EGD Vinyl Figure
Day 1,026: ToyFinity Mordles Night Mordle Vinyl Figure
Day 1,124: ToyFinity Mordles Electra-Geist Mordles
Day 1,152: ToyFinity Mordles Deluxe Flesh with OMFG Logo Mordles
Day 1,168: ToyFinity Mordles Club Mordle Packet