Outlandish Mini Figure Guys Series 3
Dr. Decay, Barbarianaut, Fruit Punch, Pugnacious, TenCan

Outlandish Mini Figure Guys (OMFG) Series 3
Item No.: n/a
Manufacturer: October Toys
Includes: 5 figures
Action Feature: n/a
Retail: $10.00
Availability: October 2013
Other: Available in multiple colors, of which we have not seen yet

PREVIOUS
RSS
NEXT


Two series in one year? I'm spoiled. I loved series 1 of this line, and it still sits on my desk almost two years later. Series 2 was cool, but it's back in the back area now. Today we've got Outlandish Mini Figure Guys Series 3. Five all-new figure sculpts are here, and mine arrived last week. These figures are created on the October Toys forums, and then put on Kickstarter - the funding period ended in April 2013, so it takes about 6 months for delivery for the early adopters. (We also get free shipping and stickers and stuff.) Variant colors have been kept under wraps so far, but we know black and flesh and artist's proof pink exist already.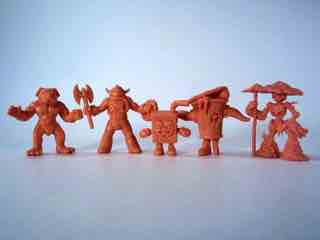 As with before, numerous talented individuals submitting their designs to the October Toys forums where they were refined and voted upon, and the five winners are here today. (There was a tie-breaker, too. Fruit Punch won.) The winning designs were then put on Kickstarter, where people pledged whatever ($10 or more) to get them. Some pledges got a bonus Zombie Pheyden figure, which was a holdover from a seemingly abandoned Z.O.M.B.I.E. Series 2. (Series 1 was swell.)
Series 4 is already in the works, the figures have been selected and voted on, but are not yet on the Kickstarter. As such, I wouldn't know when to expect them - at this point, I'd assume at least June or July 2014 at the earliest.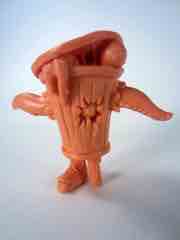 Made by someone I actually have met prior to his fame and fortune as an OMFG creator, TenCan was designed by friend in the digital age Nikolos Sardos as well as Bryan Fulk and Richard Brown. I would argue it's a great gateway figure for anyone who collected Trash Pack figures but wants something that look like it fell out of a 1987 Toy Fair catalog. The figure is exquisite - basically, a pile of garbage has achieved sentience and burst out of an old rickety metal trash bin. You can see tentacles, boots, some nasty gloop, an eyeball or two, plus a nasty, sticky substance that's holding the lid down, just barely. The level of detail is quite good, as the tentacles have suction cups and the can's lid looks like it was a separate piece. "It's perfect" seems a little hyperbolic, but with the torn-up shoe and slime you just can't help but love it.
All of the figures this time are a little smaller, and the carded set feels significantly lighter than the first two series. TenCan measures about 1 4/5-inches tall at its highest point, and is close to the tallest figure in the carded set. (The Kickstarter bonus freebie, Zombie Pheyden, towers over the set and is normally sold separately.) So TenCan is good, you'll love him for his Mad Balls and 1980s-gross-out-toy-inspired self.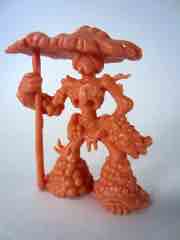 Next up is the creepy Dr. Decay, sculpted by October Toys impressario George Gaspar based on the winning design of Jonathan Wojcik. He reminds me a lot of some of the plant figures of Gormiti and various incarnations of the Four Horsemen of the Apocalypse as seen in Teenage Mutant Ninja Turtles Adventures comic books. The fungal fighter has a stick holding up part of his elongated head, and his limbs are covered with spores. There's a lot of detail under his head as well as his feet, but you'll notice there are no eyes above his chin and toothy mouth. With super-skinny body parts you can see some bones, giving the hint of a creepy, emaciated, possibly undead or cursed being under the big mushroom motif. It's a lot less whimsical than the previous series, let's say that.
Like TenCan, he's about 1 4/5-inches tall and I bet is going to look amazing when people start painting them up. Unlike TenCan and the others in this set, he doesn't really fit the Monster in my Pocket or M.U.S.C.L.E. aesthetic. He looks like a lot of other mini-figures from other lines, but feels like sort of an odd duck for this group - the detail is great, but hey, we can do different.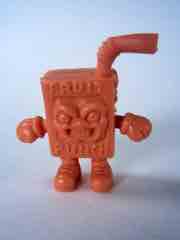 The smallest whole figure in the line is Fruit Punch. The box is just over an inch, and at the straw he's just barely over 1 1/2-inches high - roughly the same size as the vomit from last series' Puke Knight. The figure is similar to TenCan in the sense that the personality of the figure is bursting out of an every day object, with cartoony shoes and boxing gloves breaking through a juice box like you no doubt enjoyed as the one part of your brown bag lunch at school that wasn't crap. I love little subtle details like juice leaking out of the sides, and the absolutely manic expression on his face. This figure is also notable of being unique in that he not only has his name on the front of the figure, but the line's name is sculpted on the back.
For those who didn't follow the toy line's development, Fruit Punch won a tie-breaking vote against Bananja, an equally great design that sadly has not yet made the cut. Fruit Punch was crafted by Mr. Gaspar and was based on a design by Scott "Baby Deadbeet" Tolleson, who also did the wonderful line art on the back of the packaging. It's hard to describe just how wonderful and tiny this guy is - he's barely taller than a Mordle! There's a lot going on for such a small figure, with the little nuances like cardboard folded just-so and a bendy straw, which is better than the tiny coffee-stirrer-sized straws I remember with my juice boxes.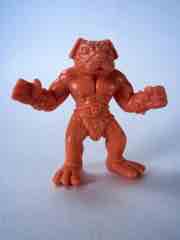 The final two figures in the pack are clearly heavily influenced by Masters of the Universe and could be easily customized off of an old He-Man figure. Pugnacious, originally Puggernaut, ran away with a ton of votes and is sort of unintentionally creepy. Mr. Gaspar captured the detail of Bill MacKay's design quite nicely, with the goofy dog expression and, uh, I believe those are pierced nipples. The dog feet set the figure apart from an Eternian figure, but the fuzzy loincloth is totally He-Man up until the point where you see the cat skull. The belt has little holes on the back, and a tiny dog tail peeks out from the furry shorts. His wrists have bracelets similar to numerous Masters figures, and I don't doubt someone will make a full-size custom of this guy in action figure form soon.
In his debut release, the dog warrior measures about 1 3/4-inches tall. As I am not a dog person I was a little taken aback but his winning, but I will say the design and the final figure fit right in with the M.U.S.C.L.E. aesthetic and scale. Minus the pierced nipples, and his legs are a smidgen bigger than those Japanese figures. This figure does a good job capturing what feels like the intent of the entire project.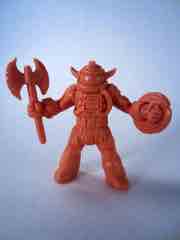 One of the figures I remember voting for - and would throw a tantrum if I didn't get - was Barbarianaut, a spectacular little warrior from the prolific Charles Marsh. I'm actually a little sad that this came out as a mini-figure, because I'd buy a full-size, fully-articulated version of this tiny 2-inch terror. The combined elements of a viking, He-Man, and an astronaut make for the perfect 1980s toy tribute, as his shield and axe are clearly a nod to He-Man while I can't say I recognize the helmet. Legions of Power, maybe?
Like Pugnacious, the figure has furry shorts. Unlike the dog, Mr. Marsh's figure wears space pants and gear to help him breathe in space. It's a wonderful mashup of high and low tech that feels like it should have been on a 1970s rock album cover. While many of the other figures feel appropriate all by themselves, I can't help but see this figure as a lost part of another larger, even more fascinating toy line. I'd love to see Mr. Marsh develop a bad guy for Barbarianaut to fight for series 5, assuming he isn't the baddie himself.
While I love the characters and sculpts, I will say it's unfortunate that the factory can't maintain a consistent "flesh tone" plastic. Series #3 is closer to series 1 or MUSCLE-flesh, but it's a little redder. MUSCLE figures are rather pale, and OMFG Series #2 was oranger by comparison. If you have them all on a shelf, it's easy to tell which figures came from which series as the series all don't match one another, but they do match within their own series.
The original series of OMFG maintained a fixture on my desk since their release, but series #2 went to the back shelves. Series #3 has a fighting chance of being the new desk fixture, as the designs are really fantastic little figures. The bizarre figures from the first series, which include building DNA, were a smidgen more imaginative in some cases but hey, I'm not complaining. I got my money's worth yet again and I'll absolutely buy more of these if and when they do Glow in the Dark figures... and I'd buy a glowing series 2 as well. As these things have not happened yet, well, I'll keep my money for a bit. I do not feel a strong need to buy Series #3 in variant colors at the moment, but I'll wait and see what comes out before shutting that door completely.
So - buy series 3 as soon as you can. It's a great series, and one of the more fun things I've received in the mail this year. (And I get a lot in the mail.) Make this the set of figures you buy your toy friends for Christmas or their birthdays or whatever - they likely don't have it and they're going to love them. I certainly do!
--Adam Pawlus
Additional Images
Additional OMFG Series 3 Kickstarter Packet Images
| | |
| --- | --- |
| | |
| | |
| | |
| | |
| | |
| | Note: Normally, the set of carded OMFG figures will be sold with just a green cardback with 5 figures inside. Kickstarter supporters, depending on their pledge level, were treated to an oversized art postcard as well as a card art checklist, a sticker, and possibly bonus figures. I elected to get the $25 level with black and flesh Zombie Pheyden figures, plus a bonus black set which is exclusive to Kickstarter. |

See more October Toys in Figure of the Day:
Day 315: October Toys Outlandish Mini Figure Guys (OMFG) Series 1 Minifigures
Day 481: October Toys Outlandish Mini Figure Guys (OMFG) Series 1 Glow in the Dark Minifigures
Day 494: October Toys Zillions of Mutated Bodies Infecting Everyone (ZOMBIE) Series 1 Neon Orange Minifigures
Day 570: October Toys Outlandish Mini Figure Guys (OMFG) Series 2 Minifigures
Day 590: October Toys OTMF Baby Deadbeet Mini-Figure
Day 751: October Toys Zillions of Mutated Bodies Infecting Everyone (ZOMBIE) Series 1 Blue Glow in the Dark Minifigures
Day 775: October Toys Outlandish Mini Figure Guys (OMFG) Series 3 Minifigures
Day 813: October Toys OTMFG Zombie Pheyden Mini-Figure
Day 885: October Toys OTMFG Brocotal Mini-Figure
Day 909: October Toys OTMF Glow in the Dark Toy Break Mini-Figure
Day 929: October Toys OTMFG Flesh 3DRetro Robot Mini-Figure
Day 943: October Toys OTMFG Glow in the Dark Baby Deadbeet Mini-Figure
Day 1,113: October Toys OTMFG Glow in the Dark Brocotal Mini-Figure
Day 1,142: October Toys Outlandish Mini Figure Guys (OMFG) Series 2 Glow in the Dark Minifigures
Day 1,184: October Toys Skeleton Warriors Bone Titan Skeleton Action Figure
Day 1,191: October Toys Skeleton Warriors Baron Dark Action Figure
Day 1,214: October Toys Skeleton Warriors Glow-in-the-Dark Titan Skeleton Action Figure
Day 1,300: October Toys Outlandish Mini Figure Guys (OMFG) Series 4 Minifigures
Day 1,261: October Toys October Toys Mini Figure Guys (OTMFG) Brainwaves Minifigures
Day 1,547: October Toys October Toys Mini Figure Guys (OTMFG) Glow-in-the-Dark Mini Gwin Minifigure
Day 2,324: October Toys Outlandish Mini Figure Guys (OMFG) Series 3 Glow-in-the-Dark Minifigures

See more Outlandish Mini Figure Guys (OMFG) in Figure of the Day:
Day 315: October Toys Outlandish Mini Figure Guys (OMFG) Series 1 Minifigures
Day 481: October Toys Outlandish Mini Figure Guys (OMFG) Series 1 Glow in the Dark Minifigures
Day 570: October Toys Outlandish Mini Figure Guys (OMFG) Series 2 Minifigures
Day 775: October Toys Outlandish Mini Figure Guys (OMFG) Series 3 Minifigures
Day 909: October Toys OTMF Glow in the Dark Toy Break Mini-Figure
Day 1,142: October Toys Outlandish Mini Figure Guys (OMFG) Series 2 Glow in the Dark Minifigures
Day 1,300: October Toys Outlandish Mini Figure Guys (OMFG) Series 4 Minifigures
Day 2,324: October Toys Outlandish Mini Figure Guys (OMFG) Series 3 Glow-in-the-Dark Minifigures