Baby Deadbeet
Designed by Scott Tolleson, Sculpted by George Gaspar

OTMF Mini-Figures
Item No.: n/a
Manufacturer: October Toys
Includes: n/a
Action Feature: n/a
Retail: $2.00
Availability: January 2013
Other: Available in "Flesh" and "Plum"

PREVIOUS
RSS
NEXT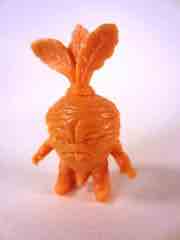 It's two bucks. Of course you need to pick up Baby Deadbeet, as the figure is sculpted by and released by the same people (and factory) that brought the world the consistently delightful (and increasingly populous) OMFG figure line. Unquestionably worth the asking price (with shipping cheap to the point that it will make you mad), I bought three. One's going to a buddy. One's going to me. #3, I don't know yet. As far as I can tell this is the first figure in the "OTMF" series, whatever that series expands to be.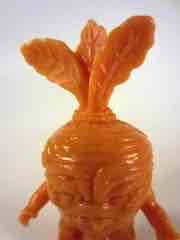 For some reason, recent toys have eschewed traditional copyright markings where you get a year plus the name of the studio, or licensor, or toy company. The young Baby Deadbeet is brimming with sculpted detail but has absolutely no identifying marks, so if a future collector finds this figure and has no idea what it is, I suspect they will have some degree of difficulty locating a name. (Heck, the same is true for all of OMFG.) Standing about 1.6-inches tall, the figure has two beady little eyes, a tongue sticking out, a pair of crossed bandages on its head, plus a generous helping of wrinkles and warts. He stands just fine on tiny legs, and has some of the smallest sculpted plastic hands I've seen on a collectible figure. Even more fascinating, the tiny vegetable has what appears to be a cleft in its butt region, down the back of the tail. It's a small detail, but along with the wrinkles and changing textures near the stem and leaves it's appreciated.
Seeing how it's a dead beet, the figure has a tongue sticking out and a half-lidded eyes, giving it a fair amount of personality for a dead vegetable. It's almost like a realistic interpretation of the veggies in Super Mario Bros. 2 which, arguably, is all the more disturbing.
Designed by Scott Tolleson, the mini-figure really is a "baby" version of his own full-size Deadbeet vinyl figure which he blogs about here. They usually run for $60-$120, so the ability to get a low-run piece at a smaller size for a fraction of the price is pretty endearing to someone like me who is basically priced out of collectible vinyl toys. ($60 is too much to play with and compulsively purchase. $2 is too cheap. I'm OK with that.)
With no packaging and no identifying marks, future generations' ability to find this figure will probably rest squarely on dumb luck and the expertise of the seller. Right now you may purchase them directly from October Toys, where flesh is available and plum sold out quickly. A painted run of 10 figures was sold at The Clutter Gallery at an exhibition which I am reading has just ended. OMFG fans owe it to themselves to get this. Anyone else... it's two bucks. When is the last time you bought a new figure for two bucks?
--Adam Pawlus
Additional Images

See more October Toys in Figure of the Day:
Day 315: October Toys Outlandish Mini Figure Guys (OMFG) Series 1 Minifigures
Day 481: October Toys Outlandish Mini Figure Guys (OMFG) Series 1 Glow in the Dark Minifigures
Day 494: October Toys Zillions of Mutated Bodies Infecting Everyone (ZOMBIE) Series 1 Neon Orange Minifigures
Day 570: October Toys Outlandish Mini Figure Guys (OMFG) Series 2 Minifigures
Day 590: October Toys OTMF Baby Deadbeet Mini-Figure
Day 751: October Toys Zillions of Mutated Bodies Infecting Everyone (ZOMBIE) Series 1 Blue Glow in the Dark Minifigures
Day 775: October Toys Outlandish Mini Figure Guys (OMFG) Series 3 Minifigures
Day 813: October Toys OTMFG Zombie Pheyden Mini-Figure
Day 885: October Toys OTMFG Brocotal Mini-Figure
Day 909: October Toys OTMF Glow in the Dark Toy Break Mini-Figure
Day 929: October Toys OTMFG Flesh 3DRetro Robot Mini-Figure
Day 943: October Toys OTMFG Glow in the Dark Baby Deadbeet Mini-Figure
Day 1,113: October Toys OTMFG Glow in the Dark Brocotal Mini-Figure
Day 1,142: October Toys Outlandish Mini Figure Guys (OMFG) Series 2 Glow in the Dark Minifigures
Day 1,184: October Toys Skeleton Warriors Bone Titan Skeleton Action Figure
Day 1,191: October Toys Skeleton Warriors Baron Dark Action Figure
Day 1,214: October Toys Skeleton Warriors Glow-in-the-Dark Titan Skeleton Action Figure
Day 1,300: October Toys Outlandish Mini Figure Guys (OMFG) Series 4 Minifigures
Day 1,261: October Toys October Toys Mini Figure Guys (OTMFG) Brainwaves Minifigures
Day 1,547: October Toys October Toys Mini Figure Guys (OTMFG) Glow-in-the-Dark Mini Gwin Minifigure
Day 2,324: October Toys Outlandish Mini Figure Guys (OMFG) Series 3 Glow-in-the-Dark Minifigures

See more October Toys Mini Figures (OTMF) and October Toys Mini Figure Guys (OTMFG) in Figure of the Day:
Day 590: October Toys OTMF Baby Deadbeet Mini-Figure
Day 813: October Toys OTMFG Zombie Pheyden Mini-Figure
Day 885: October Toys OTMFG Brocotal Mini-Figure
Day 909: October Toys OTMF Glow in the Dark Toy Break Mini-Figure
Day 929: October Toys OTMFG Flesh 3DRetro Robot Mini-Figure
Day 943: October Toys OTMFG Glow in the Dark Baby Deadbeet Mini-Figure
Day 1,113: October Toys OTMFG Glow in the Dark Brocotal Mini-Figure
Day 1,261: October Toys October Toys Mini Figure Guys (OTMFG) Brainwaves Minifigures
Day 1,547: October Toys October Toys Mini Figure Guys (OTMFG) Glow-in-the-Dark Mini Gwin Minifigure