Ripclaw
Predacon

Transformers Prime Beast Hunters Deluxe
Item No.: Asst. A1518 No. A1627
Manufacturer: Hasbro
Includes: Snapping Siphon Claw
Action Feature: Transforms from dragon to robot
Retail: $15.99
Availability: February 2013
Other: 02 Series #006

PREVIOUS
RSS
NEXT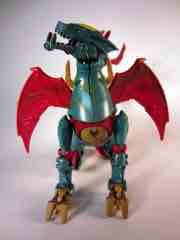 Price increases are an unfortunate twist of fate, but when looking at Ripclaw it's impossible not to feel as if you're looking at a big evolution here, over the last couple of decades. Some of you may be old enough to remember not only when Beast Wars was brand-new, but insanely impressive with toys featuring then-unheard-of levels of articulation. I remember getting that first Cheetor, marveling at swivel (and bending) knees, ball-jointed shoulders, and some really clever movement that gave the head an added bonus "mutant" transformation. Of course, the cheetah mode was basically a brick and the whole thing was pretty lumpy. Today Ripclaw is an amazing, super-articulated figure with giant wings, a decent look in both molds, an articulated beast head, and rather fantastic deco and color layout. We've come a long way over the last few years, even since "classics" and the movie toys, but unfortunately now we're going to have to pay for it. Simple deluxe toys at ten bucks a whack are no longer on Hasbro's menu, now you can either get pocket-sized Cyberverse toys, or increasingly complex deluxes which have gone from $10 to $12 to $13 to about $16 or even more these days.
Standing 5-inches tall in dragon mode, Ripclaw is nothing if not impressive. All of her limbs are not only jointed, but multi-jointed. The neck moves, the wings move, the tail moves, and each leg sports about 4 joints each. Even the tail is impressive, as it's a hard plastic limb with a rubbery plastic core allowing you to pull it back and let go for it to "strike." Will it survive years of abuse, or time in general? That remains to be seen, but right now it's really something. As an added bonus, the tail has a removable claw weapon which can open and spring shut on another figure. In theory. It didn't seem very spry when I was testing it out, but it does more or less work as advertised.
The toy is cast in red, gold, and green plastics, although they don't quite all match. The green on her head is a metallic plastic and is a bit soft in spots, and it clashes a little with the light green on the rest of the body. Eagle-eyed fans will note a swirly deco on this toy (and on many Beast Hunters) giving them a unique, "energized" look which may be slightly different in each figure. A similar process was discussed for the development of the 2000 Sandtrooper action figure, but was ultimately scrapped. It's an interesting way to go, although I feel it's almost too subtle to be effective here... and if it raises the costs any, it could probably stand to go. Oh, and if you're feeling saucy you can cram an Iron Man blast effect in her mouth as an awesome fire-breathing accessory! This is really cool, I gotta say, particularly since I was trying to find a use for those energy blasts anyway.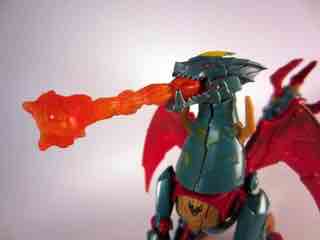 Transforming the toy is involved, but not annoying. The hind legs become the robot legs, the dragon's neck hides the robot's head, and the tail is the tail. The front legs become the arm, and there's not a heck of a lot to her... everything more or less tabs into place in both modes, although one of the two neck halves kept popping off during transformation and I found that annoying.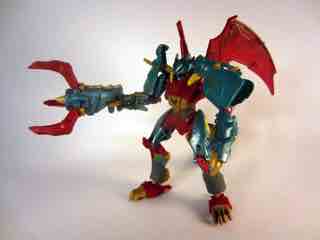 Since the dragon has exceptional poseability, so does the robot. The ball-jointed feet come in real handy here, giving her the ability to assume a number of awesome combat poses. Her wings are a nice bonus, and the tail works as a way to prop her up during shelf combat. Everything here more or less works, although there's no denying she has dragon chunks having off her in robot form... and the head is a little sunken into the chest. You can pull it out a bit if you like, but it usually will go back down on its own, gradually.
For what it is, all by its lonesome, it's nice. Were this a $15 Mega-class figure in the 1990s, fans would go "oh, this is cool and totally worth it." Because Hasbro upped the ante of what it means to be a deluxe, and put it on a card instead of a box, we're judging it more harshly. "Deluxe" used to mean 5-inch robots for $10, now it's usually shorter robots for $16. I didn't like this figure (or any in the line) enough to collect them all at full price, but Ripclaw was good enough that I'm not sour on it, either. I'd gladly buy more Predacons if the right sale or clearance comes along, and I liked the Voyager Optimus Prime and Deluxe Bumblebee figures as well, for different reasons. I really like what Hasbro has done in terms of design and execution, but it's chafing my pricing expectations. In 2013 we saw Hasbro push an initiative for simpler, cheaper 3 3/4-inch action figures from other lines at $6 each. Will we see them try to get a "deluxe" toy back to $10 (perhaps with less paint, gear, and articulation) again? Do we want this? I'm not so sure, but I am sure that Ripclaw is worth picking up if the price is right. Maybe not for $30 on the secondary market, but $16 or so? She'll make a nice addition to your robot dragon army.
--Adam Pawlus
Additional Images


Click here to see more Hasbro figures in Figure of the Day.
Click here to see more Transformers figures in Figure of the Day.

Want to buy this figure? Check Transformers availability at our sponsors:
Entertainment Earth