Ultra Magnus
Series 01 #012

Transformers Generations Deluxe
Item No.: Asst. 37986 No. A1427
Manufacturer: Hasbro
Includes: Sword and Blaster
Action Feature: Transforms from Cybertronian Truck to robot
Retail: $15.99
Availability: December 2012
Other: 01 Series #012

PREVIOUS
RSS
NEXT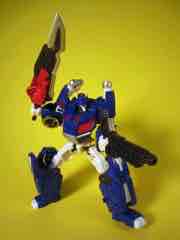 I was so excited to hear Ultra Magnus was hitting that I changed my usual "toy hunting" to "toy stalking." That is, hitting the same store every day for several consecutive days, and it paid off after about a week in early January 2013. I was a big fan of the Fall of Cybertron Optimus Prime, so getting a retooled version as Ultra Magnus seemed pretty exciting. After all, I love Cybertronian vehicles, big weapons, and anything based on the 1987 Transformers movie. You know, the one that actually has robots in it for pretty much the entire running time.
At a hair over 5-inches tall, anyone who got Optimus Prime knows what to expect. New deco, new head, and 3 more "sword" pieces which are actually amazingly compelling accessories from an adult perspective. As a kid I don't think I'd like it, but they seem like Hasbro trying to address the Asian accessory aftermarket, where some companies make a sword or a gun and charge $30 for it... when the figure itself from Hasbro was about $12. The big accessory also makes the figure seem a little more worth the increasing asking price for a deluxe as of late, ut let's go back to the figure first.
The paint job is really great, but not as fancy as the Takara-Tomy version. Seeing how the Hasbro version is $16 and the Takara-Tomy one is about $30-$40, I'm totally fine with this. (I'd still buy the Japanese one if it were like $20.)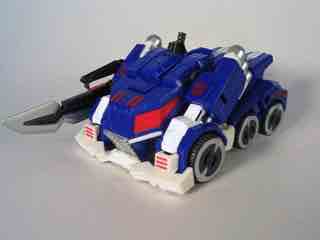 The figure still has the same great articulation and tons of places on which to plug a weapon, and the although the figure does feel a little stiffer in part due to the paint. Ultra Magnus' arms are painted white, so I found moving the pieces to be quite tight here. The hip joints on my sample were a little loose, but not to the point where it's a problem. Everything else was about as tight or tighter than Optimus Prime, and the toy has almost the exact same transformation. The key difference is that Ultra Magnus seems to be designed with the "smokestacks" meant to stick up, while Optimus' are rotated back.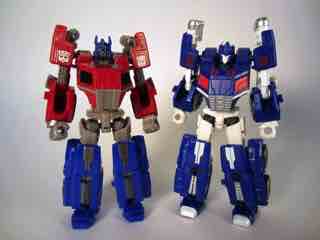 The figure in any mode doesn't match Ultra Magnus from the video games, as Hasbro opted to reuse an Optimus mold instead. I'm OK with this, mostly because I really like the mold as it is. Magnus the truck rolls fairly well and transforms cleanly. Added paint applications on his bumper, back, smokestacks, feet, and elsewhere really bring the figure to life and makes Optimus prime look like a relative cheapskate. It's obvious Hasbro saved its shined nickels and loose change from Optimus Prime and threw all that extra money Ultra Magnus' way.
As mentioned above, the four-piece weapon is the real innovation in this set. The toy comes packaged with a sword and the Optimus Prime gun... but the sword is actually three separate pieces. The blade separates as 2 pieces, leaving the handle behind. All 3 sword pieces may be configured around the blaster to make an even bigger weapon if you're so inclined. Before you complain about prices, I would say consider that if you read toy reviews like this one you may well be the kind of person who would pay $30 for a garage kit sword. Having it in this set with a pretty great Ultra Magnus for $16 is hard to argue with as a value proposition, especially since the toy mops the floor with his predecessor in terms of perceived (and actual) value.
If you've got the money, the early pics of the Japanese release of this toy make it look undoubtedly better with silver metallic face paint, tons of extra paint details, and a couple of paint masks that make it just look more expensive. That's because it is. I'm pretty happy with the US release and wouldn't sell it, but I won't lie to you: if I had a shot at the Japanese one for $25 or less right now, I'd buy it. (Unless someone tells me the details were made with stickers, in which case never mind.) I don't know if Magnus will get the kind of love and pay time that my Optimus Prime did last year, but I suspect he'll be hanging out on my desk for a while.
--Adam Pawlus
Additional Images

Click here to see more Hasbro figures in Figure of the Day.
Click here to see more Transformers figures in Figure of the Day.

Want to buy this figure? Check Transformers availability at our sponsors:
Entertainment Earth