The Penguin
Awk!

Batman Classic TV Series Action Figure
Item No.: Asst. Y9633 No. Y9636
Manufacturer: Mattel
Includes: Oversized retro trading card, display stand, umbrella
Action Feature: n/a
Retail: $15.99-$19.99
Availability: August 2013
Other: Pretty good!

PREVIOUS
RSS
NEXT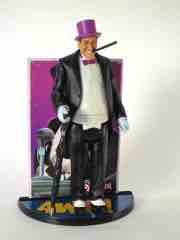 It's rare that I buy a figure and say "I should get one for my parents." The The Penguin is pretty fantastic - it's Burgess Meredith! He's a fine actor with a storied career in entertainment - he was Mickey Goldmill in Rocky! He was in several significant episodes of The Twilight Zone. He was in dozens of movies and TV shows, and had so many amazing roles that it's hard to believe just one actor played them all - and he's been quite a few action figures, too. This is the first version of the Penguin specifically based on his portrayal of the character, so naturally I had to have it and so do you.
Measuring about 6 1/4-inches tall with his hat, the Penguin comes complete with an umbrella and a display stand with "AWK!" in large, friendly letters on the label. Clearly understanding the audience for this figure wouldn't be content for a statue with a few joints, Mattel decked him out with 18 meaningful joints. This is nothing to sneeze at - but it's worth noting they aren't all ball joints, as the Penguin's bulky suit does put a few restrictions on posing the figure. I'm pleased to report Mattel found a way around them, too.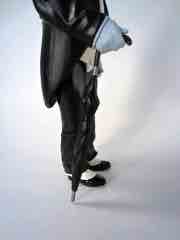 The baddie can sit in the Batmobile - this was a stunner. The tails on his tux are rubbery and his hip joints were designed to cleanly swing forward, so you can cram him in there with no real problems other than fastening the seatbelt. The wrist joints are slightly restricted because of the sleeves, and the knees are a little tight, and there's no thigh-swivel, but other than that? It's about as poseable as any other DC Universe Classics figure. Given the nature of the character, audience, and outfit this figure exceeds expectations. I'm actually stunned they gave him ankle joints - there was no reason to, he doesn't need them. He doesn't need lateral hip movement either, but he has it. Were I designing this line, I assure you, I'd have chickened out and cut a few joints to keep costs down. Kudos, Mattel.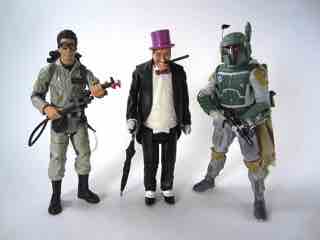 The sculpt is good, and it really doesn't even have to be - the character's simple design is given away by a few simple details like his monocle, purple hat, purple tie, and chubby belly. Mattel were kind enough to smooth out a few wrinkles around his eyes, but the head looks a lot like the publicity photos. I greatly appreciate the fact that the monocle was a sculpted, painted ring rather than a clunky clear plastic lens. The only place on the head I feel like I got ripped off is the cigarette, as the edge of it wasn't painted white. Of course, I'm surprised it even made the cut given how nobody shows anyone smoking ever anymore. The fact that this figure exists is pretty remarkable. The costume itself looks very close to my memory, but the seam on the front of the shirt is a smidgen off. The bow tie is a little limp, but it's the correct color and it's present, which is worth something. Overall it's quite nice, but it feels like it went though the haze of a nostalgia filter, similar to a lot of Wizard of Oz merch and paintings of British monarchs.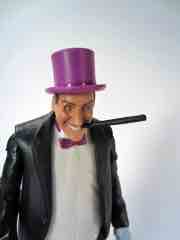 Deco is pretty easy. Blacks are black, whites are white. Mattel went the extra mile to give pearly deco to the buttons on his shirt, and a dark purple trim on his already purple hat. Remember, this TV show came out during the advent of color so the TV networks made shows like Batman and Star Trek not only as entertainment, but as a demo of just how much color they can cram into the box in your living room. He's not the most colorful guy in the line, but he's The Penguin and not The Peacock. Were he not primarily black and white, the TV costumers of 1966 would be killed and eaten.
The single-carded figures of this line have decent packaging that hides a bunch of surprises inside - behind a false cardback facade is a large 3x5-inch oversized retro painted trading card. I don't believe they're reprints of classic cards, but I could be wrong - the back is a puzzle piece of the Batcave, so maybe they were modeled after classic stickers. I don't know - but I do know the paintings do an admiral job of representing a slightly more grotesque version of the character than the figure or indeed the TV show gives us. The card slots into an action figure stand with a big sticker on it that reads "AWK!" The figure's other accessory is an umbrella which he can hold, with a little work. The handle is slightly mangled but can be straightened out fairly easily.
These aren't the highest-quality or largest figures based on the TV show, but they're very good for the money - I'm certainly satisfied with The Penguin and you should be too. Sure, Hot Toys might do a better one, but that's $200. I don't want to spend $200 on a figure that's newer than the Twinkies I see at the store - that's what I pay for something with real history. This figure fills in one of the few remaining gaps in the world of licensed toys, and with the first wave almost covers all the major bases from the show. I don't expect there to be a year 3, and year 2 could be pretty light. Do people want Bruce Wayne, Dick Grayson, Alfred, and Commissioner Gordon figures to go with Eartha Kitt Catwoman, Otto Preminger Mr. Freeze, or a single-carded Robin? It remains to be seen - but I hope we see Mattel try to milk the rogue's gallery a bit just because after this line ends, I wouldn't anticipate them revisiting it anytime soon. Adam West was my parents' Batman, Michael Keaton was the big deal when I was a kid, and let's face it - with no DVD/Blu-Ray/cable support, the audience for this shrinks every day and is quite literally starting to die out. So with that happy thought in mind, get yourself The Penguin with my blessing. It ain't perfect but it's better than it awk to be.
--Adam Pawlus
Additional Images

Want to buy this figure? Check Batman availability at our sponsors:
Entertainment Earth

See more Batman figures in Figure of the Day:
Day 1: Funko Force 2.0 Comic-Con Exclusive Batman
Day 398: Kenner Batman: The Animated Series Clayface
Day 408: Kenner Legends of Batman Future Batman
Day 441: Kenner Batman: The Animated Series Harley Quinn
Day 443: Kenner Batman: The Animated Series Machine Gun Joker
Day 444: Kenner Batman: The Animated Movie Mask of the Phantasm Phantasm
Day 445: Ertl Batman Returns Penguin Commando Die-Cast Metal Figure
Day 446: Kenner Legends of Batman Knightquest Batman
Day 447: Mattel DC Universe Classics All-Stars Batman
Day 457: Kenner Batman: The Animated Series Ra's Al Ghul
Day 685: Mattel Hot Wheels Batmobile (Tim Burton, 2013)
Day 708: Mattel Hot Wheels Batman Live Batmobile
Day 714: Mattel Matchbox Batmobile Die-Cast Metal Vehicle
Day 735: Mattel Batman Classic TV Series Batman & Robin Action Figure Set
Day 740: Mattel Batman Classic TV Series The Penguin Action Figure
Day 742: Mattel Hot Wheels Batcopter Die-Cast Metal Vehicle
Day 756: Mattel Batman Classic TV Series The Joker Action Figure
Day 761: Mattel Batman Classic TV Series The Riddler Action Figure
Day 778: Mattel Batman Classic TV Series Batman Action Figure
Day 780: Mattel Batman Classic TV Series Catwoman Action Figure
Day 783: Mattel Batman Classic TV Series Surf's Up Batman Action Figure
Day 898: Mattel Batman Batman
Day 1.172: Mattel Batman The Joker
Day 1,197: Funko Batman Ice Freeze Batman Reject
Day 1,305: Funko Pop! DC Comics Super Heroes Orange Batman Vinyl Figure
Day 1,312: DC Collectibles Batman Tony Millionaire Batman Statue
Day 1,383: Mattel Hot Wheels Dawn of Justice Batmobile
Day 1,388: Bif Bang Pow! Peg Pals Batman Armored
Day 1,400: Funko Dorbz DC Comics Super Heroes Orange Batman Vinyl Figure
Day 1,512: Jakks Pacific Batman v. Superman: Dawn of Justice Jokers Wild Batman
Day 1,539: Mattel Batman v. Superman Mighty Minis Series 2 Silver Batman
Day 1,680: The LEGO Batman Movie Catman
Day 1,753: Funko 9POA Batman 1966 TV Series Batman and Robin Action Figures with Batmobile
Day 1,847: Funko Pop! DC Comics Super Heroes Retro Batman Vinyl Figure
Day 1,983: Entertainment Earth Justice League Batman Push Puppet
Day 2,100: Fisher-Price Imaginext DC Super Friends Batman & Swamp Thing Action Figures
Day 2,190: Kenner Batman: The Dark Knight Collection Tec-Shield Batman Action Figure
Day 2,199: Kenner Batman Returns Penguin Commandos Action Figures
Day 2,217: Kenner Batman: The Dark Knight Collection Iron Winch Batman Action Figure
Day 2,239: Fisher-Price Imaginext DC Super Friends Slammers Arctic Sled with Mr. Freeze Set
Day 2,249: Fisher-Price Imaginext DC Super Friends Slammers Batmobile with Batman Set
Day 2,257: Fisher-Price Imaginext DC Super Friends Surround Sound Batcave Playset
Day 2,493: Spin Master DC Comics Justice League 4-Inch Action Figures 6-Pack
Day 2,622: Kenner Batman: The Animated Series Killer Croc Action Figure


Click here to see more Mattel figures in Figure of the Day.