Kickback
Series 01 #009

Transformers Generations Deluxe
Item No.: Asst. 37986 No. A1424
Manufacturer: Hasbro
Includes: Sword and Blaster
Action Feature: Transforms from Cybertronian Insect to robot
Retail: $15.99
Availability: December 2012
Other: 01 Series #009

PREVIOUS
RSS
NEXT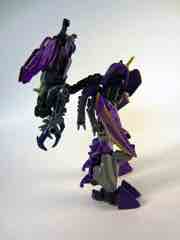 When Kickback was announced for this line, I probably couldn't have been less excited. This isn't because the toy itself is bad - it's actually pretty good, it's just that I have no real nostalgic connection to the Insecticons. In the era of increasingly expensive deluxe toys I grumble more, but so far Generations has been largely good particularly because some of the toys are feeling a little meatier. Kickback feels like a refugee from Transformers Prime with his head resembling a Vehicon, but his accessories feel like they came from a different line entirely. Two small purple "wing" weapons look like leftovers from Transformers Energon, and a disc launcher is a real surprise in a line targeted at least a little bit at older customers. The important thing here is that it looks good and is fun.
It looks and feels a lot like a toy, and while insects were more than a little played out during Beast Wars there have been precious few in the last several generations of Transformers. This time, the grasshopper is colored to look like a mix of the original Insecticons and a smidgen of Blackarachnia from over the years. I'm scratching my head trying to think of who saw release since Animated's top-notch Blackarachnia and also .shtmlinator figures.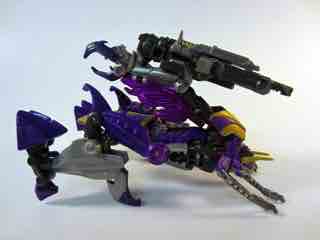 Like many beast figures, the creature mode isn't exactly brimming with play features. Once you fidget everything into place, it's sort of a brick. You can mount his weapons to his buggy body, with the front legs being nearly immobile while the giant black legs just sort of sit there. You can see they're robot legs, but you pretend they're bug legs because there are little spines, flourishes, and other details plus a really swell grasshopper head with the antenna on there and everything. Getting the launcher to lock in place takes a few seconds to figure out, but it's a largely good design. It's just that the bug doesn't have a lot to do, other than being a bug, which was good enough in the 1980s anyway.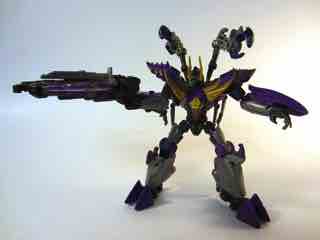 Like most of this line, the toy is best in robot mode. There's a ton of articulation all over, plus big claw-like hands, a couple of bonus claw arms on his back, lots of grooves and fans and vents, and the aforementioned launcher. It shoots really nicely, and seems out of place in Transformers because (let's face it) the vast majority of projectile weapons have been garbage, with weak ball shooters and few strong spring-loaded mechanisms. This one squeezes the disc out at a high speed, and it works well enough that it feels satisfying and fun to fidget with. Shooting it while the figure continues to hold it is sort of tricky, although this seems to be increasingly the norm with Hasbro's toys (see also: almost any G.I. Joe movie-based toy.)
The toy itself fits together nicely and feels fairly solid, with a nice, thick, glossy plastic rather than the slightly more airy (and in spots, hollow) material used on larger toys. It's a strange evolution, as the Deluxe price point seems to be getting more and more solid, while the higher Voyager-class price points are getting to feel more and more, well, like cheaper toys. Neither is really superior right now, but Kickback does make for a great toy for the older collectors. Unfortunately, it also comes one per case to stores, and to date only appears in one assortment. As such, buy it if you see it and think you want one. Were it $10, this would be an amazing item. At $16, it still feels pretty good, although a little something extra on bug mode would have made a world of difference. I'd still say get it at retail price if you have the means.
--Adam Pawlus
Additional Images

Click here to see more Hasbro figures in Figure of the Day.

Click here to see more Transformers figures in Figure of the Day.

Want to buy this figure? Check Transformers availability at our sponsors:
Entertainment Earth