Rewind and Sunder
Series 01 #004

Transformers Generations Legends
Item No.: Asst. A1421 No. A1601
Manufacturer: Hasbro
Includes: 2 Data Disc Cases
Action Feature: Transforms from Data Disc to robot/condor
Retail: $10.99
Availability: February 2013
Other: 01 Series #004

PREVIOUS
RSS
NEXT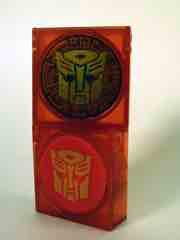 Combining a somewhat familiar face with one only a fewer fans will recognize, Rewind and Sunder is presently the only way to get the "Laserbeak" mode without a "Soundwave" mold, and Sunder is the best-painted version of that mold with extra beak deco. Also, he's crazy orange and an obscure Japanese character from the post-G1 era of reissues, so what's not to love?
The pairing is pretty great, as neither figure is a piece of junk. That may sound like faint praise, and I guess it is, but normally a 2-pack means one of the two figures is going to make you regret the purchase. In this case, both are good enough to make it worth your while even though they'd be better with some decent accessories.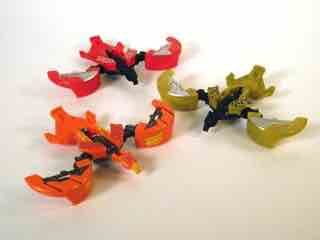 Our pal Sunder (an update of Sundor) takes the Laserbeak mold and makes it as bright as you'll likely ever see. Drop the disc and his head, wings, and tail pop out. The wings on my sample were bent too far to let the transformation work, so you may need to apply some Brute Force to get them back in place so the automatic transformation works. Little painted bits on his back resemble, superficially, the peg-on guns of the original toy while some stripes painted on the wings look rather nice. The tail just sort of gets in the way, but the item generally feels more complete and more expensive.
Unlike his Decepticon brothers, Sunder has a yellow painted beak and matching eyes. I assumed eyes would make this mold look better, and indeed they do. A few extra pennies make all the difference in making this toy look great,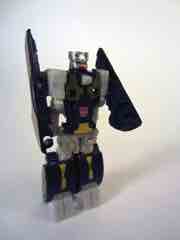 The transformation on Rewind is identical to Frenzy/Rumble, and while not bad there's not much new to say here. It's the same mold as Eject, but black. Oh, and his bio says he loves dubstep. He's the same size as most other basic Legends/Legion Cyberverse toys, 3-ish-inches high, and has 3mm-compatible hands and no weapons. You do get a pair of clear red cases with silver Autobot symbols for storage, though, which is something.
As I assume most people collecting these toys will have Buzzsaw or Laserbeak from Soundwave or Soundblaster, I'm going to guess most people won't want this 2-pack for its lack of any new molds. However, I find Sunder too dang charming not to get, plus he's a swell Japanese character making it over to the USA. Rewind's just OK, with nice head paint but generally not a lot of fun to be had. They're more display pieces than anything, but I assume kids might like the simple, spring-loaded transformations as they work well and aren't hard to figure out. Having said that, it's a toss-up as to if the disc 2-packs are better than the similarly priced Legends 2-packs with Optimus Prime/Roller and Bumblebee/Blazemaster.
--Adam Pawlus
Additional Images

Click here to see more Hasbro figures in Figure of the Day.
Click here to see more Transformers figures in Figure of the Day.

Want to buy this figure? Check Transformers availability at our sponsors:
Entertainment Earth