Palidar
Fearless Commander of The Gearo Forces

Weaponeers of Monkaa Action Figures
Item No.: ???
Manufacturer: Spy Monkey Creations
Includes: Sickle, sword, 2 extra fist/heads
Action Feature: Swappable parts galore
Retail: $12.00
Availability: October 1, 2012
Other: Silver! Mostly.

PREVIOUS
RSS
NEXT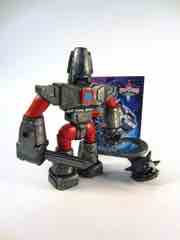 The Weaponeers of Monkaa line was well-received by the toy snob press, and at 5 1/2-inches tall the hefty Palidar is compatible with your many other Glyos toys. If you own a Pheyden or care about Crayboth, this alone makes buying a figure from this line necessary. They're interesting to fidget with, but of the many PVC releases in 2012 this is one that grew on me the least. I thought Palidar was the best-looking figure of the batch (and still do) but the design is a larger departure in terms of size and dimensions from the other Glyos-compatible toys and as such has to be taken on its own terms.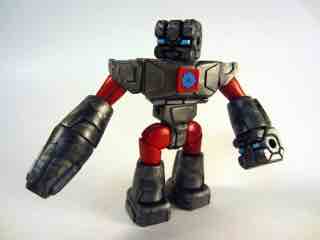 For the price, you get a lot of plastic. Four of the parts are swappable heads or fists, which is an amazingly clever bit of engineering. There are numerous cool elements on the figure, but after having it around for about three months I don't think I ever got beyond seeing it as a series of parts, the cohesive whole didn't seem to give birth to the personality of other figures in the family. Technically speaking, it's a well-designed and clever idea. It's fun to fidget with, but it's also oddly ignorable if you aren't one of the hundreds of fans of this kind of product.
The figure is nicely poseable, and Spy Monkey Creations has a few upgrade packs of really cool weapons and bonus heads available as well. The stock figure has sufficient parts to give you a good time, though, and I gotta say the heads look good on Banimon and Callgrim bodies. (Glyans, not so much and travelers, just not possible due to the designs.) Customizers are going to love these to pieces, and I have to say this color scheme is one of the best. The silver is fantastic, the blue eyes are wonderful. If you get just one of these, this is the one to get. Heck, the silver weapons pack was worth it as well. All of the pieces fit together nicely, but I'm having difficulty warming up to the form factor still, and I realize I was pretty optimistic on the design at first but I guess a second glance can change things. That's one of the reasons I really enjoy reviewing new stuff and old stuff, I find I have different takes on old stuff.
If you like how this figure looks, you will adore this figure. If you play with Glyos figures, you owe it to yourself to buy one of these. But if you have no idea where to start with Glyos, I would suggest making this your second or third purchase as it gives you a ton of cool pieces, but it's a Super NES to Pheyden's NES. There's a lot more here... but the other older figures manage to do quite a bit with a lot less. I realize this sounds like a weak endorsement, but do put this guy on your shopping list. It's pretty eye-opening as an example of what other people can do with this figure construction system, and to date it's probably the most ambitious figure in terms of gimmicks, gear, deco, and raw girth.
--Adam Pawlus
Additional Images

See more Spy Monkey Creations figures in Figure of the Day:
Day 325: Spy Monkey Creations Doppelganger Armory Series 1 Accessory Pack
Day 510: Spy Monkey Creations Weaponeers of Monkaa Empyreus Action Figure
Day 613: Spy Monkey Creations Weaponeers of Monkaa Palidar Action Figure
Day 682: Spy Monkey Creations Weaponeers of Monkaa Close Combat Armory Accessories
Day 712: Spy Monkey Creations Weaponeers of Monkaa OMFG Gohlem Action Figure
Day 879: Spy Monkey Creations Glyos Crayboth Eaglet Action Figure
Day 1,571: Spy Monkey Creations Battle Tribes DX Crimson Spikesaurian 2.0

Click here to see more Glyos Compatible figures in Figure of the Day.